Pupils from Ardnashee School and College produce painting for Derry Cathedral anniversary
Pupils from Ardnashee school and college have worked collectively on a pointillism style painting to celebrate St Eugene's 150 year anniversary.
Published 24th May 2023, 11:02 BST

- 2 min read
The pupils worked together to complete a patchwork style painting made up of individual dots of colour.
The large painting, made up of 42 individual squares was produced to celebrate the 150th anniversary of St Eugene's Cathedral.
Sixteen pupils from ks2 and ks4 classes used cotton wool buds and their fingers to build up the image working on a small square at a time.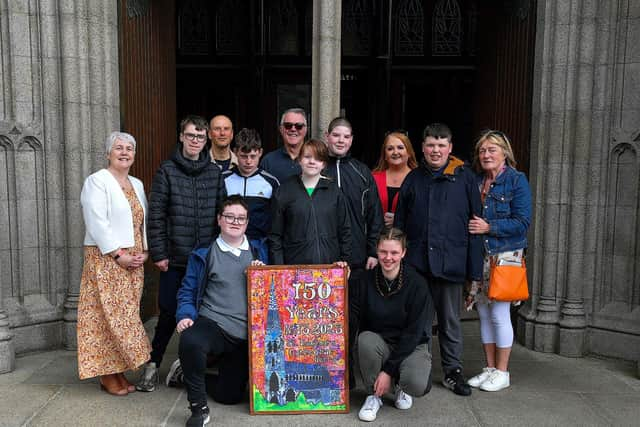 It was then pieced together to create a stunning image and presented to Father Farren as a gift on the Cathedrals 150th year anniversary.
The art work is made up of 42 7x8cm rectangles and was presented by the pupils and Ardnashee Adrian Newton, art project leader Adrian Newton to Therese Ferry, Diocesan Advisor, and Anne Marie Hickey, Pastoral Co-ordinator at the Cathedral on Tuesday.
A major programme of events has been taking place over recent weeks to mark the 150th anniversary of the cathedral.
St Eugene's Cathedral in Derry was opened and dedicated on May 4 1873. The foundation stone of the Cathedral was laid in 1851.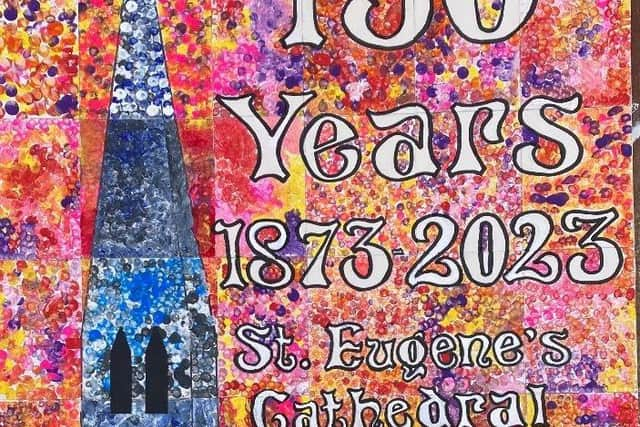 It took 22 years to build and the first Mass was celebrated on the morning of May 4 1873.
The commitment and financial support of generations of Derry's factory girls towards its construction and upkeep was remembered at a special Mass in April.
The anniversary has also been focusing on the important part the cathedral has played in the spiritual life of so many people in the city and beyond, with a series of special Masses led by Bishop Donal McKeown with Derry's Dana singing at one service.
Also to celebrate the 150th anniversary a new statue of Blessed Carlo Acutis was commissioned. Carlo was beatified on October 10, 2020 and the statue was unveiled at a special Mass recently.
A Derry Diocese spokesperson said: "Over the next 150 years many generations of people have celebrated their faith in the Cathedral. It has been both a parish Church and the mother Church of the diocese of Derry. It has been where so many significant moments in people's lives have been celebrated. It is also where many people come every day to prayer."