Pupils in Derry primary school learn about faith and churches with 'Derrymino'
Primary 7 pupils in Holy Family Primary School have been partaking in a spiritual pilgrimage to churches in Derry, inspired by the Camino de Santiago.
Published 26th May 2023, 10:00 BST

- 4 min read
The children walk from their school to the different churches on the 'Derrymino' and even have a passport they get stamped in each church, in which they can store their favourite memories of the project. Holy Family Principal, Mr Gary Matthewson first did the 'Derrymino' 30 years ago when he was teaching P7 and decided to try the idea again this year.
He said: "The main emphasis of the trip was to give the children the experience visiting other places of worship and to learn about the spiritual history of the city. This city is fascinating when you actually go back and research how it was formed and the evolution of the city and the children have actually seen the physical growth of the city via the churches."
"They've also seen the changes in terms of churches through time. They've been to the Cathedral, which is a beautiful, fantastic building, obviously a lot of money was spent on it and then we went and looked at some of the other churches where the financial resource wasn't there but the spiritual need was there within the communities. They've also looked at how the churches have evolved in situ. So for example, St. Joseph's in Galliagh, from the church that it was to the beautiful church that it is now; t's fantastic to see the work there.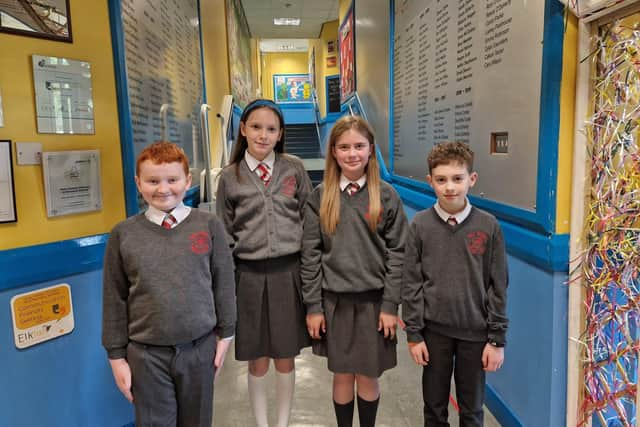 "The last trip that we did was to St. Joseph's in Galliagh and St. Bridgid's in Carnhill. Thankfully Father Sean O'Donnell walked with us from St. Joseph's in Galliagh and St. Bridget's and Father Joe Gormley came and joined us on our way back. It was great to get the support, not only of all the staff of the various churches but also of the clergy. We also got support from children from St. Paul's in Slievemore came out and encouraged us along the way which was lovely. I'd like to thank Gareth Blackrain, the principal there because it was really lovely for the children to come out and make that time for us. It's great to get the support of other schools."
Mr Mathewson would encourage any schools to organise a 'Derrymino' to provide physical and spiritual enrichment to the children.
"It's a big enough commitment in terms of paperwork, risk assessments and staff but I think it's a really good idea because they're getting their faith journey but also they're getting a lot more than that. They're getting the look at how our city has evolved through time and the formation of the city right up to the present day."
"In actual fact, I would recommend it to any family just the same way this month we're going to visit each other in churches in the city and find out a wee bit about the history because it's fascinating what's there and it's also very enjoyable."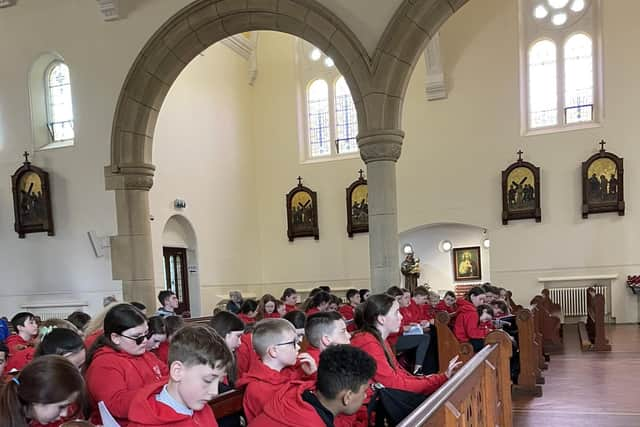 Primary 7 pupil Eve Doherty has been having great fun on the 'Derrymino'. She said: "I loved the walking and being able to talk with my friends. When you're walking, you're learning a lot about your city and then you get loads of facts when you're in the chapel too so it was just as good as being in school."
"We knew some priests already but we got to meet a lot more who work in other chapels so it was good to get to know them all. I think we got fitter too because it would have taken us so much longer to walk to somewhere like Galliagh if we were going last year."
Luckily for the pupils, it only rained one day they were out walking but it didn't dampen Jessica Doherty's spirit, who said she enjoyed the cool water on her face while she was walking. She said: "I really liked Termonbecca because it's really different to every other church so it was a wee change.
"I loved the guard of honour because it felt good to see people clapping for us and it motivated us to keep going.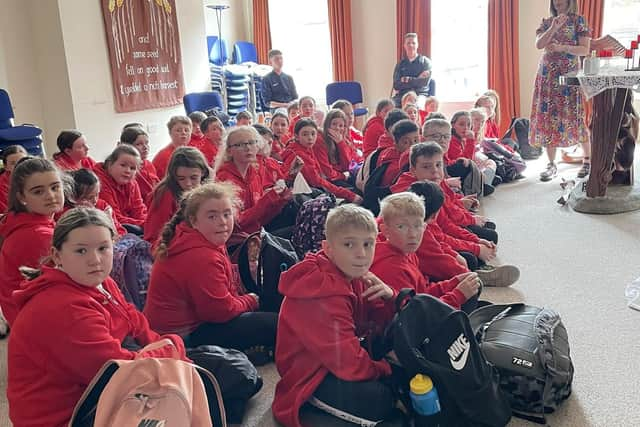 "I loved when we were stopping for lunch around town because we don't often get to go to those places with our friends. We had our lunch in Brooke Parke one day as well and then we got to play in the park so we got to have a lot of fun while we were out."
"One of the churches, Steelstown, is made out of three tents and I wouldn't have known that if it wasn't for the Derrymino.
Conor O'Reilly said: "I think my favourite church was probably Termonbecca but it was a bit far away. I had never been there before but I would like to go back."
Cian Sweeney, said: "My favourite church was St Mary's in Creggan because a lot has happened for my family there. When I had been there before, we just sat down in the main church but this time we got to look around at everything. I liked the wee side church, I thought it was very nice.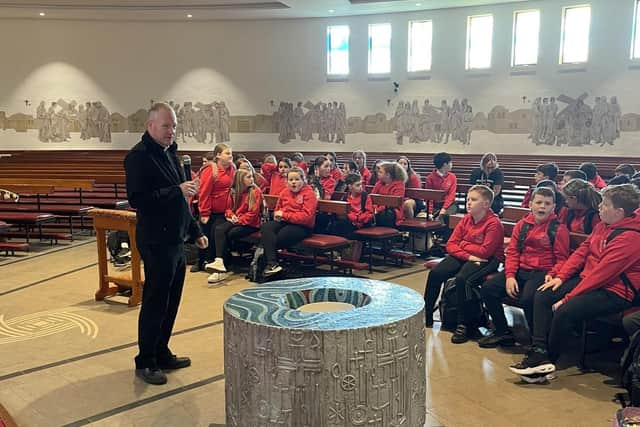 "I liked that Termonbecca's not the same as our church in Holy Family too because the Friars are there and we would have never known about that before.
"I would tell other schools to just do it because it was the best thing to do. We learned so much more about our faith and our city with a few scary stories from Mr Mathewson as well!"