'Thank you' - Michelle O'Neill hails huge vote in Derry & Strabane
First Minister designate Michelle O'Neill has thanked the many voters of Derry City & Strabane District who placed their trust in Sinn Féin candidates following an historic election that saw all 18 of them returned.
Published 22nd May 2023, 11:16 BST

- 2 min read
Updated 22nd May 2023, 11:17 BST
Speaking to the media at Foyle Arena ahead of the final tallies coming in, Michelle O'Neill delivered a message to local people saying: "I would say to every voter who came out and cast a vote for Sinn Féin, thank you so much. We are very, very grateful for that support, for that endorsement of our positive campaign and in return we will work hard for each and every citizen. We will work hard for everybody right across our society, we will represent everybody.
"I am committed to being a First Minister for all and each one of these Councillors standing behind me and all Councillors across the north elected for Sinn Féin will work for everybody in the community."
Speaking as her party made history by becoming the largest in local government following on from becoming the largest in the NI Assembly last year, Michelle O'Neill said the electorate across the north was sending a very clear message.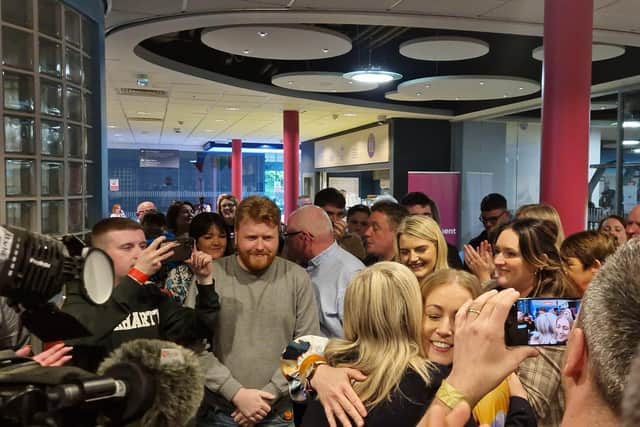 "This is absolutely an endorsement of positive leadership. We told the electorate what we were for, what we wanted to achieve, what we wanted to do and that we were going to work hard for everybody in our society. And that is what has been endorsed in this election. It;s a repat of last year's Assembly election.
"The bigger picture here is we are left without an Executive at this moment in time and that needs to be changed, that needs to be fixed. I am determined to do everything I can to make that happen but it is now time for the two governments to step us as co-guarantors of our peace agreement and come up with a plan to restore the Executive.
"There should be no more delays we need to be in that Executive tomorrow. Let's get this done."
Sinn Féin returned every one of its 18 candidates across the seven wards that make up Derry City & Strabane District, claiming 39% of the entire first preference vote, an increase of almost 11%. This is seven more Councillors for the party than at its previous showing in 2019 when 11 Sinn Fein Councillors were returned.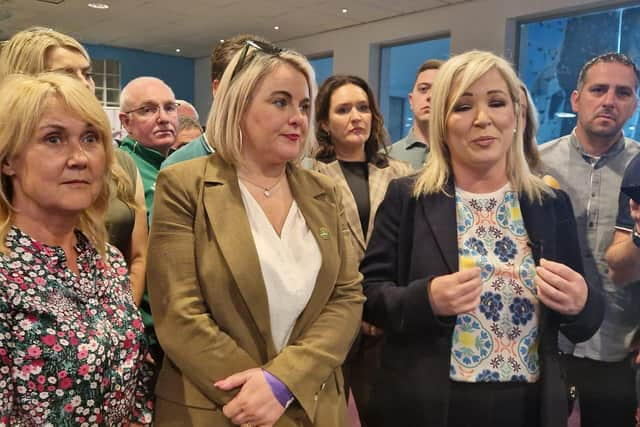 Across the north, the party returned 144 Councillors, an increase of 39 compared to 2019 local government election results.
Michelle O'Neill said the party would continue to prioritise Derry & Strabane and were committed to addressing regional imbalance, expansion of university provision, and opportunity for everybody.
"My eyes are focussed on the future and where we are headed and I think where we are headed is into prosperity, opportunity and the fact that we now have a deal on the Protocol gives us dual market access, which is the envy of many, many other areas. The opportunity that brings for economic investment is going to tremendous and this team here in Derry & Strabane, and the whole team right across the north, is going to do everything we can to tackle regional imabalance and that is a top priority for Sinn Fein."