Three Derry sisters step out year after year to support Foyle Hospice Female Walk/Run
Three Derry sisters are stepping out once again this year in support of the Foyle Hospice Female Walk/Run.
Published 16th May 2023, 10:13 BST

- 2 min read
Updated 16th May 2023, 10:14 BST
For the last eight years, Frances Bryson, Paula McCallion and Marian Sweeney have participated together in the annual event which attracts hundreds of ladies across the region, all walking for a cause that is close to their hearts.
When her husband Pat died from cancer approximately four years ago, Frances believes she could not have coped without the support of Foyle Hospice who she admits went above and beyond for them.
Following the discovery of a clot in his leg, Pat began having problems swallowing and was eventually diagnosed with Esophageal Cancer in 2017.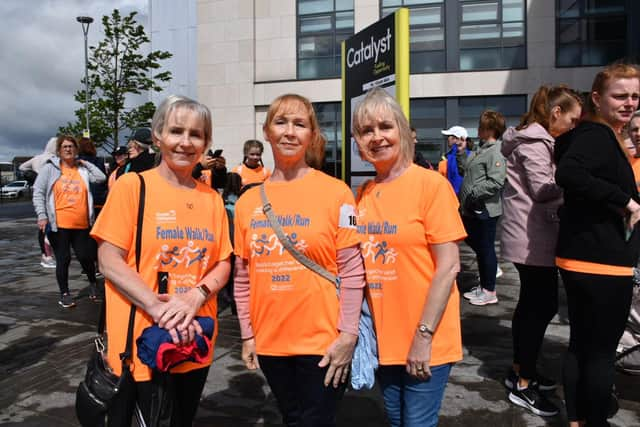 After refusing treatment, Pat was bedridden and that is where Foyle Hospice stepped in.
"It was such a relief, we really couldn't have coped without it," said Frances.
"The support at Foyle Hospice was unbelievable.
"They have a Day Therapy which my husband also went to and it got him up and out of the house."
In August 2019, Pat died peacefully at home surrounded by his family and familiar surroundings.
According to Frances, the couple were married almost 50 years before he died and had two daughters and two sons together.
She continued: "They also offered a support group for families where I could go and talk to other people who were going through the same thing so that I wouldn't feel alone."
Frances went on to praise the annual Foyle Hospice Female Walk/Run which she loves to support along with her sisters each year.
"We do the walk in honour of our sister Chris who died of cancer too," explained Frances.
"We love it - the Hospice do such great work for Derry and surrounding areas.
"I also have friends that have been cared for in the Hospice - I really don't know how anybody could do without them. It is such a necessary service."
If you would like to know more about Foyle Hospice, including its services and support or share a fundraising idea please call 028 71 359 888. They are always grateful for your support.