Days after Brexit, many products vanish from Sainsbury's in Northern Ireland and are replaced with Spar brand
Days after the Secretary of State declared "there is no Irish Sea border", scores – and possibly hundreds – of products are disappearing from supermarket shelves in Northern Ireland because of that new border.
Watch more of our videos on Shots! 
and live on Freeview channel 276
Visit Shots! now
Sainsbury's has taken the highly unusual step of using a rival supermarket's branded products to prevent bare shelves in its Northern Ireland stores, entering into a deal with Spar in Northern Ireland to stock some of their products.
The decision appears to be the consequence of one of the multiple new elements of costly and cumbersome red tape at the new trade frontier which the government continues to insist does not exist.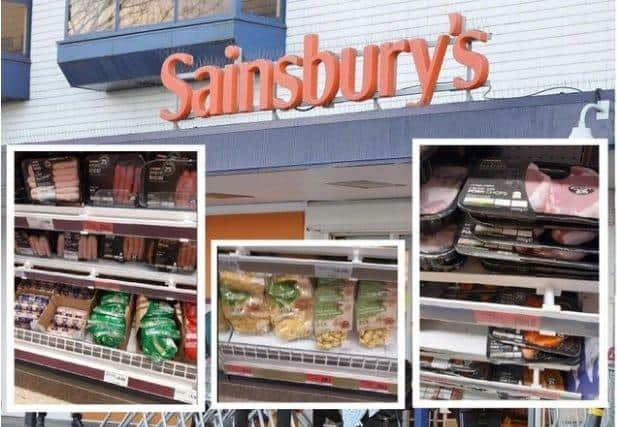 Due to Northern Ireland remaining subject to many EU regulations, Export Health Certificates must be completed for every product containing any animal part every time that product crosses the Irish Sea from Great Britain.
In an indication of the cost of the certificates, which must be filled in by a specialist such as a vet, the government has set up a scheme to compensate those having to fill in Export Health Certificates at a cost of up to £150 a time, although it is unclear how long that government scheme will last.
Supermarkets and some of their suppliers have been given a temporary 'grace period' exempting them from that part of the new bureaucracy until April 1.
Multiple items which would require Export Health Certificates have been seen – including fresh pasta, sausages, ham, pork – on the shelves of a major Sainsbury's store in Belfast in recent days.
A member of staff said that about 700 product lines had been lost "because of Brexit" but that several hundred of them had been replaced with local alternatives, some of which was the Spar produce.
Sainsbury's website shows 48 Spar own-brand items, including bacon, houmous, ready meals, deserts, chorizo and soured cream. However, some of those items do not yet even have a basic description, dietary information or ingredients on the website.
Sainsbury's confirmed that it had "a temporary supply agreement with Henderson Wholesale Ltd", the Mallusk-based company which supplies 450 Spar and Vivo stores across Northern Ireland.
In a brief statement, Sainsbury's said: "A small number of our products are temporarily unavailable for our customers in Northern Ireland while border arrangements are confirmed.
"We were prepared for this and so our customers will find a wide range of alternative products in our stores in the meantime and we are working hard to get back to our full, usual range soon."
When it was put to Sainsbury's that is was highly unusual for one supermarket's own-brand products to be on the shelves of a rival supermarket, the company insisted that it was "not that unusual". It said that "for example, elsewhere in the UK we have wholesale agreements which mean Sainsbury's branded products are stocked by Simply Fresh, Dobbies and WHSmith".
However, Dobbies is a garden centre, WHSmith is a newsagent, and the small upmarket grocery store Simply Fresh has no shops in Northern Ireland. Sainsbury's could not point to any precedent for a supermarket stocking a rival supermarket's branded produce.
An industry source said that talks between Hendersons and other major retailers had been going on since the middle of last year as a result of Brexit and the uncertainty which businesses have faced because decisions on the post-Brexit regime were left to the last minute.
The Henderson Group said: "Over the last several months we have been contingency planning for Brexit to minimise any disruption to the food supply chain for our 470 stores across NI after 31st December 2020.
"We can confirm that we have entered into a temporary supply agreement with J. Sainsbury supermarkets that will see both parties working together to ensure availability for our customers.
"Henderson Group is a major employer and retailer covering every part of NI. Over 75% of our fresh products are sourced and made locally."
Last Friday, Northern Ireland Secretary of State Brandon Lewis tweeted: "There is no 'Irish Sea Border'. As we have seen today, the important preparations the Govt and businesses have taken to prepare for the end of the Transition Period are keeping goods flowing freely around the country, including between GB and NI."
When asked on the Andrew Marr shows yesterday if she accepted that there is now a border in the Irish Sea, Mrs Foster appeared to play down the significance of something which she once denounced unequivocally. She said: "Well, it's my job to mitigate against that and we've been doing that through a number of committees. There's a regulatory issue there – of course, we always had SPS [animal product] checks, Andrew, you know that, when animals and animal products came across into Northern Ireland those were checked on a very minor basis and we need to make sure that that minor basis continues."
Mr Marr put to Mrs Foster just some of the multiple acronymns for the new red tape which has been introduced for GB companies wanting to sell to Northern Ireland. He put to her that "it looks very like a border", to which the DUP leader replied: "Well, you know, I could stand here and bemoan the fact that we have left the European Union with a protocol; I wish that that wasn't the case, or I can now look for the opportunities as we move out of the EU..."
On New Year's Day last week, DUP Agriculture Minister Edwin Poots – whose officials constructed and are operating the new border under the eye of EU officials – tweeted to thank major pro-Brexit donor Arron Banks: "Thank you for all you done [sic] to make it happen."