Declassified 1997 files: 'John Hume is a statesman of the highest order,' Ted Kennedy told gala gathering of Irish America
'If you haven't heard John Hume sing 'The Town I Loved So Well' you've missed a wonderful part of our Irish heritage,' quipped Ted Kennedy in an after-dinner speech in 1997.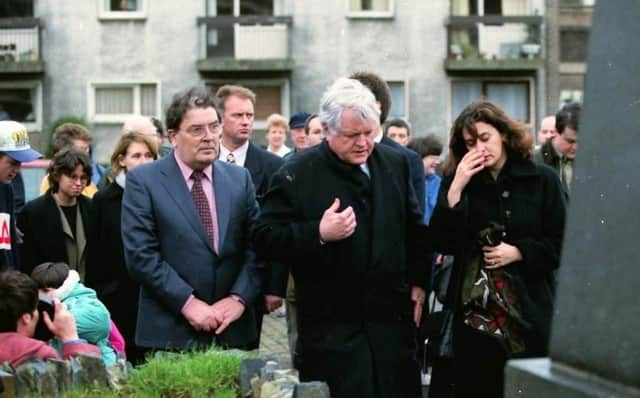 The Massachusetts Senator made the remarks as he accepted an Irish American of the Year award from Irish America Magazine in New York City in March of that year.
A copy of the speech is included in a batch of declassified papers newly-released by the British Government under the 20/30 year rule.
At the time Mr. Hume was heavily involved in behind the scenes efforts to broker a second IRA ceasefire and to secure access for Sinn Féin to the all-party peace negotiations that were being chaired by George Mitchell.
"John is an extraordinarily able leader for the people of NI. I've known him for 25 years, and I have enormous respect for his ability and dedication. He's been tireless in recent months in the effort to restore the cease-fire, and I support him completely.
"John Hume is a statesman of the highest order, and peace is closer in NI today because of him. President Kennedy would have called him a Profile in Courage. It's no secret that I've nominated him for the Nobel Peace Prize, and no-one deserves it more than John Hume.
"John Hume also has a beautiful singing voice. If you haven't heard him singling 'The Town I Loved So Well,' you've missed a wonderful part of our Irish heritage," Senator Kennedy told a gala gathering of Irish Americans in Manhattan a few days before St. Patrick's Day.
He said that because of 'leaders like John Hume, we've come closer than ever to peace in the past two years'.
"We thought we had the breakthrough we needed when the ceasefire was declared on all sides in 1994, first by the IRA and followed by the loyalist paramilitary organisations," he said.
The senior Democrat declared that one of the key steps to securing the first IRA ceasefire was the decision by President Bill Clinton to grant Gerry Adams a visa in 1994.
He called on the then British Prime Minister John Major and Labour leader Tony Blair, if he succeeded him after elections that May, to admit Sinn Féin to the peace talks chaired by George Mitchell that were due to recommence in June 1997.
He called on the IRA to declare a fresh ceasefire and told the audience that decommissioning was a 'phoney issue' because the IRA and the loyalist paramilitary groups could 'disarm today and rearm tomorrow.'
"In fact, there is no situation in the world in which such groups have handed in weapons in advance of a peaceful settlement. It didn't happen in South Africa. It didn't happen in El Salvador. It isn't happening in the Middle East. And it won't happen in NI," he declared.