New Black Lives Matter billboard unveiled at Free Derry corner
A new billboard has been unveiled at Free Derry corner in support of the Black Lives Matter campaign.
Published 6th Jun 2020, 14:58 BST

- 1 min read
Updated 6th Jun 2020, 15:05 BST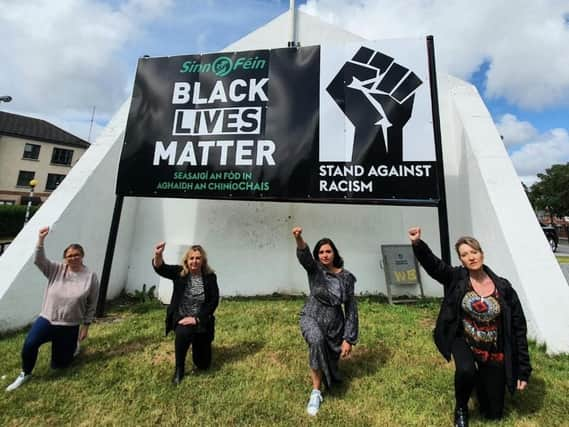 Sinn Féin Foyle MLA Martina Anderson, speaking at the launch of the new billboard, said: "We were all horrified to witness on our TV screens the death of George Floyd and follows a litany of other deaths of African Americans at the hands of racists.
"We stand four square behind those who have been the victims of racism and send our wholehearted support to their families."
Ms. Anderson said she would not be participating in a rally at Guildhall Square for public health reasons.
"Of course, people want to demonstrate that support and in normal circumstances we would have a very public show of that support.
"Unfortunately, these are not normal times. We are in the middle of a pandemic and people's lives and health are at stake.
"Over the past ten weeks we have clapped for our essential workers, especially our care workers and we should not do anything that will make their jobs more difficult.
"This pandemic will pass and at that time we will be able to come together to demonstrate our solidarity with all those victims of racism," she said.