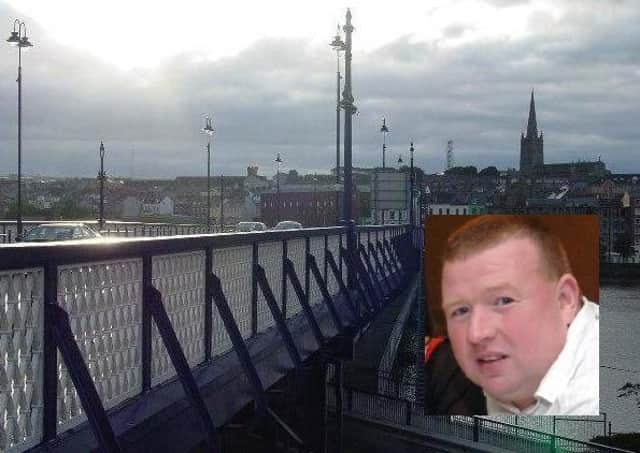 Joe McKane (inset) leapt into the River Foyle and saved the man's life.
Joe McKane and his wife were out enjoying an evening stroll in Derry city centre when a woman asked for help after a man entered the River Foyle from the Craigavon Bridge.
"I went over to see what the woman was talking about and I could see a man in the water.
"I was near where the Destined building is and started talking to the man and was telling him everything was going to be okay.
"It was then I decided I had to go to the man's aid so I stripped off and jumped into the river," explained Joe.
The distressed man was struggling to keep his head above the water and as Joe approached, the man disappeared under the surface.
"The river was flowing fast and the man was not able to get himself out of the path of the current.
"I took a life buoy with me when I went into the water but as I approached the man he went under but thankfully he shot to the surface again.
"I had given the rope attached to the life buoy to someone on the river bank - when I reached the man I signalled to the people on the river bank that they should start pulling us in."
As Joe swam towards the man the emergency services arrived at the scene.
"The fire service lowered down a ladder as we approached the river bank and we eventually made our way back up to where everyone had gathered."
Joe said it was clear just how upset the man was but as he was taken away in ambulance he thanked Joe for saving his life.
What makes this heroic tale even more remarkable is the fact that it wasn't Joe's first time to save someone from the River Foyle.
A few years ago he came to the aid of another man who entered the river approximately 1.5 miles away from where Wednesday evening's incident took place.
"This story should be about making sure people get the mental health help and support they need," said Joe humbly.
"Alcohol and drugs are not the only reasons people do this sort of thing.
"I know two people who sadly entered the river and lost their lives and neither of them drank or took drugs - it was because of their mental health.
"I'd like to see our MLAs do everything they can to tackle the mental health problem in this city - the people here are crying out for it."
Joe added: "I hope I never have to do something like this ever again but if I do, I won't hesitate, I'd do it all again in a heartbeat."