Into the West call for 1m passengers by 2028 after another 'record-breaking year'
Into The West are celebrating 'another record-breaking year for Derry's railway station' - after it registered its highest ever passenger numbers.
Published 25th Apr 2023, 11:05 BST

- 3 min read
Updated 25th Apr 2023, 11:06 BST
Figures secured from Translink for 2022/23 (the 12 months to March 2023) saw 723,776 passengers travel to and from Derry by train.
This, the rail lobby notes, represents an increase of more than a quarter of a million passengers compared to the previous year.
It is also the largest number of passengers that Derry's railway station has ever carried, and has propelled the city up one place on the leader board to become the North's 8th busiest station (and close to over-taking Coleraine in 7th place).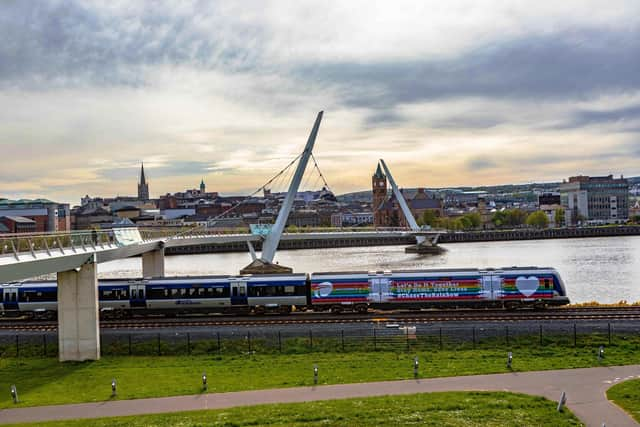 Into The West Chair Steve Bradley commented: "Demand for rail continues to grow at a phenomenal rate in Derry, with every year setting new records.
"Rail is now carrying almost three-quarters of a million people to and from our city annually. Back in 2016 Derry was only the 17th busiest rail station in NI and had 324,000 users.
"In the years since then an hourly service to Belfast has been introduced six days a week, and the new station has also opened. These modest changes have helped to transform demand for rail here – to the point where passenger numbers have more than doubled and we're now the 8th busiest station.
"This proves that investment in Derry's rail infrastructure delivers tangible results. What is most remarkable about the soaring demand for rail here is that it is bucking the trend almost everywhere else in NI since Covid.
"Belfast in particular has seen demand fall by 25 per cent since 2019, with over 2 million fewer passengers using its eight stations.
"Derry continues to be the star performer on Northern Ireland's rail network, with the greatest rise in passengers of all 54 stations since the pandemic."
Into The West are calling on Translink to set a target and identify a strategy to secure one million rail passengers annually within five years.
Mr. Bradley said there should be more trains and a better and more frequent quality of service in Derry similar to that 'every station East of the Bann gets on the same line'.
"Tackling this will require an hourly service from Derry every Sunday (currently only one every two hours), plus an earlier train out of Derry each morning and a later one back every night.
"These simple changes would finally deliver basic equality of service for Derry's rail service, and help grow passenger numbers here," he stated.
The lobby is also calling for the completion of the 'Phase 3' track renewal works on the line.
"It was originally supposed to take place in 2013, and is now finally due between 2025-27. There must be no further delays to this essential future-proofing work, which will also reduce journey times to Coleraine by five minutes," said the Into the West chair.
"Finally, Derry's status as the most isolated station on the NI Railway network must be brought to an end - by opening new halts to the east of the city at Strathfoyle, Derry Airport and Ballykelly.
"All of these changes combined would deliver a massive boost to the demand for rail in Derry and the north-west, and make a target of one million passengers here a reality by 2028."