Plaque unveiled to remember Paul Whitters as family to see redacted file
A plaque has been unveiled close to the spot where a Derry teenager was shot in the head with a plastic bullet forty years ago.
Tuesday, 27th April 2021, 10:15 am - 2 min read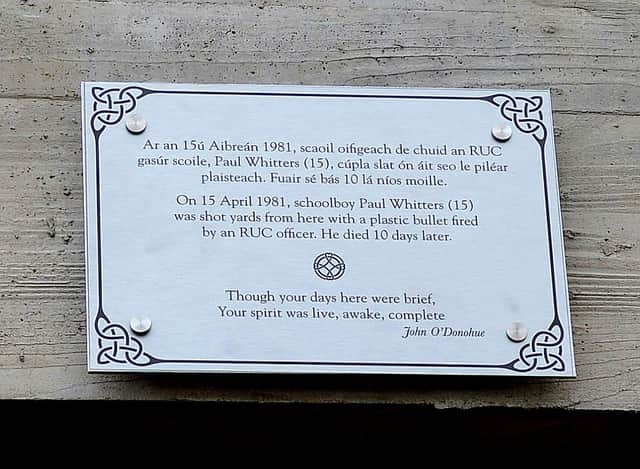 A plaque unveiled at Great James' Street on Sunday afternoon last in memory of Paul Whitters.
Schoolboy Paul Whitters (15) was fatally wounded at Great James' Street in April 1981.
The plastic bullet was fired at close range by a member of the RUC following a day of rioting during the 1981 hunger strikes.
Paul died in hospital 10 days later after his family made the decision to turn off his life-support machine.
The plaque was unveiled on Sunday afternoon at a socially distanced event just yards from where Paul was hit by the plastic bullet.
Paul's mum, Helen, who lives in Scotland, was among those who attended the short ceremony.
Also there were family and friends and a number of witnesses to the shooting incident which took place on April 15, 1981.
Paul was at the front of a group of youths when an officer opened fire at close range as he bent down to pick up a stone.
A Northern Ireland police ombudsman's report in 2007 found that Paul did not pose a threat when he was shot at under the minimum permitted range of 20 metres for firing plastic bullets. The ombudsman said the RUC had failed afterwards to obtain statements from civilians who witnessed the shooting.
Speaking on Sunday, Helen Whitters confirmed that her family would this week (Tuesday) be granted access to a government file relating to Paul's death.
It's understood a representative of the family will view the document at the National Archives in London.
Helen, however, says the file will be redacted (censored) and, as such, could be potentially meaningless.
Paul O'Connor, of the Pat Finucane Centre - which has been supporting the Whitters in their fight for justice, said: "The family should have access to the full, unredacted file.
"It's shameful. This would never be seen as acceptable if a 15 year old schoolboy was killed by police in Britain."