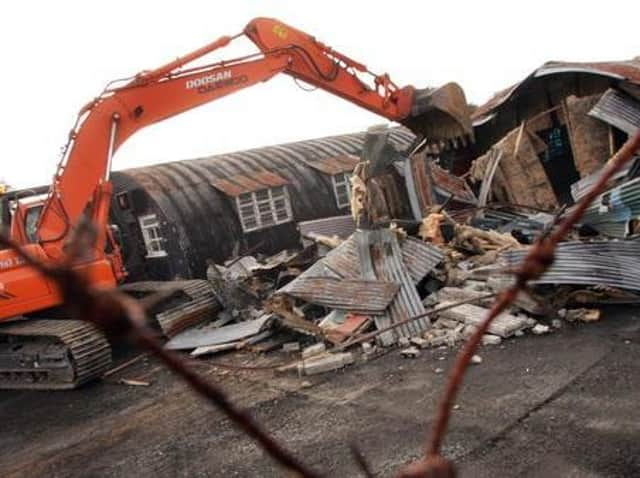 Long Kesh.
They are taking legal action for alleged false imprisonment after the Supreme Court quashed Gerry Adams' historic convictions for attempting to escape from jail.
Earlier this month justices ruled the former Sinn Fein President's detention at the Maze Prison in the 1970s had been unlawful.
Lawyers representing 30 ex-republican internees have now been instructed to issue proceedings against the Secretary of State, the Northern Ireland Office, PSNI and the Ministry of Defence.
The lawsuits allege false imprisonment, unlawful detention, assault ,battery and trespass around Interim Custody Orders (ICO) served between 1972 and 1975.
One of the main cases involves Tony Sloan, who was held at the prison - then known as the Long Kesh Internment Camp - a record three times.
He was part of the first group of detainees in December 1971 through to June 1972, then again from April 1973 to April 1974, and was one of the last internees to be released in December 1975.
Solicitor Kevin Winters, of KRW Law, confirmed the action follows Mr. Adams' successful appeal against two convictions for attempting to escape from the camp in 1973 and 1974.
He had been interned with trial, a policy introduced at the time as violence raged in Northern Ireland.
The Supreme Court unanimously ruled that the ICO for Mr. Adams was invalid because the Secretary of State at the time, Willie Whitelaw, had not personally considered it.
His detention and convictions for attempting to escape from lawful custody were therefore held to be unlawful.
Similar actions already initiated by 19 former loyalist internees are also being stepped up on the back of the Supreme Court decision.
The elderly Protestants are suing the Northern Ireland Office, PSNI, Ministry of Defence and Secretary of State, alleging they were imprisoned without trial in a bid to "even up the score".
Nearly 2,000 people were interned over a four-year period, most of them being Catholic.
The ex-loyalist internees allege British Government abused its power by locking them up because of their religion, and to demonstrate internment was not just focused on one side of the community.
Mr. Winters said their case was due to be heard at the High Court in Belfast this month, but was put on hold because of the COIVD-19 crisis.
"The adjournment could not have been more timely given the prospective significance of the Adams ruling on both sets of cases," the solicitor stressed.
"From initial assessment on some of the papers it seems the necessary protocol was not in place, including, crucially, an absence of the signature of the Secretary of State on the ICOs."
He added: "We have today filed a summons in the High court to amend the pleadings in the lead internment challenge to take into account the Supreme Court ruling.
"We expect the case to be heard later this year when the full impact of that ruling will be made known. That in turn will be of huge relevance to all internment cases collectively."