Family's £900k home now "worthless" after being flooded with raw sewage twice in three years
A family say their £900,000 dream home is now "worthless" after being flooded with raw sewage - twice in the last three years.
Watch more of our videos on Shots! 
and live on Freeview channel 276
Visit Shots! now
Helen and Ashley Northway's 17th century stone farmhouse was overflowing with dirty water after heavy rain swept the UK last week. The six-bedroom property was overwhelmed despite £230,000 being spent on flood defences and drain upgrades in their village in 2021.
The couple's home sits in a natural dip in the centre of Raunds, Northants., which has been hit with flooding in recent years. On Christmas Eve 2020 the family desperately tried to save presents and valuables after the entire ground floor of their home was under 3 feet of water.
Due to bad drainage and a faulty sewage pipe, sewage waste swept into the house, leaving the family with a huge clean-up bill. The couple complained to Northamptonshire Highways and engineers repaired misconnected sewage pipes and built two soakaways to absorb surface water at a cost of £230,000.
Just over two years later, the family's property was once again submerged after last week's downpours. After being exposed to raw sewage, the couple, their 10-month-old daughter Evelyn, 10-year-old disabled son Archie and Helen's 89-year-old grandmother June, all fell ill.
Recruitment manager Helen, 42, said: "We are all very sick now. All five members of my household had to be assessed by an emergency doctor and prescribed antibiotics for chest infections, following exposure to the raw sewage, and thereafter chemicals to treat it. My husband has been coughing up blood.
"With vulnerable people including my elderly grandmother and young baby being affected with chest infections, I am not willing to allow this to drag on as there is serious risk to health, let alone the property damage."
Helen and her husband Ashley, 43, a veteran army bomb disposal expert with the Royal Engineers, bought the house in 2017. They spent £200,000 converting the 380-year-old building into a family home including a fully-equipped annexe for Helen's grandmother.
However, they say it is now "worthless" and are unable to sell it or insure it against future flooding. She added: "We have spent a lot of money converting the house and what we have now is a nigh on £1million house which we were hoping to leave to our children but is now a massive life-long problem. We are uninsurable for floods now. The house has been valued at between £850,000 and £900,000 but it's worthless now." 
Helen also blames a new 400-home development which has been built at the end of her road for increasing the pressure on the drains. The family have been in regular contact with Tom Pursglove, Conservative MP for Corby and East Northants.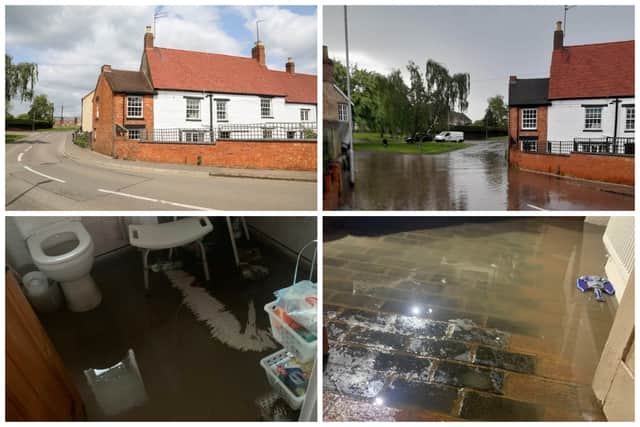 He said: "Any new development must take flooding risk fully into account and any mitigation schemes must be sufficiently robust to address it." A North Northamptonshire Council spokesman said: "Investigations are ongoing due to the cause of flooding to the property."