Meghan Trainor and husband Daryl Sabara welcome second baby named 'Barry Bruce' - how popular is name
Pop singer Meghan Trainor has welcomed her second child with husband Daryl Sabara, and his name is Barry Bruce but how popular is the name?
Watch more of our videos on Shots! 
and live on Freeview channel 276
Visit Shots! now
Pop sensation Meghan Trainor has revealed she and husband Daryl Sabara have welcomed their second child. The baby boy, named Barry Bruce Trainor, was born on July 1, which also happens to be the couple's seventh anniversary of their first date - but how popular is the name 'Barry' or 'Bruce'?
The 29-year-old 'Made You Look' and her 31-year-old actor husband posted an intimate post-birth picture of her and little Barry Bruce in hospital on Instagram alongside a caption: "On July 1st (our 7-year-anniversary of our first date), we welcomed Barry Bruce Trainor into the world.
"He was a big boy at 8lbs 7oz…and sideways (transverse) but we had an amazing, successful C-section, and I finally got my skin-to-skin time! Thank you to all the incredible doctors and nurses who took such great care of u(s)."
Fellow celebrities and fans alike flocked her comment section with well-wishes to the now family-of-four, which includes their first child, two-year-old Riley. But what does Barry Bruce mean and how popular is it among new parents?
While Barry was popular decades ago, especially in the 60s with the rise of popular 'Looks Like We Made It' singer Barry Manilow, the name Barry has dipped in popularity since. According to the US BabyCenter, the retro name made its mark in 1880 but peaked in 1962, with 3,181 babies being named Barry.
Meanwhile, the name isn't particularly popular to parents in the UK. From 1996 through 2019, only 417 newborns were named Barry, according to Popular Baby Names. Barry is a gender-neutral name derived from the Gaelic word 'barra', which means 'fair haired'. However, in the UK, it has historically been much more common for males.
Bruce, on the other hand, was originally a surname said to have Scottish and French origins. It was thought to have derived from a Celtic word meaning 'woods' or 'thicket', which also inspired the name of Robert the Bruce, a Scottish hero who achieved independence from England to Scotland in the 14th century.
According to BabyCenter, Bruce is now ranked 631st, with a peak of 7484 newborns given the name in 1950. However, Bruce has undeniably more of a star-studded lineup, with both Bruce Springsteen and Bruce Willis representing it on the world stage. Bruce Wayne, better known as Batman, a fictitious superhero from DC Comics, also helped bring the name to prominence.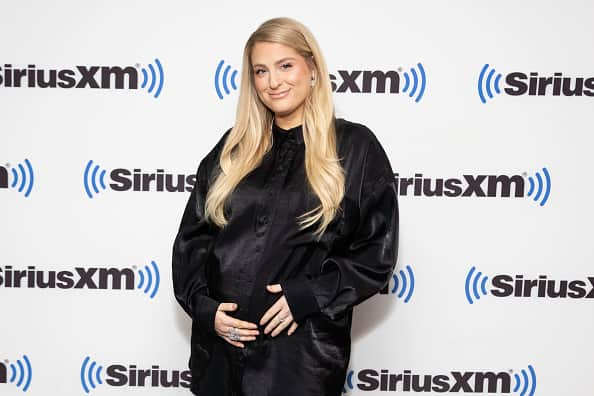 Despite the adorable combination of names, some fans have questioned the reasoning behind it, implying that it is a name for an elderly person. One wrote on Twitter: "Meghan Trainor named her baby Barry?! People called Barry aren't born, they just spawn at 40 years old surely?"
Another said: "Meghan Trainor has just had a baby boy and she's called him Barry. Did she give birth to a 52-year-old man from Bootle?" While another seemed to be happy with the choice of name, saying: "Absolutely obsessed with Meghan Trainor's new baby being called Barry."