UK heatwave: Optician explains when you should seek medical attention if you get sun cream in your eyes
As the UK bakes in a heatwave, an optician is offering advice on what to do if you get sun cream in your eyes and when to seek medical attention.
Watch more of our videos on Shots! 
and live on Freeview channel 276
Visit Shots! now
The UK heatwave is leaving parts of the country basking in temperatures of up to 30°C. The high temperatures means the sun cream is out in force as Brits look to protect themselves from painful burns.
According to the Skin Cancer Foundation, it's important to protect your eyes from sun damage by using sun cream around them. but what should you do if you get suncream in your eyes?
Optician Tina Patel, from Feel Good Contacts has offered advice on what to do and when to seek medical attention. She said: "Getting sun cream in your eyes is unlikely to cause permanent damage. But it will cause a burning sensation. This is because the chemicals in sun cream will irritate the tear layer in your eye and cause a shift in pH levels.
"It is important to apply sun cream to all areas of skin that are exposed to UV and that includes your eyelids. It should be applied with care. The skin around your eyes is more sensitive than other areas of the face and body (it's the first area to show fine lines and wrinkles) so use the ring finger to apply the cream and never rub."
Mrs Patel also offered advice on how best to clean eyes which have got sun cream in them. She added: The best way to remove suncream from your eyes is to use an eye wash, saline or preservative free eye drops to flush out any of the suncream. Remember to wash your hands first, remove your contact lenses if you are wearing them.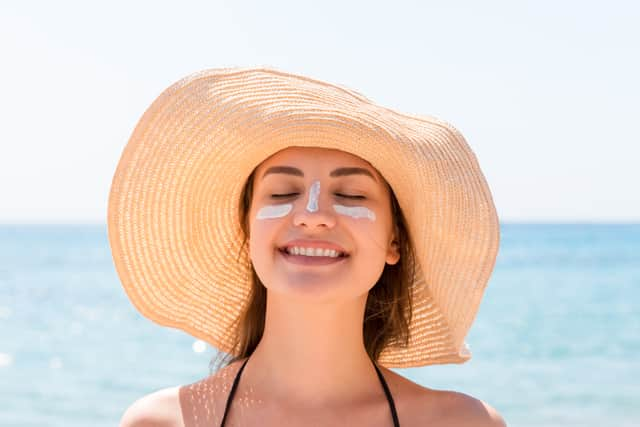 "Rinse your eyes immediately, ideally with a preservative free saline. If you do not have access to preservative free eye drops or saline, then you can use clean running water. Finally, if the discomfort persists or you experience severe pain or your vision is affected, seek medical attention."