Wimbledon: Just Stop Oil disrupt Dimitrov match with 'orange confetti and jigsaw pieces' in latest protest
Wimbledon is the latest sporting event to be targeted by environmental activist group, Just Stop Oil
Watch more of our videos on Shots! 
and live on Freeview channel 276
Visit Shots! now
Just Stop Oil supporters have disrupted the Wimbledon Tennis Championships after running onto the grass and throwing 'orange confetti and jigsaw pieces'. The match taking place on Court 18 between Bulgaria's Grigor Dimitrov and Japan's Sho Shimabukuro was temporarily suspended but has since been resumed.
The group are requesting the UK government to halt all new licences and consents for oil, gas and coal. The incident took place at around 2:10pm when supporters of the environmental group threw 'environmentally-friendly orange confetti glitter and jigsaw pieces onto the court'. Wimbledon's organisers said two people have been arrested on suspicion of aggravated trespass and criminal damage following the disruption.
One of those taking action today was a retired teacher from London. Deborah Wilde, 68, said: "I'm just an ordinary grandmother in resistance to this government's policy of serving us new oil and gas licences. In normal circumstances this sort of disruption would be entirely unacceptable, but these aren't normal circumstances.
"We've just had the hottest June on record, breaking the previous record by nearly a whole degree! We don't need Hawk-eye to see that our government issuing over 100 new fossil fuel licences is a very bad line-call."
Simon Milner-Edwards, 66, also took part in the action at Wimbledon. The retired musician from Manchester said: "I'm here for my grandchildren and everybody else's.
"I'm not prepared to let our politicians wreck everything and leave the next generation to pick up the pieces. The last thing I want to do is spoil people's enjoyment of Wimbledon, but right now, on Centre Court, it's humanity vs oil and gas and the umpire is getting every call wrong," he added.
A spokesperson for the All England Club said: "Following an incident on Court 18, two individuals have been arrested on suspicion of aggravated trespass and criminal damage and these individuals have now been removed from the grounds.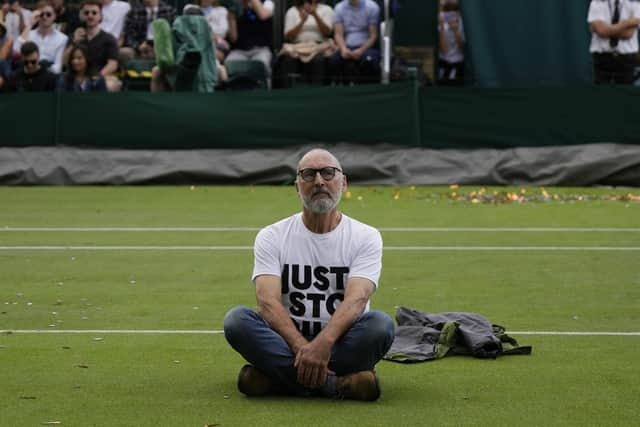 "Play on the court was temporarily paused and, following a suspension in play due to a rain delay, play is about to resume."
Today's action comes as the Met Office confirmed on Monday that June was the hottest on record, with the average monthly temperature of 15.8C exceeding the previous highest average June temperature, recorded in 1940 and 1976, by 0.9C.
The disruption comes a week after Just Stop Oil activists stormed onto Lord's Cricket Ground as England faced Australia in the second test of the 2023 Ashes series.  Yorkshire's Jonny Bairstow carried one of the protestors off the pitch and received a huge applause across the London ground.