What is a Mythosaur? The Mandalorian season 3 episode 2 ending explained
The Mandalorian returned with another episode this week - with some surprising reveals that left fans asking the same question
Watch more of our videos on Shots! 
and live on Freeview channel 276
Visit Shots! now
The Mandalorian returned to our screens once again this week, and finally gave fans what they had been begging for. If you haven't watched season three, episode 2 looks away as there are spoilers ahead.
That's right, Star Wars fans finally got to see Mandalore in live-action.
As is the case with any visit to Mandalore, the adventure was full of surprises that kept fans guessing throughout the whole episode. The latest instalment saw fan favourite Bo-Katan Kryze, played by Katee Sackhoff, come to Din Djarin's rescue (more than once).
Since the first season of The Mandalorian, fans have been desperate to see Din and Grogu go explore Mandalore since much of the show is centred around the lore that comes from the sacred land. It's fair to say that the first episode cemented the backbone of Mandalorian culture and did not disappoint, from the shocking state of the planet to watching Bo-Katan fight creature after creature.
However, it's the ending in particular, that has left fans stunned. The elusive, and assumed to be extinct, Mythosaur made its first appearance. Shortly after the release of the episode fans took to social media to express their shock.  One user tweeted: "OH MY GOD WE GOT TO SEE THE MYTHOSAUR !!!!".
Many fans echoed similar sentiments, while others were quick to jump into sharing their theories over the Mythosaur's arrival, with one fan suggesting on Twitter that the creature sensed the presence of the "true ruler" of Mandalore.
So, what is a Mythosaur? Read on to find out more…this is the way.
What is a Mythosaur?
In the Star Wars universe, Mythosaurs are gigantic creatures thought to have been tamed and ridden by ancient Mandalorians. The creatures hold significant meaning in the culture of Mandalorians with images of their skulls used in Mandalorian iconography which can be seen on their armour.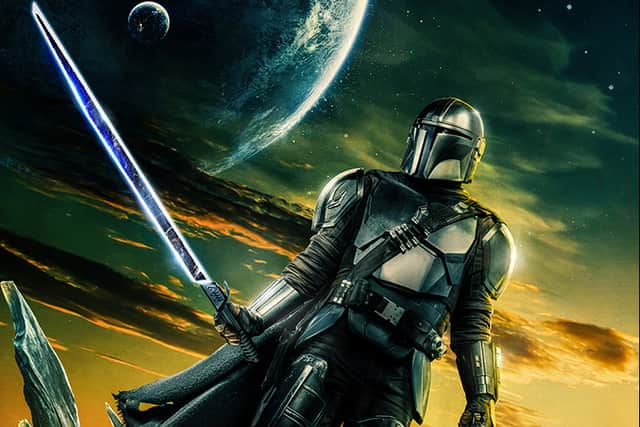 However, it was largely believed the animals had gone extinct years ago. How wrong we were.
In season three episode 2, Bo Katan is the one to explain what the creature is (of course), and reads the history of the Living Mines to Djarin, including the folklore of the Mythosaur.
She says: "These mines date back to the age of the first Mandalore. According to ancient folklore, the mines were once a Mythosaur lair. Mandalore the Great is said to have tamed the mythical beast. It is from these legends that the skull signet was adopted and became the symbol of our planet."
How to watch The Mandalorian
Those hoping to catch the latest episodes in the Star Wars series can sign up via the Disney+ website. You can sign up for  £7.99 a month or £79.90 a year.