Yellow box fines are 'problematic' says RAC after finding issues with nine-in-10 junctions
A report from the RAC found many of the boxes would lead to unnecessary fines and many were in non-permitted locations
Watch more of our videos on Shots! 
and live on Freeview channel 276
Visit Shots! now
Motoring experts at the RAC have found yellow box fines could be unfair - ahead of councils enforcing rules. In 2022, the government allowed for councils outside London and Cardiff to apply for powers to enforce moving traffic offences, leading to 27 local authorities asking to enforce 111 yellow box junctions, according to the RAC.
Sam Wright, a chartered engineer, was commissioned to review the applications for the RAC, who believe there are issues with 90 percent of the boxes which are likely to lead to drivers being fined unfairly.
More than half of them (61 or 55 per cent) fail to comply with current government guidance, with some of them on multiple counts. The junction breaches include:
40 that pose visibility issues for drivers
16 that are on the side of the road opposite T-junctions which the Department for Transport (DfT) states serves 'no useful purpose'
18 that extend beyond junctions such that they may be considered non-compliant with the regulations
9 that are in non-permitted locations according to the regulations
The RAC asked Sam to write a report on best practice for enforcing box junctions. The report brought to light gaps 'and a general lack of knowledge and understanding that could lead to many unfair fines being issued.'
Yellow boxes are in places in order to prevent the blocking of 'cross' or 'through' traffic movement. However, if a box or part of a box does not protect a cross movement then it is essentially useless, and may lead to unnecessary fines.
The RAC say that: "Two of the biggest issues with many of the yellow box junctions that councils are looking to enforce relate to visibility and size – something that's covered by the official guidance and has been reiterated by the previous Chief Adjudicator of the Traffic Penalty Tribunal."
Drivers need clear visibility of the box, to see where it begins and ends in order to only enter it and exit without stopping to comply with rules. However, If visibility is unclear, then fines are unfair.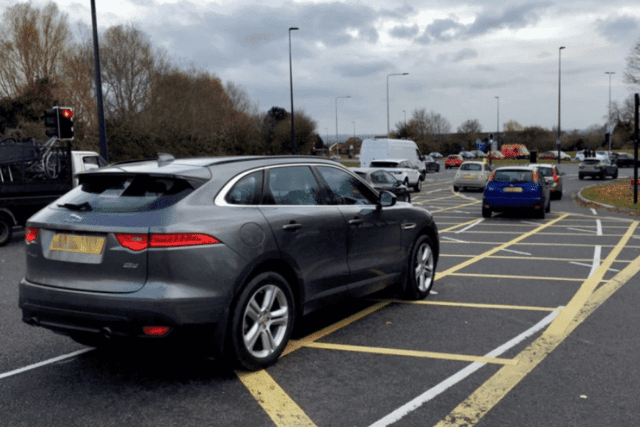 Sam Wright said: "Visibility issues are connected to the road layout, topography, buildings, box length, street furniture, trees, or a combination of these. While many boxes are barely visible at the moment due to a lack of maintenance, I chose to ignore this on the assumption that lines will be refreshed prior to enforcement.
"Crucially, I haven't seen a single proposal that reviews the visibility of the box from a driver's point of view. If you also factor in bad weather, poor light and other vehicles, then the poor visibility situation is exacerbated. This is all very concerning, especially as enforcement is carried out via cameras high in the air."