Oakleaf ABC celebrate 30th anniversary with exciting boxing bill at the Maldron Hotel
Oakleaf Boxing Club will host its 30th anniversary tournament tonight in the Maldron Hotel with some exciting contests down for decision. First bell at 8.00pm.
Published 3rd Nov 2022, 14:29 BST

- 3 min read
Updated 3rd Nov 2022, 14:29 BST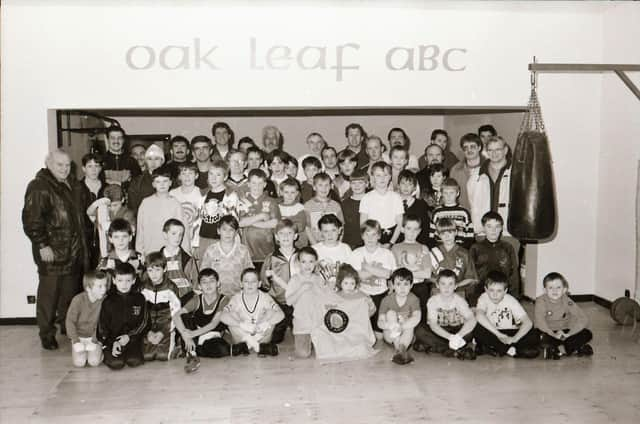 The local club will face a very strong Ulster Select, heavily loaded with Holy Trinity boxers who are incidentally celebrating their own 50th anniversary.
Oakleaf founder Eugene O'Kane commented that the past 30 years been a bit of a rollercoaster ride, with lots of highs and lows along the way.
"A lot of youngsters have passed through our doors, since our opening night in the old Post Office in Meehan Square, to The Brandywell Sports Centre to our present premises in Rathmor," he said.
"Work on the new centre will begin early 2023 in the Daisyfield, so the future looks secure and bright."
Oakleaf has served up some cracking nights of boxing at the Maldron Hotel for several years and this one promises to be another entertaining night for fight fans.
"The Maldron Hotel has been fight our main venue, since we lost the the St Eugene's Parish Hall some years ago," added O'Kane.
"It has seen some great tournaments down through the years and tonight's tournament should be a cracker."
Presenting the prizes tonight will be Oakleaf old boy Brett McGinty who is making a name for himself in the paid ranks under the guidance of former world champion Ricky Hatton in Manchester.
The unbeaten light middleweight will feature on the upcoming tournament on November 17th in the National Stadium, Dublin.
No doubt there will be a big following from the North West making the trip to the famous South Circular Road venue.
Tonight's programme is loaded with current and stars of the future. Irish Champion and World Championship bound Jack Harkin will feature in a 'special' contest with former Elite champion Blaine Dobbins who is making a welcome to the ring.
Blaine helped by sparring young Harkin a number of times when he was preparing for the Irish Championships.
One of the most improved boxers at the club is Bernie Stokes, a recent standout winner at the Belfast Halloween Box Cup and he will take on an opponent from Holy Trinity Belfast. The 17 year old Oakleaf boxer himself just missed out on chance to join teammate Harkin at the Worlds when losing to Dubliner Lee Colgan on a split decision.
Oakleaf's current Ulster 9 County and recent Halloween Box Cup winners Eabha Kelly and Carleigh Irving both face tough opposition. Young Kelly boxes Kerri Brown (Convoy) and Carleigh is pitted against Connie Gibbons (St Bronagh's). Both contests should be highly entertaining!.
Girls boxing in Derry is certainly on the up and two local 10 year-olds, Shaneice Robinson (Oakleaf) and Rose Kearney (Ring) will be making their debuts in a special exhibition.
The entire programme is packed with evenly matched contests and one Oakleaf newcomer to look out for is St Columb's College student, Tom McDaid who only took up the sport a year ago. In his first competitive contest he won the Ulster Novice title at the recent Belfast Box Cup. The 17 year-old, in only his second contest, lost narrowly to a boxer with 47 contests on his record - a remarkable performance.
The Oakleaf Committee would like to thank all this evening's sponsors, especially its two main sponsors, Tony O'Connor (The Bentley Group) and Stephen Ryan (VaporLinQ).
First contest is at 8.00pm. Admission £8 & £4, payable at the door.