Aaron McEneff reckons Derry City has 'all right ingredients' to wrestle title from Shamrock Rovers
AARON McEneff reckons Derry City has 'all the right ingredients' to wrestle the league title from the grasp of his former club Shamrock Rovers this season.
Published 18th May 2023, 17:07 BST

- 4 min read
The Perth Glory midfielder made a welcome return to Brandywell on Monday night to watch his younger brother Jordan star in Derry's 3-0 win over Dundalk and he's been impressed with how his former club are developing under Ruaidhri Higgins.
McEneff knows what it takes to win a league title having followed up a 2019 FAI Cup final win with his first league championship with Rovers in 2020.
The former Tottenham Hotspur youth's brother, who followed in his footsteps when returning from London where he was with Arsenal for six years, to join his hometown club - via a stop-off with Shelbourne - is aiming to do something similar.
Jordan scored a penalty to crown a thumping victory over Shels in the FAI Cup Final at Aviva last November and will have his sights of emulating his older sibling by following that success up with the league title this term.
Aaron knows what it takes to win a title and with the experience in their ranks this season, he believes the race for honours, most likely between his two former clubs, will be an intriguing watch.
"They definitely have a lot of quality and experience," he said of Derry. "There are boys in the squad that have won league titles before so they know what it takes. Maybe at times when you're not playing so well you need to grind out results and get your 1-0 wins and last minute goals and stuff like that."
Derry certainly have shown they can do that this season with a hard fought 2-1 win over Shamrock Rovers and big 1-0 wins over Shelbourne at Tolka Park, against Drogheda at Weavers Park and Bohemians at Dalymount Park in recent games.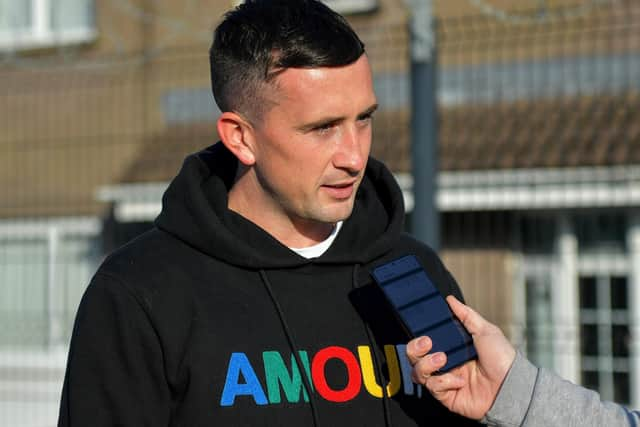 "The boys in the changing room will know what they have to do. They have a lot of experience in there, the likes of 'Fats' (Patrick McEleney) and Mickey (Duffy) especially who have won a lot in their career and there's other boys in there too.
"Then Ruaidhri has won things, so he knows, Paddy (McLaughlin) has won things, he knows. So they have all the right ingredients. It's just about turning up each week and putting in the performances. When you're having your off day, can you go and get the three points and dig it out? I think they really have been showing that at times and we'll see what happens towards the end of the season.
"They play good football and have carried on from last year. It was great winning the cup final. That will give any squad a lot of confidence. They've been playing with confidence this year, you can see it and it's going to be a close one at the end of the season I'd say.
"He plans on taking in a Rovers game while he's back in Ireland and he's relishing the battle between his former employers.
"I'm back for a few weeks now and I'm going to get to a few of the games here and I'll probably get down to Dublin for a Rovers game as well because I love watching the games in the league and I think it's definitely getting better and better each year.
"It's great to be back for a bit and see all the boys. It's brilliant that you have two clubs that are competing at a very good standard of football. Both sets of squads have real quality.
"The games they have played, they both put it up to each other and it's great for the league and great for me to watch at 4a,m," he laughed. "That's the hardest part, trying to watch the games sometimes but I have stayed up or went to sleep and got up to watch a few of them. I think it's going to be tight towards the end of the year," he predicted.
As for his brother Jordan, he's witnessed a positive change in the midfielder having settled back at home with his family and his football is reaping the benefits.
"It's brilliant just to see him being happy," he said. "Off the pitch he's very settled being back home and on the pitch you can see his happiness and how much he enjoys playing here at Derry.
"I'm just buzzing that he's playing and enjoying it because he's had a tough time over the past few seasons with injuries and stuff. "There were points when he didn't know if he was going to get going again.
"So to see him doing well this year so far and hopefully he can keep building on that because I think a lot of people know the quality is there with Jordan, he has the top qualities to be a top, top player and if he keeps building on his game and showing that hunger to do well there's no doubt he will keep developing."
Jordan has netted five times this season already, including the opener against Dundalk on Monday at Brandywell. Aaron wants to see him 'stamp his authority' on the team and nail down a starting berth.
"With Jordan playing here now we have a connection to the club again. Jordan has done well so far this season and the team has been doing well. Hopefully that continues.
"He started off like a house on fire and really got into a rhythm. There were a few games where he was in and out. Hopefully he can get a few goals again, find that rhythm and start every game and really stamp his authority on the team and be one of the main men for the rest of the season and going forward."