Bohemians boss Declan Devine says spending power doesn't guarantee success
DECLAN Devine believes he was never in a position to return Derry City back to the 'top echelons of Irish football' given his modest playing budget during his Brandywell reign but stressed spending power doesn't necessarily guarantee success.
Published 11th May 2023, 19:11 BST

- 4 min read
Updated 11th May 2023, 19:11 BST
Higgins has already returned an FAI Cup to the Lone Moor Road club in his first full season and has utilised his increased budget to build a formidable squad.
During Devine's tenure the Creggan man was unable to compete with the likes of Shamrock Rovers, Dundalk and even Bohemians who were in a position to lure away Derry's top performers.
There's been a significant shift in the fortunes of the Candy Stripes in recent seasons following the arrival of experienced League of Ireland campaigners and serial winners Patrick McEleney, Michael Duffy and Cameron Dummigan and the likes of Mark Connolly.
That investment has provided real hope of pushing for that elusive league title according to Devine.
"It (financial investment) was always required for Derry to get back to the top echelons of Irish football," said Devine. "I was never going to achieve that in terms of what I had to spend and was able to bring in.
"At the same time, investment and spending power doesn't guarantee you anything. If Derry are to be successful again, you need your McEleneys, Duffys, Connollys and all the players they were able to bring to the club. That certainly makes them a much stronger prospect for future success in the league. Derry will fancy their chances pushing for a league title.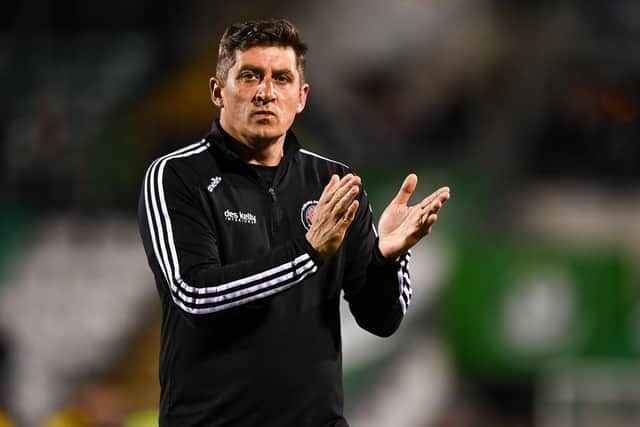 "We were working off 40 week contracts on minimum wage to a certain extent when I was there. Any time someone did well, a (Greg) Slogget for instance, a Junior (Ogedi-Uzokwe) or 'Parky' (David Parkhouse), there was always someone coming in to take them and we lost them to another level.
"That was something I was fully aware of at the time but the game keeps moving and if you don't move with it you get left behind.
"If you want success you have to be in the market for top players and even though investment comes it doesn't guarantee you success but it certainly gives you a platform to get better and be up there challenging."
Devine's Bohemians have surprised most pundits with their impressive start to the 2023 campaign as they lead the way by a point ahead of this weekend's fixtures and a home clash with third placed Derry who sit three points adrift.
The former goalkeeper describes Bohs as a 'monster of a club' and whether they achieve short term or long term success, he's relishing the challenge of competing with Derry and Shamrock Rovers at the top.
"The league table isn't important at the minute. Obviously you want to have be as high up and have as many points as you can but I think there's a lot of growth in this team yet. We will continue to get better.
"We've had one transfer window and we were able to strengthen well there. That's not to say we will be massively active in the next one but striving to get better is out ultimate goal.
"We've had some fantastic results but we've put them to the back of our minds. Last week (defeat to Rovers) was very disappointing because I thought we were the better team, we dominated possession in Tallaght. A lot of teams go to Tallaght, sit in and try and hit on the counter, we didn't. We went there and dominated and only for a couple of decisions that haven't went our way, we certainly would have come away from that game with something.
"So that was disappointing for us but also we take confidence from the fact we can go toe-to-toe with Shamrock Rovers in front of 9,500 people in Tallaght and have the bravery and guts to be the team we were last week.
"Ultimately we came away with no points and we have to make sure we get points now on Friday - that's the goal.
"At the start of the season everybody is tipping Derry and Shamrock Rovers to be the top two teams in the league and rightly so because they've invested heavily in their squads and have signed really top players but we're very much of the belief that we've signed top players as well. And we have players in our team that could get into either of those teams.
"Moving from part-time to full-time was a massive bonus for us in terms of trying to compete with the top teams. We are just looking to continue to get better," he added. "There's players playing for Bohemians who would get into any team in the country and we're very pleased to have them but we also understand it's all about performance on any given night.
"This is an absolute monster of a club. They haven't had success as such over a long period of time in terms of bringing trophies in but it's a giant of a club.
"We've sold out every ticket for every game this year. Whether that's at the Brandywell, at Cork, at Dalymount or UCD - they're sold out every ticket which shows you the magnitude of the club."
And the support from the terraces has been a 'driving force' for the team during the opening series of matches.
"It's been a big factor in how we're doing this year as well because the support has been really behind us. It's something I wanted to do at Derry and when I came here, try get that support and togetherness from the team and the fans. The fans have been a real driving force for us and that's something we need to continue."