Andy Walker delivers verdict on Lennon 'hysteria' amid Celtic 'Holy Grail' pursuit
The mounting pressure surrounding Celtic manager Neil Lennon is a reflection of the huge prize on offer for his side this season, according to Andy Walker.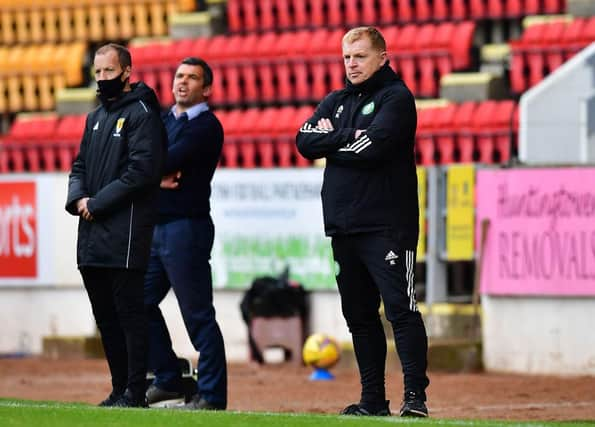 The Hoops are without a win in their last three matches in all competitions after sharing the spoils in a thrilling 3-3 draw against Aberdeen on Sunday, and find themselves six points adrift of Old Firm rivals Rangers at the summit of the Scottish Premiership table.
Lennon and his men are bidding to secure a historic 10th consecutive league title – a prize that Walker describes as the "Holy Grail" of Scottish football – and are also hoping to wrap up a fourth straight domestic treble this season.
But after their recent lean spell, including a 2-0 home defeat to the Gers, there have been murmurs of discontentment from some factions of the fanbase, especially regarding the Northern Irishman's tenure in the dugout.
The Parkhead manager himself has even seen fit to defend his position, openly stating that he sees "no justification" for any debate surrounding his potential dismissal.
For his part, Walker is inclined to agree.
Writing in a column for Sky Sports, the pundit claimed that Lennon will be safe for now, but must put an end to his team's slump in form as soon as possible.
"Undoubtedly, it boils down to the significance of what's on offer this season," he said.
"Both Celtic and Rangers have secured nine titles in a row before, but neither has managed the 10. It's the Holy Grail.
"The debate amongst every Celtic fan is whether this is a blip, possibly just a slump in form, or maybe there's something badly wrong, something more serious happening behind the scenes?
"Lennon says he will blank out the recent hysteria on the back of successive home defeats to Rangers and AC Milan and the draw with Aberdeen last Sunday. Good luck with that! I can guarantee that this season will be dominated by hysteria and extreme reactions. Every defeat will be viewed as catastrophic; every draw will be a complete disaster.
"In all honesty, I think the hysteria Lennon refers to largely comes from his own supporters. A growing number simply don't buy into him.
"So, will Lennon survive this period? Of course he will, but no manager survives the habit of losing.
"I'll say it again, as long as the players are still with him and fighting for him as they clearly were in securing the last four trophies, there's still life in Celtic's main challenge for the season, a remarkable 10th title in a row."
Prior to their Old Firm defeat earlier this month, Celtic had not lost a league game this season.
The Hoops' next outing comes in the Europa League against Lille on Thursday evening. The defending champions will then square up against Aberdeen once again in the Scottish Cup semi-final on Sunday.
Their next league clash comes on November 8th against Motherwell, just prior to the next international break, meaning that the best the Bhoys can hope for is to head into that interval three points behind Rangers.