'Huge game' - Michael Stewart hammers home importance of 'massive' Celtic showdown with Aberdeen
Michael Stewart has argued that Celtic's Scottish Cup semi-final against Aberdeen on Sunday has taken on the complexion of a "massive" game for Neil Lennon's side.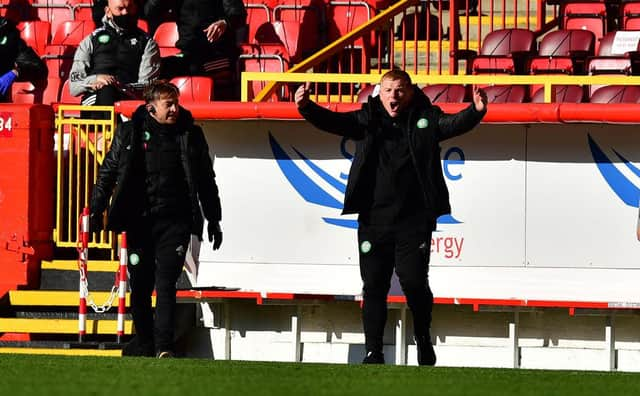 The Hoops go into the tie off the back of a run of four matches without a win, including a thrilling 3-3 draw against the Dons last Sunday at Pittodrie.
Since then, Lennon saw his side put in a brighter display in the Europa League against Lille on Thursday evening, but the Bhoys were ultimately pegged back again as they squandered a two-goal lead to draw 2-2 in France.
But Stewart insists that there were plenty of encouraging signs in that display – provided the Hoops can back it up with the right result this weekend.
Speaking on BBC Sportsound, he said: "Obviously, when you look at the dynamic of the game [against Lille], it's disappointing when Celtic go 2-0 up to be pegged back and end up 2-2.
"But when you look at the bigger picture in terms of where Celtic are at the moment – just trying to find their feet again – I think there are so many positives they can focus on to try and build a bit of momentum going forward.
"It's been two games [against Lille and Aberdeen] where there's probably been a huge amount of annoyance that they've drawn both, but when they look at it in the cold light of day, I think Neil Lennon will recognise that where they've come from in the last couple of weeks to where they are now, there's been a big, big improvement. They've got a basis to start and build on now.
"[It's a] Huge game on Sunday. You can't underestimate how important that game is. It really is a massive one for Celtic to make sure that they get through to the Scottish Cup final.
"Like I said before this game, only at the end of this week will you start to be able to get a full picture of whether these two draws were a building block, or were they just a continuation of this cycle of being stuck in the mud and just stumbling along? Getting through to the final puts a great slant on these two results, whereas if they get knocked out, it really is back to square one."