Tam McManus speaks out on 'deserved' criticism of Celtic manager Lennon
Tam McManus has argued that any recent criticism of Celtic manager Neil Lennon has been justified by his side's lacklustre form of late.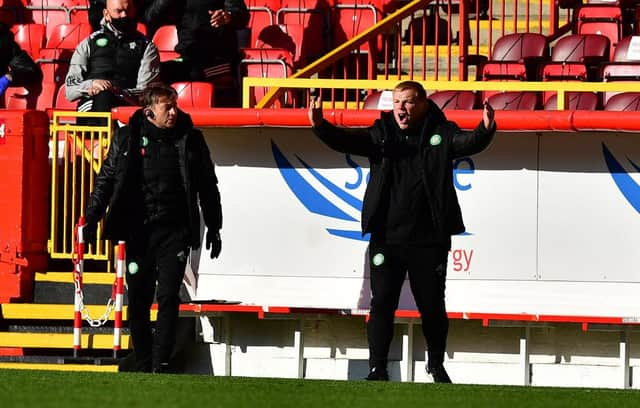 The Hoops go into Thursday night's Europa League clash against Lille without a win in their last three outings following defeats against Rangers and AC Milan, as well as a 3-3 draw against Aberdeen on Sunday afternoon.
That mini-slump has left the Parkhead side six points behind the Gers at the summit of the Scottish Premiership table, and facing a decided disadvantage in a tricky European group.
The results have also led to an increased level of scrutiny surrounding Lennon's position in Glasgow in recent days, so much so that the manager himself has spoken out in defence of his tenure, arguing that there is "no justification" in any debate over his future.
But McManus is of the opinion that any criticism of Lennon is valid given the unconvincing performances his team have put in so far this term.
Speaking to PLZ Soccer, the pundit said: "I was little bit [surprised] with Neil. I think he's taken a lot of flak, but I think a lot of it has been deserved.
"I think Celtic have been playing really poorly. It's not just been one week for me, it's been over the course of the start of the whole season. They've struggled by in Europe as well. Riga, Sarajevo – these are two very average sides they've struggled past. They've not been flying in the league. They struggled past St. Mirren and Livingston.
"They've not been firing on all cylinders, and I think this week it's just come to a head. I think the performances have caught up with them, and they've obviously lost [dropped points in] three games.
"I don't think anybody has been personal, people are just saying that they fancy Rangers to win the league from here – they're playing the better football – and Shane Duffy's not been up to scratch. We're not saying he's a bad footballer or a donkey or whatever, we're just giving our opinion.
"I don't think he [Lennon] was correct in firing a salvo at certain people in the media."