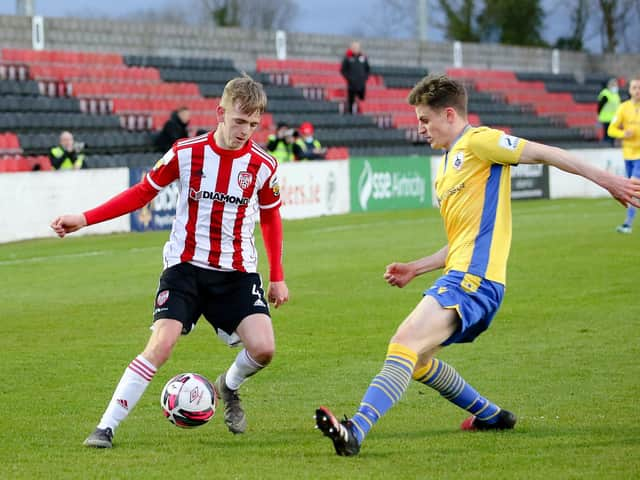 Ciaron Harkin pictured on the ball against Longford, has full belief that Derry City can turnaround their fortunes. Pictured by Kevin Moore.
The City midfielder admits consecutive defeats to Longford and Waterford haven't been good enough but insists confidence remains high in the squad as the Candy Stripes go to Dublin to take on a Saints team intent on going clear at the top of the table.
The Creggan man says he's ready to go that 'extra mile' in search of three points in Inchicore which will finally give City fans something to cheer about.
"We definitely have the belief," claimed the club's vice captain. "We're just looking forward to getting that first win to drive us on. We do believe in each other and we're confident we can get up and running very soon.
"The main thing is getting that first win. We're going to keep pushing hard every game to make sure it comes sooner rather than later. This Friday night we go again and we will work that bit harder and do what we can.
"We will have a different game plan but we'll do whatever it takes to get the three points and hopefully that will kickstart us and get us going because we have a hard run of games coming up."
There was a marked improvement in last Saturday's performance against Waterford despite the 2-1 defeat and Harkin agrees they must cut out the individual mistakes and take their chances in front of goal if they're to stop St Pat's in their tracks.
"We didn't deserve to get beat," he said. "I thought we were comfortable and did well. Going in at half time at 1-1, I thought we were a 'cert' to win the game. I thought we would come out and win it easy in the second half.
"Things just went a bit the wrong way. We missed a good chance just before they got the penalty and that changed everything.
"We kept driving on, creating chances and on the day it came down to not taking our chances. It was frustrating.
"Getting over the Longford game was hard enough but working so hard to get ready for the Waterford game and we had a plan which was going well. We had all the ball, created a lot of chances but it wasn't our night."
Despite a worrying start to the season, Harkin dismissed claims the performances were a continuation of the form, which saw them slide down the table at the end of last season. And he believes it's only a matter of time before they click.
"This year has nothing to do with last year, it's a lot different. There's a lot of new players, new faces and we are getting the chance to gel a lot better. Time will show if we're going to get better. But, as for the fans, there's a reason they might be on giving off, it's because it's obviously not been good enough.
"We've been beaten in two games against teams we obviously should be beating. So we have to take the blame for that. The main thing for us to do is to show them that there is something here to cheer for and watch. It's all down to us to take ownership of that and get points on the board and give us something to give back to the fans."
Harkin is relishing the prospect of a tough midfield battle against in-form St Patrick's Athletic. Despite recent results, the 25 year-old thoroughly enjoyed playing in Derry's new-look midfield trio alongside Joe Thomson and Will Patching against Waterford and he's hoping to be handed a third successive start against the Saints.
Having started just nine games during the entire season in 2020, Harkin is welcoming the game time but he knows performances must be better if they're to secure their first points of the season against two teams with some of the best midfield talent in the country over the next five days.
First up is an experienced St Pat's midfield featuring League of Ireland stalwarts Robbie Benson, John Mountney and Chris Forrester and talented youngster Jamie Lennon but Harkin isn't fazed and believes Derry can cause an upset at Richmond Park.
"I enjoy playing in that midfield but I thought the whole team did well against Waterford and just never took our chances and there were a few mistakes which ultimately cost us the game," he said.
"I enjoyed playing along with Joe and 'Patch' in midfield. It was a good performance and Jack (Malone) is more versatile and can play out on the right but he's an option to play in midfield as well.
"For myself, personally, it's about keeping my spot and for the team, collectively, it's about getting the points on the board. When I'm in the team I'm going to do my best to help get the win as soon as possible," he promised.
"That's the only positive I've taken out of the first two games is that I have played but there's been a lot of negatives as we have ultimately lost two games. Winning games is the best we can do and that's what we have to strive towards and try and be on the pitch, get those 90 minutes and starting games. Adding wins onto that is the main thing."
The Saints have made an unbeaten start to the new campaign with seven points from their opening three games. Those results included a 1-1 draw at Shamrock Rovers and a 1-0 win at Bohemians but Harkin hopes Richmond Park can continue to be a happy hunting ground for Derry.
"St Pat's have a good team, a good squad but the past two years I've enjoyed going down to St Pat's and we've done well. We always do well down there. I look forward to it," he added.
"It doesn't matter who we come up against, I've played against them all before and look forward to it. Hopefully we can have a good crack at it and get three points."
The City midfielder received three paper stitches below his eye during the first half of last Saturday's defeat to Waterford. He feared he would be substituted as the club doctor treated his wound for almost five full minutes in the dressing room. He returned just in time as Derry found the equaliser on the stroke of half-time. He has fully recovered and is looking forward to a busy month of fixtures.
"It's all good it was just paper stitches so it's away already. It just happened so quick. I was in the changing room and Declan (Devine) was roaring and shouting in and sending boys in to check on me every couple of minutes. I said to the doctor 'hurry up, if he subs me off I'm going to go mad'," he laughed.
"We have to get as many points as possible on the board over the next few weeks because there are a lot of games coming up. There are teams like Bohs and Dundalk who aren't doing as well as they should be doing but all the games are tight and someone is nicking that win, whoever goes that extra mile to defend well or take your chances and teams get lucky.
"Teams seem to be staying in games against the big teams. So hopefully we can get a bit of luck this week and take a few chances and be defensively strong at the back."
"Two tough games. They're all going to be tough from now on. We've set a bad standard from the start of the season. We've played two teams who we'd be expected to get six points off so we're going into every game and know it's going to be tough. That's just the way it is at the minute. So every game is going to be massive for us this year."