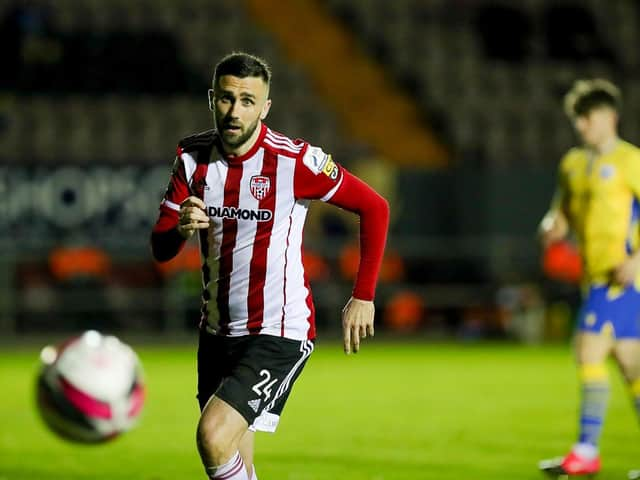 Danny Lafferty can't wait to get back to action at Brandywell after 10 years on the road. Picture by Kevin Moore (Maiden City Images)
The experienced left back admits the team 'justifiably' came under fire for their display in Bishopsgate but a group post-mortem inspired the best training session the team has had since his return to the club.
Indeed, Lafferty reckons the standard in training has 'gone up a notch' leading into tomorrow's game as the players are 'chomping at the bit' to get back on the pitch after two long weeks where they've been mulling over that shock result.
"It was justifiable criticism we received," admitted the former Northern Ireland international. "We know ourselves it was nowhere near good enough the performance we put in. It didn't represent what we wanted to represent. We came into training after that Longford game and the boys were obviously disappointed. We sat down as a group, staff and players, and we addressed the issues from the game.
"To be honest, the day we had that meeting it led to probably the best training session we actually had since we came together. It was the Tuesday following the Saturday game and things just went up a notch."
Lafferty, who will play competitively in a Derry shirt at Brandywell for the first time in a decade, reckons the team's collective mindset is back in the right place and he's confident any complacency in the Candy Stripes' ranks has been eliminated ahead of tomorrow's crunch clash.
"All we've been working on this past 10 or 12 days is raising the standards in training. Some of the lads will have been disappointed not to start the first game but they haven't sulked, they've got on with it and everyone has bought into what the manager is trying to do.
"It's probably been the best patch of training we've had and it could've been a bit of a blessing the Rovers game being called off for us. Everyone has put themselves in contention to start this weekend because the levels of training have been excellent.
"It's been a bit of a wake-up call," he continued. "Our mindsets weren't great or in the right place going into the Longford game. Evidently and justifiably we got the result we probably deserved.
"There's more of a buzz about this game on Saturday than there was going into the Longford game. Boys will be trying to right the wrongs of that game.
"We all know it's a results based business and to be honest the boys are probably more itching to play this game on Saturday than they were to play the first game and you're normally excited to play the first game of the season.
"We weren't able to put that right straight away as we had that two week window with no games. Through training you can definitely tell the boys are really excited about Saturday and we're hoping to kickstart the season with a win."
Lafferty can't wait to return to play his first competitive match for his hometown club at Brandywell Stadium after 10 years on the road!
The left-back's final game for Derry at the venue was a scoreless draw against Bohemians on October 28th 2011 which brought the season to a conclusion with the Candy Stripes having already cemented third spot behind champions, Shamrock Rovers and second placed Sligo Rovers.
Lafferty, who left the club to join Burnley the following January, went on to enjoy a hugely successful career for Northern Ireland and at club level which included spells at Rotherham, Oldham, Sheffield United and Peterborough before returning to League of Ireland with Shamrock Rovers midway through the 2019 season.
It's been a long road and Lafferty reckons his last match at Brandywell feels 'like a lifetime ago'.
Much has changed since that night when the reigning First Division champions, a team which featured the likes of Eamon Zayed, the late Mark Farren and Patrick McEleney, finished the season in the European places.
Of course the club was banned from playing in Europe the following season and current boss Declan Devine took charge for his first spell in the Derry City hotseat.
Devine is once again at the helm but the Ryan McBride Brandywell Stadium is much improved and Lafferty hopes the team can use their home turf to their advantage this season, starting with the visit of Waterford tomorrow.
It's a game I'm personally very much looking forward to if selected and I'm sure the other boys are rtoo. They want to do well and it's good to get a competitive game back in the Brandywell as it seems like a lifetime ago since there was one.
My last competitive game at the Brandywell was Bohemians, a 0-0 draw on the last game of the season 2011. It's vastly different Brandywell to what it was back then. It doesn't resemble it as much and that's a long time ago so that won't be in my mind. All that will be in mind is getting three points on Saturday.
"We're back at home and know the pitch very well so we'll be hoping to use that to our advantage. The pitch is something we have to use to our advantage. We train on the pitch every day and know every blade of artificial grass. Not many other clubs in the country, if any, use their home stadium as their training facility.
"So playing at Brandywell should never be alien to us because of the fact we're there every day and train on it. So we have to use that to our advantage.
"I know a few of the Waterford players have never played at Brandywell and even the management staff have never been at the stadium so teams won't know it as well as we do. We have to use that as a strength for us."
The ex-Burnley and Sheffield United defender isn't taking anything for granted going into the match and with both sides yet to get off the mark, Lafferty is expecting another tough test.
"Waterford won't be looking to sit on a bus for eight hours coming up here just to roll over and give us the three points. So we will definitely have to start well and put them on the backfoot and maybe just get after them."
He watched the Blues' 2-1 defeat to Sligo Rovers last weekend and noticed how well the Munster men were organised defensively. However, the Carnhill native is confident Derry have the ability to 'hurt' Kevin Sheedy's troops.
"Waterford started the game well and Sligo could've been caught in the mindset similar to ourselves the previous Saturday against Longdford. In this league you have to start games quickly. Sligo didn't and found themselves 1-0 after eight or nine minutes and found it difficult to get back in the game.
"Obviously the two wonder goals got them back in it. Waterford looked hard to break down and you can tell they work on their defensive shape a lot and are very well organised and get a lot of bodies behind the ball. They're happy to sit deep and let teams have it sometimes.
"There's things we've worked on this week to exploit weaknesses in their game. We will show them a lot of respect but we believe we can hurt them."