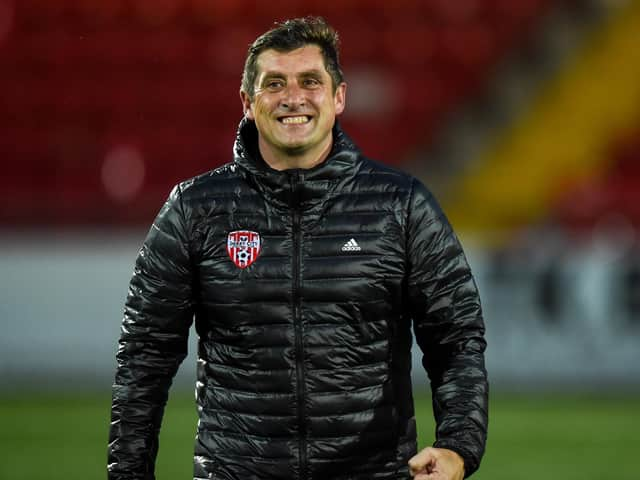 Declan Devine.
The Creggan man, who left the club by mutual consent this morning, stated on Facebook how much of an honour it was to manage the Brandywell out-fit and thanked former number two Kevin Deery and current Technical Director Paddy McCourt for their support during his tenure during his second spell as boss.
"I've been honoured to have managed our Football Club Derry City FC not once but twice and will always be eternally proud and grateful to Philip O'Doherty for those opportunities and wish him and the club every success in the future," he stated.
"Unfortunately recent results have not been what they should have and I'm the first to accept the Professional game is all about winning. I would like to thank all our current players for their honesty, professionalism and dedication over the last number of months and have no doubt this young side will evolve into something we can all be truly proud of.
"I had the most amazing backroom team over this tenure and thank every single member of staff for all they have given me in our last few years between current coaches, medical staff and academy staff.
"I would especially thank Paddy McCourt and Kevin Deery for all the long hours of help and friendship and support they have given me.
"When I returned to the Club we had 5 signed players and I am very proud of how the club has evolved and the amount of local players in the 1st team and our highly successful Academy teams fills me with great optimism for the future.
"I would like to thank Lawrence Moore for being an incredible help to me personally and professionally and all the expertise he brought to all aspects of promoting the Club in recent years. Thanks also to all members of the press locally and nationally for the way they have treated me.
"I will look back on my time as Manager with great pride and qualifying for Europe in three of my 4 seasons and reaching three cup finals will always make me smile although the biggest satisfaction will always be seeing the Brandywell full to the rafters again before this pandemic hit us all. The last 20 games have not been the same seeing the place empty and I look forward to the day when we are all back in the Stadium urging on the team.
"The biggest thanks is to the amazing fans of our Club that have been of incredible support to me and the team and lets now all rally behind the club to have a successful season.
"Finally my thanks to my wife Ciara and all my family for all their love and support during my reign as manager and I wish the next Manager nothing but success.
"Thank You again for all the support and Derry City FC is as seen this week on national TV truly 'In Another League' CTID- RAWA." - Declan