Derry City footballer Sadou Diallo talks about life as a Muslim in Derry, Ramadan and practising his Islamic faith
​SADOU Diallo was born in Guinea but grew up as a devout Muslim on the streets of Rotherham before embarking on a football career with Manchester City at the age of 13.
Published 18th Feb 2023, 16:59 BST

- 7 min read
Updated 18th Feb 2023, 23:41 BST
Watch more of our videos on Shots!
and live on Freeview channel 276
Visit Shots! now
He's proud of his Islamic faith. He observes Ramadan, carries his prayer rug (sajjadat salat) to training and performs sujood, the Islamic act of prostration, all of which provides him with 'a sense of direction and humility'.
"It makes me feel like there's more to life than just living," explains the City midfielder.Ireland has a thriving Muslim community but Diallo admits it was a 'culture shock' when he first arrived on Foyleside.A predominantly white Irish Catholic population, Diallo's Google search for a Mosque in the city left him with limited options.
In fact just one, The North West Islamic Association in Pennyburn Industrial Estate. It was all he needed to call the place home as a practising Muslim.
"I was born a Muslim. My whole family are Muslim. Some Muslims are reverts or convert from another religion back to Islam. Luckily for me I was born into the religion and it's been a big part of my life."I'm not going to say I'm the perfect Muslim because I'm not but it gives me a sense of direction and humility. It makes me feel like there's more to life than just living.
"The Quran is the word from God basically, that's what we believe as Muslims and we have to try and live by what it says in the Quran. Obviously it's hard to do so but as long as you try that's all that matters,"I found a mosque in Derry," he revealed. "I think there's only one, it's near the Moviebowl. I go there to pray on Fridays. That's like a Sunday for Christians."
Diallo was well acquainted with former Man City teammate, Will Patching when he signed his 18 month deal with the Candy Stripes last July but says the people of Derry made the transition to League of Ireland football and adjustment to life in Ireland that little bit smoother."I've been telling my friends and family, Irish people, Derry people anyway, are very friendly," he said. "They're very nice people. I can relate to that because that's the background I'm from, being nice, being open. I've enjoyed it, the fans have been good to me and hopefully, as a team, we can return that favour to the fans."Derry's FAI Cup winning celebrations after the 4-0 win over Shelbourne last November went long into the small hours but Diallo explains how his teammates are always 'respectful' of his religious beliefs and his abstention from alcohol."Yeah it was different but we have to live together and I like it because I'm quite a fun and outgoing as a person. I enjoyed it but it's just the alcohol I stay away from because I don't drink. Everything else is fine. Everyone is so respectful because they know it's my religion so I certainly can't complain."There's a lot of things I can't talk about, as a Muslim anyway I stayed away from all that," he laughed. "But I enjoyed the celebrations. Everyone is different and everyone has different religions. When we come together we can achieve a lot, but everyone is friendly and understands my beliefs, so I respect that. I respect that highly. Derry people in general are very understanding."
Islam is often understood but Diallo is keen to enlighten others about the Muslim faith. He's thankful for his latest life 'test' in Ireland as he carries with him his message of respect for humanity, faith and the promise of the afterlife.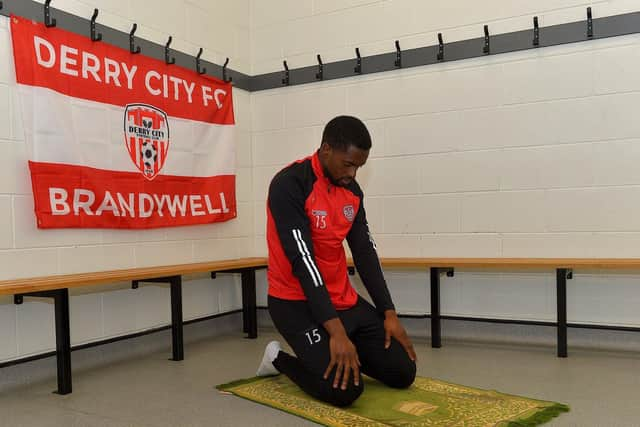 "We believe as Muslims that this world is a test and we have to live to attain paradise in the hereafter. This is only achieved by living according to the word of the prophet Mohammed."The 23 year-old is quite happy to speak openly about his faith and educate others on Muslim practices. He looks up to fellow Muslim professional footballers like Mo Salah and Sadio Mane and admires how they conduct themselves on the biggest stage. Diallo also wishes to become a role model for young Muslim footballers."I look up to Muslim footballers playing at a higher level. For them to fast and perform at that level for 30 days is very admirable. I'm going to do my best as well and I'm looking forward to it."The offering of prayers and reading of the Quran are increased during Ramadan, along with donating money to charity to replenish one's spiritual wellbeing.
"It involves praying for long hours into the night; doing more good deeds and donating to charities for the less fortunate," explained Diallo. "Basically enhancing all your practices as a Muslim during the 30 days.
"The idea is if you can live righteously during the whole of Ramadan then you should be able to do the same outside the month of Ramadan also. Resisting temptations, being disciplined throughout the month."
It is a practice to cleanse the soul and mind, but the main focus is on fasting - abstaining from eating or drinking during daylight hours - which poses a challenge for professional sports stars who tend to alter their training to cope with the rigours of the month.The holy month will begin on March 22nd this year, ending with the celebration of Eid 30 days later. Derry City will face some key fixtures during that time but while Diallo will observe his religious traditions, he ensures his performances don't suffer.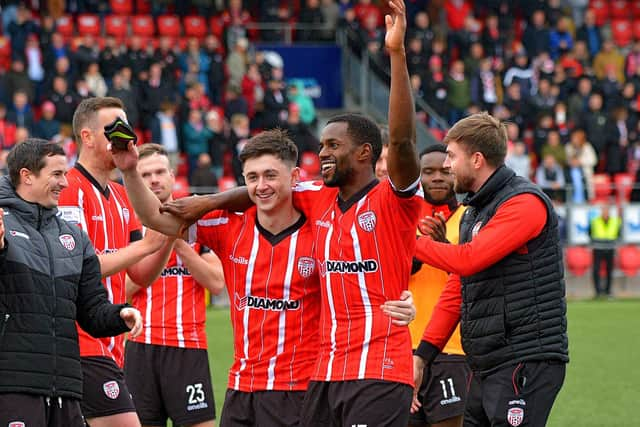 Considering Derry's matches will kick-off after sunset, mostly at 7.45p.m. the fasting won't affect Diallo's match preparations. So how does he tailor life as a footballer around his faith?"For the home games I still get to the prayers on Fridays because it starts at around 12.30pm and will be done by 1.30pm, so I can get there, get back home and rest up for the game."On away games I can't really go because we leave earlier but that's fine. As long as I can go every two weeks that's fine."Ramadan is one of the main pillars of our religion," he continued. "Every Muslim should fast when they come of age. As long as you're mature enough it's a compulsory thing. It's something I take pride in and try to be the best I can."Ramadan starts around March 22nd when sunset will be around 6.30p.m or 7 p.m and our games are at 7.45 pm so I'll have time to eat before games."After the games I can eat from then until it starts again at sunrise. I'll have time to refuel, rest up, drink water and everything. It's just during the day I won't be able to eat."Does he feel his energy levels dip during fasted periods when he could go up to 18 hours without food or fluids?
"Not really because I've been fasting since I was 10 years-old," he answered. "Your body adapts to it. You eat the right things when you can eat. I'm quite used to it so I'm prepared when it comes around. I don't think it has any affect on my performance.
"Because the time of our games, it won't be during the time I'm fasting. By 7pm I will be able to eat until the next morning around 5am so I don't need to talk to the league or the club about it which is good because I don't like making a fuss," he laughed."It's beneficial for the body too when you're fasting, it cleans the body out and has its benefits.
"At the end of Ramadan we have Eid when we celebrate with family, friends and loved ones. We can eat as much as we want and drink just as much that day. I'm looking forward to it."
And there's much to look forward to this season which got off to a winning start in the President's Cup curtain raiser against Shamrock Rovers before Friday's 1-1 draw against St Pat's in Inchicore – a game Diallo missed through suspension. Diallo, alongside midfield partner Adam O'Reilly, produced sensational performances in the 2-0 win. That result in particular has raised expectation levels at Brandywell but the former Forest Green man is relishing the increased pressure."I'm excited. You have to forget about last year. When there's pressure put on us that's when you need to rise up and do even better so I'm excited about it."I think there's more than three or four teams that will challenge so we have to show up every game."
Diallo is increasingly impressed by the standards in the league and while he was an unknown quantity for opposition teams last season, he expects things to get a lot tougher this year."It's a very high level. I feel like, now that I know the league and some of the teams, it's going to be more of a challenge because people know how you play.
"It's going to be a challenge to be at the same level at last year but I'm looking forward to that because I want to better myself."
Winning the league title is very much on the agenda at Brandywell and Diallo, during the short time he's spent in Derry, knows what that success would mean to a team starved of a championship for 26 years."You can't look to far ahead. If you look too far ahead, you can get a bit blurred."You hear it in the town and even the local lads within the team, they tell people like myself who come from abroad, how much it means to people, so I definitely want to experience that success."