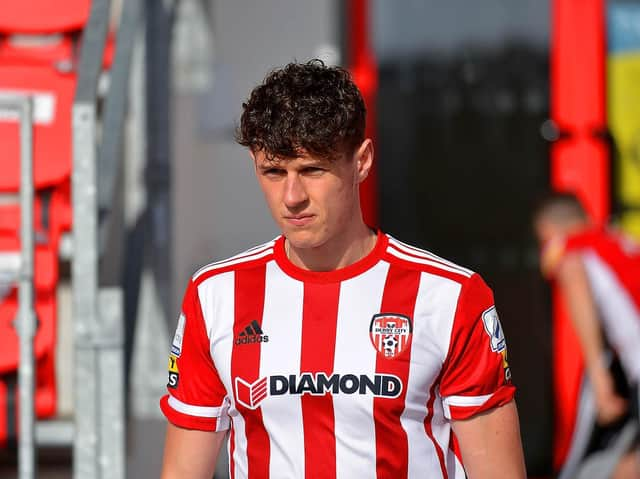 Derry City captain Eoin Toal hopes the team can pick up a first home win since October 2020 when they entertain Longford Town tonight
The Candy Stripes host Longford Town at the Lone Moor Road venue tonight hoping to end a SEVEN month spell without a home win.
That winless run on Foyleside might only consist of five games after a last gasp defeat to Finn Harps on Monday night, but Derry have managed just THREE wins over the past calendar year on home soil!
The Ryan McBride Brandywell Stadium has become a cosy haven for visiting teams of late, particularly without the home support, but the City skipper insists visiting teams should be treading tentatively when arriving at the ground.
Toal, who made his 100th competitive start for Derry in the 2-1 win against Bohemians at Dalymount Park last Friday night, hopes the club can re-establish the fear factor at Brandywell once again and insists the home form must improve.
"Brandywell has to be a fortress when you play for Derry City " said the City captain. Against Harps we were unlucky but we could've won the game at the same time."
The last home win was a 2-0 win against Shelbourne on October 23rd but Toal believes the team can register a first home win of the season against Longford Town tonight.
"Our home form is something that needs to be improved," he insisted. "You want to try and get as many wins as possible. At the end of the day we're Derry City and, especially playing at the Brandywell, you're expected to win no matter who you're playing."
Ruaidhri Higgins' Brandywell bow as Derry City boss ended in late heartbreak in the North West derby with a last minute winner from Adam Foley, but despite that disappointment, Toal felt Derry deserved more from the game.
"We had a few chances to win the game and didn't take them. They scored against the run of play. James (Akintunde) did brilliantly to get the first goal. I thought we were on top at that stage.
"We gave Harps a lot of chances to score in terms of long throw-ins, corners and we know how effective they are from those situations. At the start of the second half we did the same thing. It was a set-piece they got the equaliser from. We were back on top after that and had a few chances to win it and if they go in it's a completely different game. Their second goal came against the run of play and it's absolutely gutting to be honest."
Indeed, Toal and Jack Malone both hit the post in the dying embers of the game and the 22 year-old Armagh native is glad of the quick turnaround of fixtures as they aim to make amends against a Longford team sitting just two points behind them in the table.
"Jack has hit the post to make it 2-1 and it was so unlucky. I obviously had one to equalise and I don't know how that didn't go in. It hit the post, it was so close and they're the fine margins in this league. Anyone can beat anyone on their day in this league but it's just gutting.
"I didn't see their second goal coming. I'm absolutely gutted as everyone else is but we've got a quick turnaround on Friday."
The Midlanders' only win of the season came against Derry on the opening night of the season at Bishopsgate Stadium and Toal admits the Brandywell men have a point to prove.
"We had two great away wins where people probably wrote us off beforehand. But you want to keep that momentum as much as possible. Unfortunately we weren't able to do that against Harps. We need to stay positive. It's a big game on Friday now. We didn't perform down in Longford so hopefully we can turn the tables and get three points.
"We didn't play well at all in Longford and came away with a 2-0 defeat. Now it's in Brandywell.
"We've played quite a few games since and we've had a couple of wins now. So hopefully we can get our first home win of the season."