Derry City's Ciaran Coll ready to play anywhere
Defender Ciaran Coll believes the arrival of Danny Lafferty at Derry City can only be a good thing, even though the pair will likely be competing for a starting place.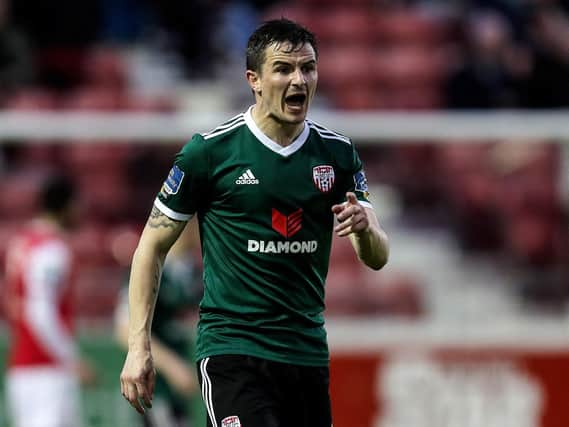 Coll, who signed a two year deal with the Candy Stripes ahead of the 2021 season, feels that Lafferty's vast experience and winning mentality is perfect for the Brandywell changing room.
The left-back also concedes that he doesn't mind where he plays next season, as long as he's in Declan Devine's starting line-up.
"Look, you need players like Danny in our changing room, he won the league last year with Shamrock Rovers and he has played at a very, very high standard of football," he stated.
"He has a great left peg on him and, to be honest, it's good to get a bit of competition for places in the squad, but that man could probably play anywhere. Jokes aside, it's good to have someone of Danny's quality in our squad.
"The way I look at things is, if I'm in that starting 11 on a Friday night, I'll be happy to play anywhere.
"As long as Decky (Devine) or Paddy (McCourt) or whoever is picking the team that evening, I'm in that starting 11, I don't mind where I'm playing. But yeah, I can play anywhere along the back-four and I'll be happy to do my job for them."
The St Johnston man wants to play his part in helping Derry move back up the table and challenge for honours this year. He also hopes that the squad are better prepared mentally to perform with or without supporters cheering them on. However he can't wait for the Ryan McBride Brandywell Stadium to welcome fans back.
"You have your blips in football and you have your ups and downs, but last year isn't where Derry City should be finishing in the league," he insisted.
"We need to show everyone what we are made of and come back and show the other teams in the league we are better than what we did last year.
"We need to be back in Europe, challenging for the league, winning trophies, but at the end of the day it's different circumstances when you are playing with no crowd there. Look, at the minute we don't know if fans are going to be back in the grounds next season either, so we have to try and adapt to that, get the head down and knuckle on with things.
"I remember my first season at Derry, the crowd was that extra person and they were nearly climbing up my back to push me on that extra yard and last year I missed that, but hopefully if we go a few games this year without the crowd we are ready for that and then if we can start getting some fans back into grounds that will give us all that wee bit of adrenaline through your body again."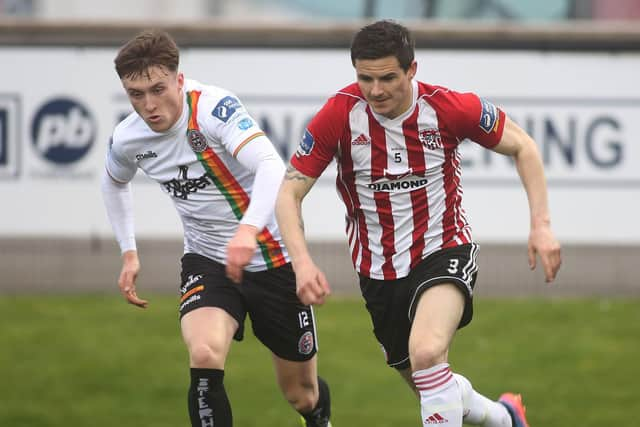 The 29-year-old admits, surprisingly, that he's looking forward to pre-season training, which gets underway next week, and he hopes the rest of the squad have a similar mindset because the forthcoming campaign is crucial for everyone.
"It's a massive season for us and the main thing is to try and get everybody fully fit for the season starting," he added. "Hopefully everyone is looking forward to the start of pre-season, which normally isn't a nice thing to say, because it's pre-season, but it's just the matter of getting players in the door again and hopefully we can be better than last year.
"We are doing our own bits and pieces as well and while it's hard to get motivated when you are off for so long, to be honest I have kept myself reasonably fit, so hopefully going into pre-season it will not be as hard as some people expect it to be because for some people when they get a break, they just switch off. Hopefully the majority of the players that we have signed didn't do that and they have just put the head down knowing that we have to push on."