Ex-Derry City goalkeeper Gerard Doherty backs former team-mate Ruaidhri Higgins to be a success
Former Derry City number one Gerard Doherty believes his old club have 'pulled off a blinder' in appointing his old team-mate Ruaidhri Higgins as their new boss.
27th Apr 2021, 1:20pm
- 3 min read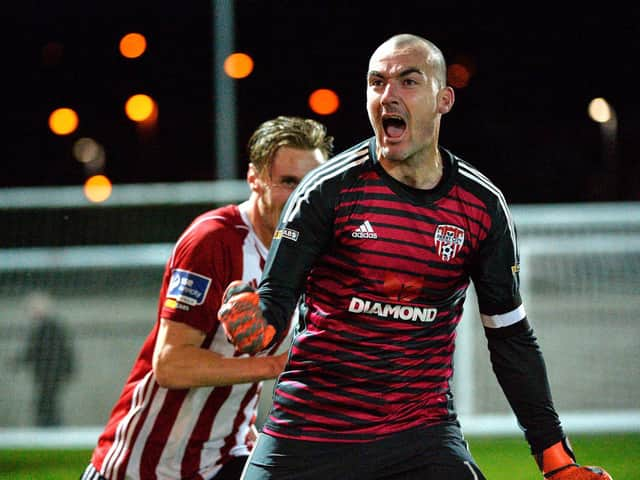 Former Derry City number one Gerard Doherty feels it's a good call by the club to appoint Ruaidhri Higgins as manager.
Having played with Higgins during the Limavady man's two spells with the Candy Stripes, Doherty always knew that he would one day be a manager.
"Yeah 100 per cent, you saw from minute one that Ruaidhri was also going to be a manager," he insisted.
"He was always very detailed on the technical things that were going on in the game and to be honest Ruaidhri was a dream for me to play with.
Derry City manager Ruaidhri Higgins. Picture courtesy Joe Boland
"We wanted to play football and he was that man who could see everything when sitting in the middle of the pitch, even with his back to goal I could still give him the ball and he would either put it around the corner to Rory Patterson or set someone else up, so even during those days you could see he was always thinking about what was happening during the game and always analysing what happened after the game.
"So it was no surprise to me that he has made the step up into management and I think Derry have pulled off a blinder by getting him."
While it may be Higgins first step into the management game, the Creggan man has high hopes that he can turn Derry's fortunes around.
"Yeah it's a big step, but everybody has seen the last number of years the places where Ruaidhri has been, the experiences that he has picked up along the way and that's invaluable for somebody coming into management," he added.
"Ruaidhri also has a winning mentality, he has seen what it's like to work with players, day in and day out and there's no better example than Dundalk, they were winning everything at the time whenever Ruaidhri was on the coaching staff.
"Even from a managerial point of view, you can see (Shamrock) Rovers now, they have built something amazing and they started off the same way, by giving Stephen Bradley his first managerial role and stood by him and I think it's a good call on Derry City's part to get a young manager like Ruaidhri in, who knows the league inside out, knows everybody in the league and he also apparently knows people from outside, so maybe based on that he can attract some players to the club.
"So overall it's no surprise to me that they have gone and got Ruaidhri in and in my eyes it's a great appointment."
The 39-year-old Crusaders keeper also warns City supporters that they need to give Ruaidhri and the club time to try and build success.
"I have mentioned to a few people that he's going to need time to get things right and it's good to see the club has given him a three and a half year deal and to be honest he's going to need it," he stated.
"The whole club is going to need time and while I don't know what his thoughts are and what way he's going to go forward, you can't just expect somebody to come in and click their fingers and things start working.
"As I have already said you have to look at Rovers in respect to that and maybe Dundalk too, because they were nowhere near the team they were a couple of years before Stephen (Kenny) went in and he built the place up from the ground up. I think Ruaidhri has the capabilities to do that, but look it will take time.
"I think expectations with fans will need to settle. Yes we are all the same, we want Derry City to do well, but then you have to really sit down and think that it's not going to be just an overnight fix, it's going to be a process and I think Ruaidhri is the man to be able to do that."