FAI 'monitoring' EU's proposed ban on 3g pitches as Brandywell owners allay fears
​THE FOOTBALL Association of Ireland (FAI) is 'closely monitoring' European Union regulations in relation to its proposed ban on microplastics infill on sports pitches.
Published 26th Jan 2023, 18:45 BST

- 4 min read
​A decision from the European Commission to implement a ban is expected imminently and will therefore have major implications for Derry City Football Club who fall under the FAI's jurisdiction.
The FAI has supported the club's request to Ryan McBride Brandywell Stadium owners, Derry City and Strabane District Council to remove the existing 3G surface at the ground and replace it with either a grass or hybrid pitch.
The League of Ireland's governing body has also warned Derry City that Brandywell's synthetic pitch is 'unlikely to be fit for elite level soccer' beyond the 2023 season given the proposed EU ban, although it's expected to facilitate a six-year transition period to allow people to switch to less harmful alternatives.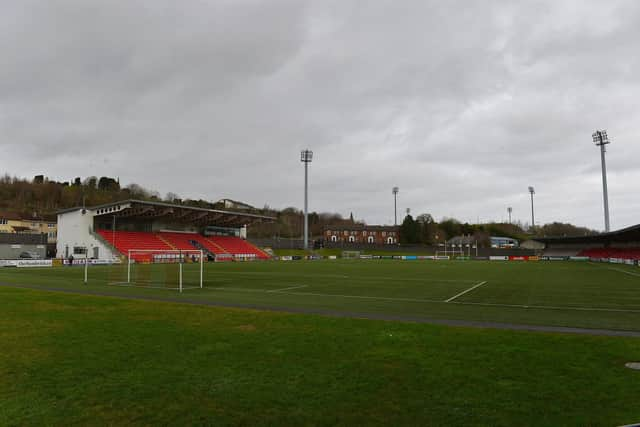 Health and safety concerns were raised by the Lone Moor Road club about the growing incidents of player injuries on the artificial surface at Brandywell compared to when playing its home matches on grass.
While UEFA has established a working group concerning the future of all synthetic pitches given the possible health and environmental impacts of micro-plastics which are displaced during matches and training.
The FAI will continue to work with Derry City and all its member clubs regarding stadium upgrades and plans, insisting annual testing must be completed on the pitches to ensure they meet requirements. The Brandywell pitch was last tested in July 2022 and has achieved the necessary FIFA certification which is valid until July this year.
"If using an artificial turf pitch, clubs must ensure the pitch is FIFA Quality Pro standard and testing must be re-done on an annual basis," said an FAI spokesperson.
"The pitches need to upgraded regularly to ensure they meet the requirements. "The League of Ireland's and FAI's aim is to have the best possible playing surfaces available at all stadiums in the country and we regularly work with all clubs regarding stadium upgrades and plans.
"We are closely monitoring the EU regulations in relation to microplastics and any impact caused."
The FAI said it will "continue to monitor the imminent decision from the European Commission to implement a ban on microplastics, including crumb rubber/rubber granulate infill, in artificial turf pitches with a suggested 6-year phase-in period".
The potential outlawing of microplastics, which is the primary ingredient in 3G surfaces, will have a significant financial impact on Council.
A major concern is displacement issues for its stakeholders during any upgrade, the cost of replacing the pitch and the clawback on the £929,000 investment under the Social Investment Fund Programme should the current surface be removed before its 10 year 'economic life' expires.
When questioned by Council members about the potential health and safety concerns raised by both the FAI and Derry City FC at last week's meeting of the Council's Health and Community Committee, Strategic Director, Mr Barry O'Hagan stressed there was 'no evidence or information' to suggest 3G pitches were 'dangerous'.
However, he did state that Council will regularly review the situation.
"This is something that originated from Derry City having a conversation with Council officers around a request to replace grass and then UEFA standards and FIFA standards and all of that," said Mr O'Hagan.
"At present we are still getting the certifications for the pitches, its something we monitor but we don't have any evidence or concerns as yet but it's something we keep on constant review as part of all our capital development projects.
"So if something does come out in the future that does prohibit that then that's something which would have an impact right across all our existing and newly planned facilities across the district.
"But officers have nothing and no evidence and information at present to suggest that that is dangerous.
"This has been mainly highlighted by the club who prefer to play on grass for competitive reasons rather than a health and safety issue."
With regards the potential to replace the current surface at Brandywell which has been 'showing signs of wear' according to the most recent test, Council members have approved the formation of a multi-disciplinary team to investigate all options.
A spokesperson for Council confirmed it engages regularly with its anchor tenant at Brandywell, Derry City and 'any proposals for the future development of the Ryan McBride Brandywell Stadium will have to be considered by elected members of Council'.
Since introducing a 3G pitch at the stadium, income has averaged approximately £80,000 per annum, compared to the previous income from the former grass pitch of approximately £11,000 per annum (pre-2018), according to a recent report.
Income is based on facility hire for both training (75%) and matches (25%). Therefore, moving from a 3G facility to a grass pitch would result in no training income (£60,000/year) and reduced match income (i.e. approximately 5-10% or £4,000-8,000/year).
A much more detailed investigation of all technical, operational and financial implications of the various options for replacing the existing synthetic playing surface is to be commissioned by Council.