Hull City hand contract extension to Derry City loanee Danny Lupano
DANNY Lupano has been handed a contract extension by his parent club, Hull City, and Derry City boss, Declan Devine, is confident the highly rated defender will return to Brandywell Stadium.
By Simon Collins
Published 19th May 2020, 18:13 BST- 2 min read
Updated 19th May 2020, 18:14 BST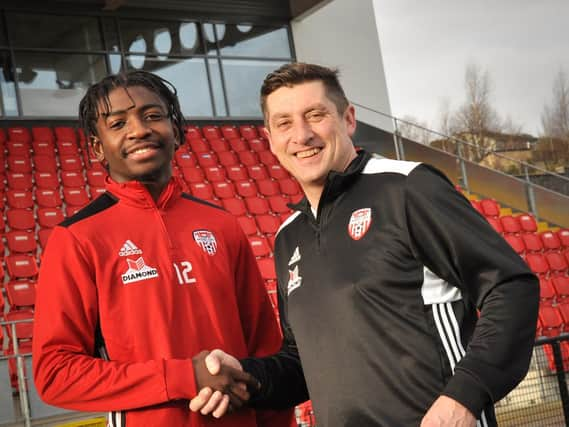 The Belgian teenager, signed on loan from the Championship club last January, impressed in his opening four games for the Candy Stripes during the 2020 Airtricity Premier Division campaign. And the Tigers are understood to have triggered the one year extension option in his contract.
Lupano was thrown in at the deep end on his debut as he came up against Dundalk dangerman, Michael Duffy at Oriel Park but emerged from the opening phase of games as one of Derry's top performers.
Alongside Sheffield United's Stephen Mallon and Reading striker, Adam Liddle, Lupano's loan deal with Derry has been thrown into doubt due to the coronavirus pandemic shutdown of football leagues across Europe.
All three players were registered on loan with Derry until June 30th but with confusion surrounding the future of the 2019/20 English Premiership and Championship campaigns, those players out on loan are left in limbo.
City boss, Devine admits the situation remains unresolved but he claims all three loan players have indicated their desire to stay at Brandywell and extend their loan deals should the 2020 season resume on July 20th next.
"I've been talking to the boys themselves and they are looking to stay. Danny Lupano as far as I know has been given an extension to his contract which is very pleasing to us.
"It was touch and go whether he would get a new deal at Hull which shows he has once again put himself into the spotlight and in the shop window.
"A championship club has said, 'We liked what we saw when you were playing for Derry'.
"He's very keen to come back, Mallon is very keen to come back, as is Adam Liddle but everyone is in limbo.
"We don't know who is available, we don't know what way transfer markets are working, there are going to be a lot of players out of contract in England.
"It's very much up in the air until UEFA have this meeting and put some real concrete plans for how we move forward.
"At this moment in time, while it's highly unlikely we will be playing games before July 20th, we're still down for coming back on June 8th to prepare for coming back on July 20th.
"There's a big meeting with UEFA and they will put guidelines down in terms of when Champions League and Europa League competitions will finish and when the qualifiers will start up again. That's the key date we're working towards."
UEFA announced yesterday that meeting of its Executive Committee has been postponed from May 27th until June 17th as clubs are made to wait that bit longer on clarification.