"I love this club!" - Derry City boss Ruaidhri Higgins says his loyalty can't be questioned
​RUAIDHRI Higgins insists leaving Derry City Football Club was 'never on the agenda' and his loyalty to the Brandywell outfit unquestionable after he was approached by League One Barnsley.
Watch more of our videos on Shots! 
and live on Freeview channel 276
Visit Shots! now
​The Yorkshire club announced the appointment of former Leeds and Sheffield United defender Neil Collins as its head coach yesterday, putting to bed suggestions Higgins was the man in line to replace Michael Duff.
Barnsley contacted Derry City asking permission to speak with Higgins during their search for a new boss and while the Limavady man did hold talks this week, he is adamant it was never his intention to leave Foyleside, declaring his love for the club and the 'exciting' project at hand.
"The one thing I want to make clear is that I love it here," said 38 year-old Higgins, who has two-and-a-half years left on his current contract. "I love the group we have built and everything about it."
The City manager was at pains to point out it was Barnsley who made the approach and insisted he has no desire to apply for any other managerial position while he remains in charge of the Candy Stripes.
"Barnsley asked for permission to speak to me, it was granted and I spoke to them and that's where it went," he explained. "I've never ever applied for any position and will never apply for any position while I'm here and that I can be very clear on.
"Particularly given my own personal circumstances over the past few months, it's never been on the agenda ever.
"I've two-and-a-half years left here and until I'm told any differently, I'm excited about the next few years.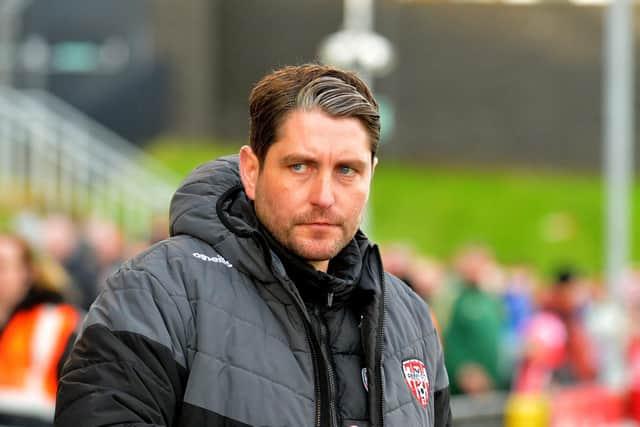 "I know recent weeks have been difficult and it's been an up and down season and I understand that but we're fully focussed and we know what direction we want to go in.
"We're getting to a point now where we've got a lot of players nearly back from injury so things are looking brighter and I'm really excited for what the future holds."
It's not the first time an English club has enquired about Higgins with Notts County's advances rebuffed by the City supremo last summer.
That interest is an indication on how successful his reign has been so far since taking over in April 2021, leading the club to the FAI Cup and second spot in the league last year.
"I'm not interested in that. I just want the players to enjoy their football here; the staff to enjoy their work on a daily basis.
" It's not about me and I don't want to talk about me any more. It's about the football club and how we're going to move it forward.
"The club has been absolutely exceptional to me from the day and hour I walked through the door and I hope I've repaid that to some degree but I know there's much more to come. I know we can be really successful here and that's the plan.
"I can't control the uncontrolables. These things happen in football and it's completely out of your control.
"I love this club. Talk is cheap but I do. I work night and day with the staff and the players, we all work extremely hard to be the best we can be.
"I think there's been a lot of ups and downs on and off the pitch but we've stick at it. We've never missed a day's work and we just keep going and fighting because we know there's good times ahead.
"It's a really exciting period of the season with so much to look forward to, starting on Friday night against Sligo. It's a big game and we need to try and win it.
"We then go into a month with no league fixtures but we've got Europe and then the FAI Cup so it's a really exciting period to look forward to."