Longford Town's Joe Gorman ready to shackle David Parkhouse
LONGFORD TOWN defender Joe Gorman claims Derry City deserve the utmost respect but warned the Midlanders will be treating Saturday's opening day clash as a cup final.
Thursday, 18th March 2021, 6:41 pm
Updated
Thursday, 18th March 2021, 6:44 pm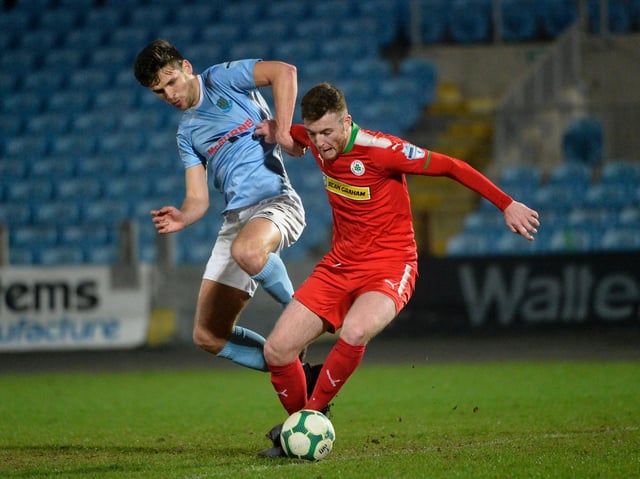 Longford Town defender Joe Gorman pictured playing for Cliftonville against Ballymena's Adam Leckey.
The 26 year-old Dubliner recognises the quality in the City side and reckons Declan Devine's men will punish the newly promoted side if given the chance at Bishopsgate.
However, the former Drogheda United and Cliftonville centre half believes Longford have the potential to cause an upset and warned his team are prepared for battle.
"We'll give Derry the utmost of respect," said Gorman who signed for Airdrie after his last experience in the League of Ireland top flight ended in relegation with Drogheda in 2016.
"There's no doubt about it, Derry City is one of the biggest clubs in Ireland. They attract some good players. Declan Devine is a great manager and Paddy McCourt who is there as well.
"It's going to be tough but the lads are ready for it and we're all looking forward to the challenge ahead.
"We have to go into every game like a cup final. Most people will write us off but within our camp we know we have quality and can hurt teams. We've just got to be together and work hard in every game. You never know."
Longford, who came up via three play-off victories last season, are the bookies' favourites for automatic relegation this year.
Gorman, though, believes with the help of a good start and a strong home record, Longford can raise a few eyebrows.
"I think everyone would rather be an underdog than go around screaming and shouting. But I don't take any notice of the bookies," he laughed.
"We obviously want to start the league off with a win and being consistent with our home form will give us a chance.
"But Derry have ambitions to hit the Europa League so we'll just let them do what they do and we'll crack on with ourselves."
Gorman has family links with the maiden city and he's excited about facing the Candy Stripes on opening night.
"I like the city and I've actually got some family up there," he revealed. "I've always taken a keen interest in the club and always liked the club. My uncle Kevin Shiels lives in Derry. I love going up to Derry because there's loads of history about it.
"I go up quite a lot, he admitted. "When we play at the Brandywell I'll stay up a couple of nights and hopefully get to see everyone."
He's been getting tips from former Derry City striker Conor Davis on how to stop City striker David Parkhouse and Gorman is determined to keep a clean sheet against the N. Ireland U21 hitman on Saturday.
Gorman played against 'Parky' during a mid-season friendly with Cliftonville at Brandywell in 2019 and so he's confident he can keep him quiet over the 90 minutes.
"Everyone has strengths and weaknesses. I played against him when I was at Cliftonville in a pre-season friendly. We beat them 2-1 and he played in that.
"I know a bit about him and every detail is crucial. When Conor came in he helped to tell us the strengths and weaknesses of Derry City. But we all know they've got quality and we've got to be on our game otherwise we'll be punished.
"It's a very competitive league this year. It's even hard to call who will win the league this year but Derry have always had quality.
"The starting XI, you kind of know, but you never know what way they will play and it's just going to be a man to man battle. Whoever wins those individual battles comes out on top."
Gorman played under Derry man Paddy McLaughlin at Cliftonville until leaving for Longford in 2019. He spent time at Bray and had spells with Inverness Caledonian Thistle and Clyde before eventually settling at Bishopsgate.
Training not far from his Dublin home, Gorman insists he's back playing with a smile on his face and can't wait to test himself in the Premier Division in his favoured centre half position.
"I've had more clubs than Tiger Woods as some would say," he laughed. "I went to Airdrie after Drogheda when I was offered a two year contract in full time football. "Personally I'd love to go back to full time football. It's a great atmosphere and training every day is great. Some of the guys here go to work and then go to football and I have the utmost respect for them but I've never done that. I've focussed on my football/
"The travelling up to Belfast was too much for me to be honest, driving up and down four or five times a week. I didn't have a long enough contract to move up there.
"At the time one of my grandparents passed away and I just wanted to come home. I was spending the majority of my day on the road.
"We train in Dublin now and it's handy. It's literally two minutes from my house. Longford is only an hour or an hour and 15 minutes away so it's not too bad.
"Most of the lads are from Dublin and it's a great group. I'm enjoying my football and going to training with a smile on my face.
"I'm actually raring to go. I've got that buzz back and that feeling of excitement with a new season. I'm lucky to play football."
Longford have some top young players coming through with the likes of Aodh Dervin, Rob Manley and Aaron Bolger, on loan from Cardiff.
When asked who has impressed him most during pre-season, Gorman answered: "Myself," (laughs). "I'm not even joking with you. I've got the head down and I've been flat out training every day.
"I've played in the league before six years ago. I played as a left back and never got a chance to play centre back. So this season is my season to play centre back.
"The manager has given me loads of confidence and I'm ready to prove a point to some people out there. I'll do that quietly and let my football do the talking.
But there's a good few players in our team like Dean Byrne. He's had a few injury problems. Lee Stacey has experienced, so there's quality all around the pitch."
Gorman had an effort cleared off the line in Longford's final pre-season fixture against Athlone last week and while he believes he can offer a goal threat from set-pieces, keeping them out at the other end is the priority.
"I got five goals last season and I nearly got one in preseason. So if I can add that to my game it would be great but I'm just focussed on keeping clean sheets.
"That will be massive for us in terms of staying up. So that's my goal is keeping clean sheets. If I can add goals to my game then it would be great for me.
"We're going to need everyone this season," he added." As I said, we'll have to treat every game as a cup final."