Michael Duffy 'looks as sharp as I've seen him' says Derry City boss
​RUAIDHRI Higgins says Derry City winger Michael Duffy 'looks as sharp as I've seen him' in training this week ahead of a must win clash against Sligo Rovers at the Showgrounds on Friday night.
Watch more of our videos on Shots! 
and live on Freeview channel 276
Visit Shots! now
​If Derry manage to haul back Shamrock Rovers in the race for the league title with six games to go then expect Duffy to be instrumental in that run-in given his quality and experience.
And the signs have been positive in training this week with the ex-Dundalk star fully recovered from a hamstring issue which saw him sit out games against the Lilywhites and UCD in recent weeks.
"Michael, when he's in full throttle there's no one like him and he's had an absolutely brilliant week this week in training," said Higgins. "He looks as sharp as I've seen him in a long, long time."
Higgins managed Duffy's hamstring injury well and the Galliagh man believes the rest has done him the world of good going into Friday's crunch clash in Sligo.
"I'm feeling good," said Duffy. "I had a couple of weeks off because I had a wee neural problem in my hamstring and I think I've got that sorted and I'n feeling good.
"It probably is the best I've felt in a while and the break did me good after a lot of games.
"It was a bit of a weird one. I thought my hamstring was torn, it had the same feeling. I was trying to run and couldn't run. It happened in the Bohs game and I was convinced I tore my hamstring.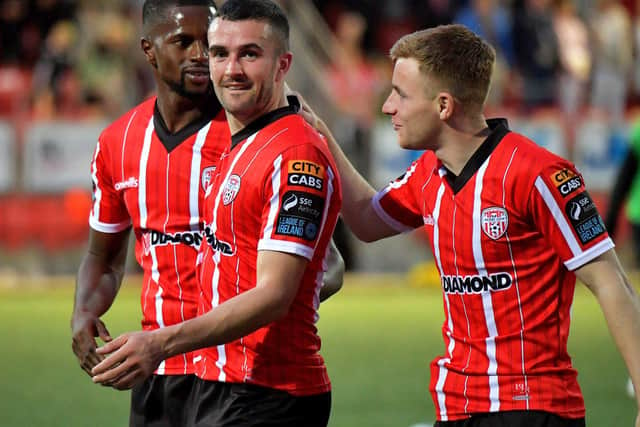 "I went and got an injection because the pain wouldn't go away. Usually when you tear your hamstring the pain goes away after a couple of days so you know it's a tear but this pain stayed for ages.
"I got the injection and it feels like it's kicking in properly. That was about nine or 10 days ago and it's feeling a lot better now.
"It worked out for the better not coming on in those games and the boys got the job done against Dundalk and were convincing against UCD then.
"It was good to be back on Friday although we were obviously disappointed with the result but it was good to be back and now it's' time to focus on the last six games."
Duffy has been involved in several title races since his return from Celtic to join Stephen Kenny's Dundalk side in 2017.
Dundalk won the title in 2018 by a 10 point margin over nearest rivals Cork City. And the following season, Duffy recalls having to chase Shamrock Rovers who led by 11 points at the midseason point.
The Lilywhites, who were written off at that stage, incredibly turned it around and finished 11 points ahead of the Dubliners at the end of the year!
That's his only experience of being among the chasing pack in a title race and he admits it's 'exciting' to still be in with a chance of winning the league with so little games remaining.
"I think the one when we won it, Rovers were ahead I think up until the midseason break, I think it was a big points swing," recalled Duffy.
"They were 11 points clear and I remember a lot of people writing us off. We turned it around and ended up winning it by 11 points. "But I've never been involved in a close one coming into the last month of the season where it's been touch and go.
"It's exciting and it's great to be involved in. Obviously other years the league is done with three or four weeks to go and the games mean nothing but this is going to go right down to the wire and it's great to be involved in."
It's likely the winners of the league this season will have the lowest points tally since 2017 when Cork finished with 76 points (not including the 2020 truncated 18 game season due to Covid).
Duffy's not thinking that far ahead, however, and having done it all before, he understands the importance of chalking the games off one at a time.
"We just have to make sure we do our own business right and hopefully they slip up and we get that chance.
"We just focus on Friday, beating Sligo and take it week by week. We have to win every game until the season is out.
"It's always difficult down there. They need to win for different reasons than us so it will be a huge game for both sides. We don't have a great record down there the last year and a half so we need to put that right and go down and win."