Michael Duffy recognises mentality shift in Derry City dressing room
​MICHAEL Duffy has noticed a mentality shift in the Derry City dressing room since returning for pre-season.
Published 1st Feb 2023, 11:34 BST

- 4 min read
​The 28 year-old winger is excited for the beginning of the 2023 campaign which starts with another opportunity to clinch silverware in the President's Cup clash with league champions Shamrock Rovers on February 10th.
Duffy believes the Derry players have developed a winning mindset since their record-breaking FAI Cup triumph over Shelbourne last November and reckons it will spur them on to bigger and better things this season.
Having arrived back at Derry last year from a Dundalk team of serial winners - one of the most successful League of Ireland teams in recent history - it's fair to suggest Duffy is well placed to judge the character of a winning team.
And he's in no doubt that last season's heroics will stand them in good stead as the bid to launch another sustained league title offensive this year.
"It will be different this year but winning the FAI Cup, we're a group of winners now and the boys know how it felt in that game and how good it was coming back to Derry with the trophy.
"All the boys have the feel for it. We know what we want this year and I think everyone has a different mentality after winning the cup and we know what we need to do.
"We were back sharply after the break but we had plenty of time off, we had plenty of time to celebrate and then chill out too. At that stage everyone was delighted to be back.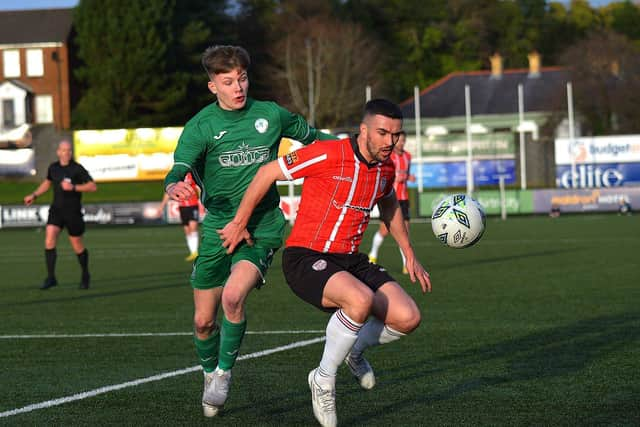 "It was just enough and you just want to get back and go at it again. So we're ready to go now and things have been going well so far."
City fell short in their bid to topple Rovers last year with a horrendous winless run in May proving to be their downfall.
Duffy believes the team has learned from those shortcomings and are better equipped going into this campaign.
"We have to believe in that anyway," he insisted. "That will be in our head and that's what we have to believe in the whole year.
"Ruaidhri (Higgins) said he will bring in more which will be even more competition which is what you want. You need a big group because there's a lot of games."
There's certainly a lot of attacking options and a versatility in Higgins' squad with the addition of Adam O'Reilly, Colm Whelan, Ben Doherty and the emergence of Cian Kavanagh and Ryan Graydon who will expect greater involvement this term.
"There's options everywhere and people can play in numerous positions as well which is what you want. It's going to be competitive all year and people will be fighting for their places throughout the year.
"Training has been class since we went back in and that's what you need if you want to be competing. You need a big squad and need everyone to be at it the whole year round."
The Galliagh man will be an integral part of any title challenge this year and after the 'hurt' of missing the first half of 2022 after a broken leg sustained against Drogheda on his Brandywell homecoming, he feels like he's a 'different player' ahead of the season opener.
"That hurt big time last year. The hype . . once I signed my pre contract I couldn't stop thinking about playing my first game for Derry here.
"Obviously it was delayed with a hamstring injury and then the bad one which was the first one I had in my career so it was hard to take really with so much excitement about being back home.
"But I came back and had a decent finish to the season. I needed the break too and feel so much better coming back. Kevin (McCreadie) and Mickey (Hegarty) have looked after me and I feel like a different player coming back but I needed that break."
He certainly looked on top of his game in the 6-0 hammering of Finn Harps recently, scoring twice inside his first 45 minutes of pre-season. Linking up superbly with Sadou Diallo and Will Patching before finishing confidently, it was a taste of what's to come.
"I would love to be involved in a lot more goals and assists this year. It's great playing with players like 'Patch' and 'Sads' and obviously in the first half we had 'Fats' (Patrick McEleney) and 'Dummy' (Cameron Dummigan) in the midfield.
"So it's great for me as a winger as they always find you when you make runs. Pre-season is just about minutes and getting it into the legs, getting back playing games but it's obviously great to be scoring too and being involved in the goals again."
It will be the first full preseason and full league campaign this bunch of players will have together given Duffy's injury last year and the likes of Graydon, Kavanagh, Diallo and Jordan McEneff all signed during the second part of the season.
"Were all together now for a full year I think you'll see a lot of new faces you didn't see much of last year.
"Cian (Kavanagh) stepped up against Harps which is a great start for him. He's only young and there's loads to go through really but we're in a good place going into the season."