Michael Duffy says league leaders Derry City are beginning to click into gear
MICHAEL Duffy described being back on top of the Premier Division table as a 'nice' feeling as the in-form winger warned Derry City are beginning to click into gear.
Published 24th May 2023, 11:49 BST

- 4 min read
Derry returned to the summit for the first time since being knocked off their perch by Bohemians on April 1st following a fourth successive victory on Friday night.
A run of 10 league fixtures have gone by since they were last in pole position in the title race during which time both the Gypsies and Shamrock Rovers have shared leadership.
Rovers' shock 2-1 loss at home to Drogheda on Friday night coupled with Derry's 4-1 romp against basement side UCD at Brandywell saw Ruaidhri Higgins' men move ahead of the Dubliners by a single point.
There promises to be a lot more twists and turns to come but for now Duffy, who netted a brace in Friday's win, is just happy to be looking down at their rivals rather than chasing the coattails of four-in-a-row seeking Rovers.
"That's positive for us," said Duffy. "It puts us top and that's where you want to be. There's a long way to go but it's nice to be there.
"It's always nice to be there," he added. "That's where you want to be at the end of the year so if you're there now then it's nice. We just need to keep winning. Think about Sligo (on Saturday) and if we win we stay on top, that's the way we look at it."
Following a three game winless run during April and a damaging home defeat to Rovers on May 1st Derry have certainly turned a corner.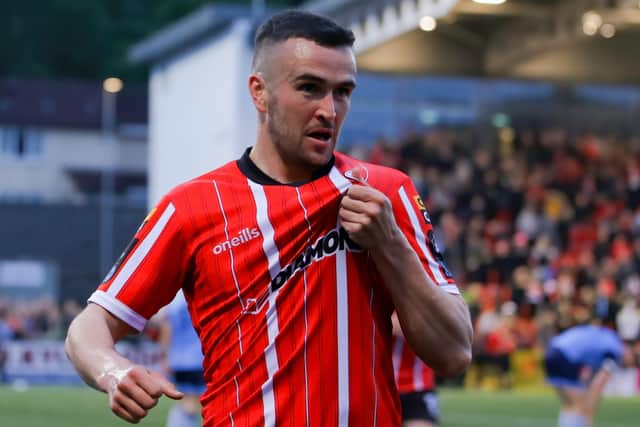 It's the fourth time this season the team has played three times in the space of a week and this was the first occasion they've taken maximum points with wins against Bohemians, Dundalk and UCD.
Former title winner with Dundalk, Duffy knows what it takes to sustain a challenge and he stressed the importance of making it a clean sweep of wins during those heavily congested weeks.
"I don't think we've done that too many times. Ruaidhri pointed that out to us so it was very important for us to get that done this week. That's huge for us if you want to be up there at the top at the end of the year, those three games in a week, you have to be winning them all and that's where at the end of the year you see where you're at."
It's no coincidence that Derry's current form has coincided with Duffy's return to his best with the winger scoring four goals and chipping in with three assists in his last eight matches. He set up Ryan Graydon for the winning goal in Dalymount, scored the third in the 3-0 win over Dundalk and netted twice and added an assist in the 4-1 demolition of UCD.
After a frustrating injury hampered the start of the season for the Galliagh man, he's delighted to be back affecting games.
"I want to be on the scoresheet every week and that's two games in a row now and I'm getting a couple of assists too. So I'm happy and want to be doing that every week. I want to be scoring every week and setting goals up every week and I'm happy to be doing both tonight.
"Scoring on Monday and setting up against Bohs so it's been a good week for me personally and a good week for us. I just want to push on now.
"I just feel like I'm getting better, game after game. The first few games I just need to get fitter. Coming back from a calf injury was a weird one. I just couldn't do much running so it was a frustrating injury.
"All I needed was game-time and thankfully I've got a good run of games under me now and I feel I'm getting stronger and fitter with every game."
His first goal against UCD came after an exquisite flick from Will Patching and he believes that particular partnership is beginning to flourish.
"Me and Patch link up well out the left and with me coming back and Patch coming back the last couple of games we've been playing well with each other and I think the more games we play with each other that partnership will get stronger. He's great to play with."
Two 1-0 wins over Bohs and Drogheda on the road got Derry back on track but Duffy was delighted to ease the pressure and win more comfortably this week, scoring seven goals in the process in games against Dundalk and UCD.
"That's what we need. A win is a win but you don't want to be putting that stress on yourself every game. Those 1-0 games can be dodgy in the last 20 minutes if you're just sitting back and anything can happen in this league so that's why we need to start putting games to bed.
"We have a variety of players and a lot of players with different attributes and I think we're just starting to click together really. It's looking positive at the minute for us."
Shamrock Rovers will look to bounce back when they travel to Cork on Friday night while Bohs host a north Dublin derby with Shelbourne 24 hours before Derry meet Sligo in the Showgrounds. Regardless of how their rivals fare on Friday, Duffy is determined to ensure Derry are on top of the pile on Saturday night.
"It's always tough games against Sligo. Down there is a tough place to go and it's always been but we're in a good run and will go down there positive and look forward to it."