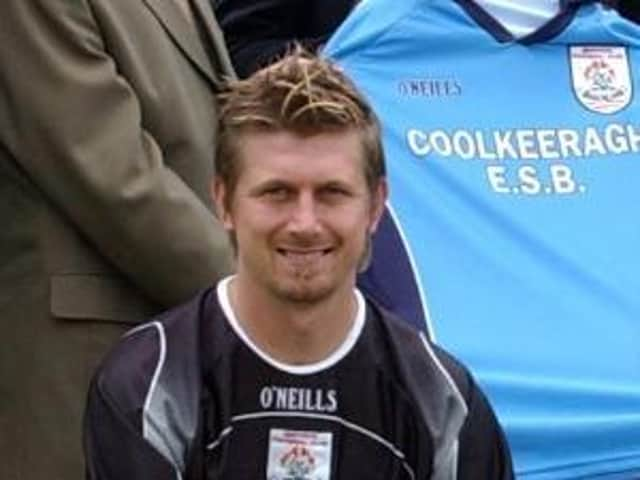 Graeme Philson
First up is former West Ham United, Coleraine, Linfield and Institute centre-back Graeme Philson.
Philson, a Wolves fanatic, has played with a host of former internationals and some of the best Irish League players of all time. He goes for a 4-4-1-1 system, so here's his best 11 and the reasons why....
Peter Shilton (Goalkeeper - West Ham United): I played with him for a season with West Ham United Reserves even though he was about 46 at the time. Without doubt one of the finest keepers England ever produced hence his inclusion.
Tommy McDonald (Right-Back - Linfield): Tommy was cool as a cucumber and never seemed to get ruffled. Won all there was to win at the Linfield during his time there. Testament to his ability.
Adrian 'Joe' Creane (Centre-Back - Institute): Joe was 5ft 8inch but jumped 7ft 11. Very rarely lost an aerial dual. Key player during Institute's promotion season in 2001/02.
Noel Baille (Centre-Back/Sweeper - Linfield): Mr Linfield and a Rolls Royce of a player. Never seemed to get caught out of position and if he did had the pace to get him out. Played a million games for Linfield.
Julian Dicks (Left-Back - West Ham United): Hard as nails with a sweet left foot. Completely underrated regarding his footballing brain. Should've been England's left back for years but his reputation cost him unfairly.
Jonny McIvor (Right Wing - Coleraine): In the team purely on natural talent alone. Jonny would give defenders twisted blood. Probably didn't fulfill his full potential but still managed to cause havoc down the right side for Coleraine and Institute.
Raymond McGuinness (Central Midfielder - Institute): Horrible to play against and always was glad he was in my team. Sat in the holding role for Institute and rarely moved from the central midfield berth. Didn't need to as everything went through him.
Tony Gorman (Central Midfielder - Coleraine): Played with Tony before I went to England. Signed from Portadown and came with a 'Stormin Gorman' banner with a target it on it. Model pro with an unbelievable shot. Once saw him smash a free kick past Brian Gunn of Norwich. Gunn didn't move!
Michael Hughes (Left wing - West Ham United): Fabulous left sided player with a fantastic left peg. Came alive when he was on the ball and had a great drop of the shoulder. Became a West Ham favourite.
Ryan Coyle (Striker/Number 10 - Institute): His name has come up a few times when I talk to old opponents about hardest players they played against. Glided with the ball and naturally created space for others with his ability to draw in defenders. Made the game look easy and that sometimes made him look lazy on the pitch. Quicker running with this ball at his feet than running without it.
Glenn Ferguson (Striker - Linfield): Possibly the greatest Irish League striker of all time. Strong as an ox. Good with either foot or in the air. Spike scored for fun and probably should've played in England. Never lost his hunger for the game and for goals!