Paddy McLaughlin's contract at Cliftonville ends in a few weeks but insists he's happy at Solitude amid Derry City links
Cliftonville manager Paddy McLaughlin says he can't control rumours linking him with a move to Derry City but insists he's happy at Solitude.
11th May 2021, 7:00am
- 2 min read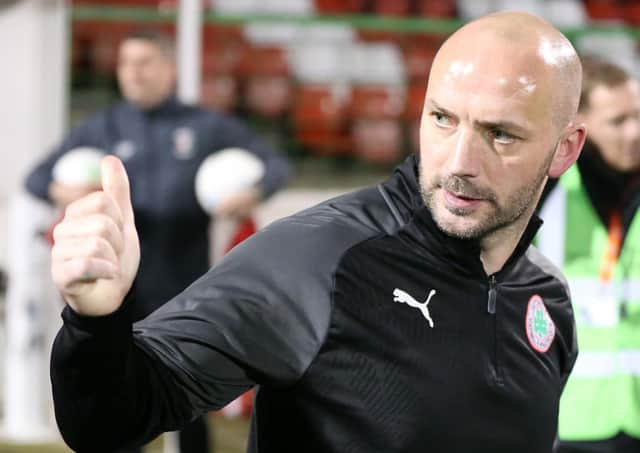 Cliftonville boss Paddy McLaughlin.
The Creggan man, who is out of contract in a matter of weeks, was touted as a possible replacement for Declan Devine before Ruaidhri Higgins was appointed as the new Derry boss.
However, that appointment hasn't stopped McLaughlin, who is highly regarded at the Brandywell, being linked with his hometown club's coaching set-up. For now though, he insists he's only focusing on the Reds' remaining games of the season.
"I love my job. I'm happy at Cliftonville but, yes, I'm out of contract in a couple of weeks and need to sit down with the club to discuss things," he stated.
"I'm more than happy to stay where I am and can't comment on rumours. It was the same when the Derry City manager's job was there so I'll say the same as I did back then; I'm happy at Cliftonville and can't stop people linking my name to jobs elsewhere. Hopefully I'll sit down with Cliftonville and discuss what we're doing for next year over the next couple of weeks and things will become clearer. The sooner the better to be honest.
"Preparations are already in place. I'm more than happy to stay but that's the conversation I need to have with the club very soon because of my contract situation.
"It's important we put a plan in place now for next season and it's important that we start targeting new signings. Unfortunately with new players coming in, the down side of football means we'll have to move a few players on. That's something we need to be discussing with the Chairman (Gerard Lawlor) now because you don't want to be left behind in terms of next season."
The 41-year-old, whose side were knocked out of the Sadler's Peaky Blinder Irish Cup on Saturday at holders Glentoran, admits his budget for next season will be largely dependant on qualifying for Europe so he wants a strong finish to the season.
"European qualification is something we always strive to do," he explained, "The prestige of playing in Europe is something players want to do. It's playing at the highest level for many of them and a great experience but it's also a financial boost for the club, no doubt about that, so it will have a major bearing on what we can do for next year.
"Obviously that certainty on the financial side of things will give us a stronger hand in terms of us targeting a different style and a different calibre of player.
"If we don't have that financial boost then we'll have to be really shrewd because we'll maybe not have the resources to sign the top bracket players, so results over the next couple of weeks will have a major bearing on how we plan for next year."