Ruaidhri Higgins baffled by sudden managerial exits at St Pat's and Cork
RUAIDHRI Higgins expressed his shock at the sudden departures of both Tim Clancy and Colin Healy just 13 games into the season and stressed the need for managers to be given time to implement their vision.
Published 4th May 2023, 22:19 BST

- 4 min read
In the space of a couple of days the Derry City boss has incredibly become the THIRD longest-serving manager in the League of Ireland's top flight behind Shamrock Rovers' Stephen Bradley and UCD's Andy Myler.
To put that into perspective, Higgins reached his two-year milestone as City manager - his first managerial role - last month and is currently a third of the way through his second full season in the Brandywell hotseat with less than 100 competitive games under his belt!
Both Clancy and Healy departed their posts after a string of poor results but Higgins expressed his disbelief and sadness at the early managerial changes given the competitive nature of the league this season.
Clancy was gone by Tuesday morning leaving interim manager Jon Daly three days to prepare for Friday's trip to Cork City where Healy's resignation left newly appointed Sporting Director Liam Buckley and ex-Derry winger Liam Kearney in charge of team affairs.
While he agrees it's not unreasonable to expect some discernible progress to have been made at both clubs, Higgins is concerned that erratic managerial changes and heightened expectations could contribute to a culture of short-termism - something he doesn't see any merit in.
And he reckons both managers deserved a level of patience having achieved targets last year of European qualification and promotion respectively.
"I think with the league being so congested and nobody is really cut adrift, that one (Tim Clancy's departure by mutual consent) definitely surprised me," said Higgins, who graduated from his UEFA pro licence course alongside Clancy last year.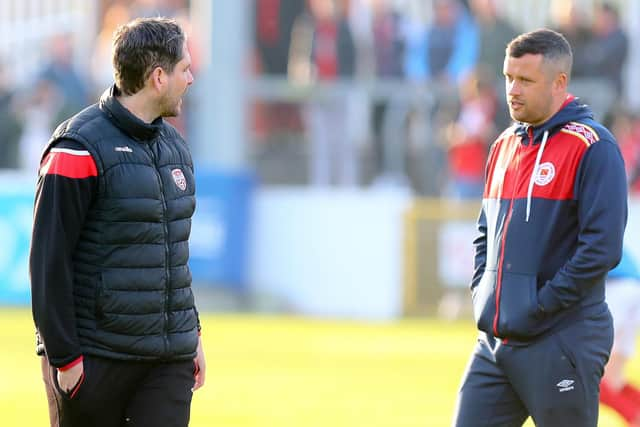 "I know they lost a few on the spin but that happened previously in the season and they went on and won four and ended up second in the table for a period. So I just think it's very, very early.
"St Pat's got into Europe last year when Tim was the manager and I think he should be at least given the chance to go and see that part of it through."
The Derry supremo believes clubs should follow Shamrock Rovers' footprint in standing by their manager, making reference to Stephen Bradley's difficult start at Tallaght before going on to win three successive league titles.
The Rovers board were under serious pressure to sack Bradley after a couple of years in the job but opted to back him and went on to reap the benefits.
"When you look at recent history, Shamrock Rovers are probably the best example where it took Stephen three years to win his first trophy. They stuck by him and went on to dominate Irish football in recent years.
"That's because the club believed in the long term plan and backed him. I think with Tim Clancy, I just think it's really, really early. We're only a third of the way through the season and they're not cut adrift. A few wins would get them back in contention again so that was a real surprising one for me.
"I think it's just modern day society, modern day football but I don't see the merit in it. You look at Mikel Arteta last year at Arsenal and everyone looking to chop his head off at the club and then all of a sudden he's a genius.
"Stephen Bradley is one in our league you can relate to in that respect. They were trophyless for a while and stuck with him because they could see what he was building and the last few years they went on to dominate.
"I know people can come under pressure from supporters but I don't see how you can create continuity within a football club if you keep chopping and changing. For me, it's crazy.
"These are two people who I know are really good managers and have an awful lot to offer and it's sad when you see a couple go in such a short period of time.
"I know they are two different situations and you never know what goes on behind the scenes but I feel there's a lot of good coaches and managers in this country. Don't get me wrong, I'm not saying give people four, five or six years but I don't really see the merit of doing it a third of the way through the season especially when the table is so congested - I don't get it!"
Cork City may have different ambitions to the Saints who would've hoped to be involved in the title race or at least vying for Europe once again but considering Healy's efforts in getting the Leesiders back to the top flight, Higgins was left scratching his head when he heard of his exit from Turner's Cross.
"I think there was a takeover going on at the end of the season so he didn't know who to bring in until very late on and then the pool of players he would probably be interested in were gone.
"Again, the decision was Colin's," he added. "I know he's had a really difficult month and lost a number of games in a row but he took over the club during a difficult period and got them promoted in his first season and back to where they belong and then a third of the way through the season he's gone," lamented the Derry City boss.