Ruaidhri Higgins hopes Brandywell support can get Derry City over the line against HB Torshavn
RUAIDHRI Higgins warned HB Torshavn 'the gloves are off' after last night's scoreless draw in the Faroese capital and he's hoping home a bumper Brandywell support can help drive his Derry City team into the second qualifying round next Thursday.
Watch more of our videos on Shots! 
and live on Freeview channel 276
Visit Shots! now
The Candy Stripes were held scoreless by 23 times Faroese champions HB Torshavn in front of an estimated 100 travelling Derry City fans and a paltry home support in the first leg tie in Torshavn and Higgins felt the result was 'far from a disaster'.
All four League of Ireland teams involved in Europe this week failed to clinch victory in their respective first leg ties - a reflection of how competitive the early stages of these competitions are given the financial incentives and particularly when travelling away from home.
This tie remains very much still in the balance and considering HB Torshavn's home record in European competition where they're unbeaten now in their last four encounters on home soil, Higgins wasn't surprised with how the game panned out at the Tórsvøllur stadium.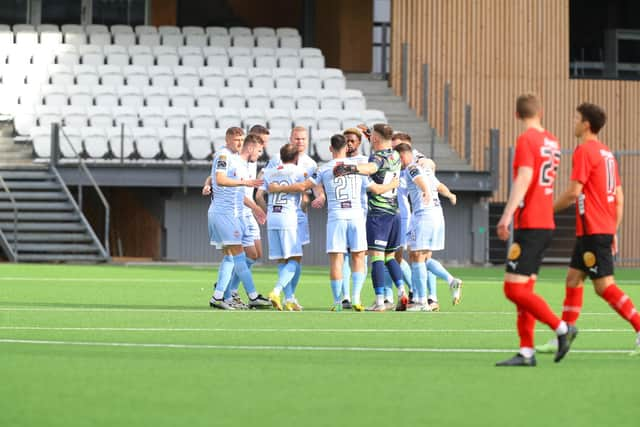 The Faroese outfit were the seeded team in the draw and placed 83 places above Derry in Uefa's coefficient rankings therefore they were 'no mugs' as Higgins described them afterwards.
He clearly didn't underestimate the opposition who were littered with Faroese internationals and technically impressive but his team were slow to start and almost paid the price.
Indeed, Derry made a lacklustre start to the match and were fortunate not to be behind in the first half with Swedish midfielder Emil Berger striking the foot of the post.
Higgins made a tactical switch on the half hour mark and four attacking substitutions early in the second half which gave his team more control of the ball and they finished the strongest of the two teams.
It remains 'live and kicking' and he's confident Derry can progress to the second round in Europe for only the fifth time in their history and the first occasion in nine years as they take HB Torshavn back to Foyleside this week.
"Let's not forget they've won their last three home European ties against decent opposition as well so it's not a disaster," said the City boss. "We'll prepare now. We take the good out of this and work on the bad and try to turn it into a more complete performance next week.
"They beat Maccabi Haifa here a couple of years ago. They beat a Welsh team (Newtown) so they're used to winning at home in Europe but it's up to us now to put the tie away.
"Hopefully there's a huge crowd next week getting right behind the team. Our supporters love European football. We haven't got through a round in nine years. We've teed ourselves up now to try and take advantage and try and get a big home win next week.
"We know we have a lot of work to do. The tie is very much in the balance. We go home next week with a big support behind us and try to drive it over the line."
Having flown out to the Faroes to watch their 2-0 defeat to league leaders Klaksvík two weeks' ago, Higgins knew exactly what to expect from the home team. He replicated the 3-4-3 formation which he felt gave Klaksvík plenty of success against HB, but quickly reverted back to a 4-2-3-1 when it was apparent it wasn't having the desired effect.
"The game I was at against Klaksvík , they played a back three, a 3-4-3 and I liked the look of it and we had been playing it in recent times as well so it isn't something we just threw together. We know the system but we just couldn't get going.
"We were really sloppy with our passing and set the tone for ourselves by being poor in position and it's hard to claw back.
In fairness they got a foothold midway through the first half and we were much better from then on.
"It was one of those games where we started really, really poorly. The first 20 minutes it was just a really poor performance. We had to change the shape. We changed the shape and we grew into the game and got far more control and created more opportunities."We finished the game really strong and created a few really good chances and could've nicked it at the end but it's alive and kicking.
"They're no mugs, that's for sure," he added. "They have some good players. A couple of really good players, They have players who have played in these types of games before as well so nothing surprised me about them.
"We were fully versed on them, done our work but now the gloves are off and 90 minutes is behind us. Let's go and see if we can go and put the tie away."
Higgins admitted he had some harsh words to his players at the interval and he was pleased with the response in the second half.
"It's way below our standards and you shouldn't have to but it happens from time to time. What was impressive was how they adapted when we changed it and got better and stuck at it.
"They hit the post early in the first half and had a couple of good opportunities in the first half but I thought after those couple of opportunities we probably had the better of it. It's 0-0 at half-time, let's see if we can go and win the second half.
"We go back to Brandywell in front of a packed house who will get right behind the team and see if we can get ourselves into the next round."