Ruaidhri Higgins pays tribute Sadou Diallo ahead of 50th Derry City appearance
​Ruaidhri Higgins has paid tribute to Sadou Diallo as the midfielder prepares to make his 50th appearance for the Candy Stripes when Derry travel to Bohemians on Friday night.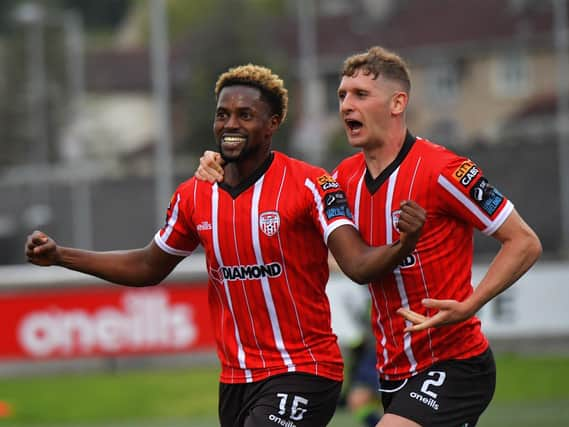 The former Manchester City youth player was signed from Rotherham in July 2022, making his debut in a 2-1 victory over Finn Harps, and has gone on to cement his place as an integral cog in Higgins' squad and become one of the top midfielders in the League of Ireland.
Firmly established as a fans' favourite, the feeling is clearly mutual as was illustrated by his emotional reaction to Sunday's heartbreaking penalty shoot-out defeat to St. Patrick's Athletic in the FAI Cup. Diallo brings a composure which is likely to be needed in then heat of Dalymount and whether the big 5-0 arrives from the start or off the bench, Higgins believes the midfielder is only getting started at Brandywell!
"He has been excellent," admitted the Derry boss, "He's 24 now but probably hasn't played loads of football for a 24-year-old. He was in academies up until late then he played 20-odd games for Forest Green, so his real consistent period of senior football has come at our club.
"You can see that he's getting more consistent and he has been excellent. He was hurting the other day (after the FAI Cup tie), but he has come into training since with a big smile on his face, and he has been a very, very good signing for us.
"He brings that composure but he has got an edge to him as well. What I like about the midfield players at this club, is that you couldn't put two of them in the same bracket because they are all very, very different. You need that for different games, but Sadou definitely brings that composure and calmness to our play, though he does have an edge that I like as well."
Higgins feels the heartache of the double cup exit is firmly in the past as Derry set their sights on challenging for a first Premier Division title since 1997 with games against their direct rivals such as Bohs the key to success.
"The players are in good spirits," he explained, "They know that we are playing well and they understand that we are playing well.
"We won the game last Thursday and drew the other day yet we're out of two competitions, but such is life in football. It certainly builds resilience and our players have shown a real capacity to have that so I have no doubt with the way we're playing, and with the characters we have in the group, that we'll go to Dalymount Park and give a really good account of ourselves.
"As long as I can remember; my first involvement at Dalymount Park was in 2004, and I think that was my full debut as a player; Bohs were unbeaten there in a long time, but we went down there and beat them. As long as I can remember, we have a really good record down there and we want that to continue.
"The two teams are playing well, but we are focusing on ourselves and we are in good form. We'd like to focus on the really good performances in the last seven or eight weeks.
"We know if we can maintain that level and keep that consistency; people know that we're playing well, and if we can keep that level of consistency and drive, and use the wee bit of hurt from the setbacks in the last few days and turn that into a positive, hopefully we can take it out on someone."