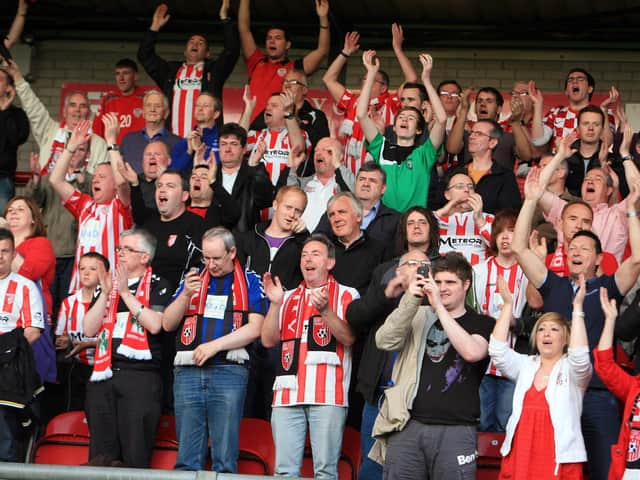 Derry City supporters.
With all League of Ireland clubs budgeting for an entire season without fans, Derry City is offering supporters four separate memberships, each with individual benefits.
Details of how the WatchLOI streaming packages will be incorporated in the various memberships have yet to be announced but Mr O'Doherty hopes fans show their support and invest in the club this season.
The bronze package (at £22) provides the opportunity to purchase a match ticket if selected as well as a digital programme for each game.
The Silver package (at £55) the same as the bronze as well as an 'Independent Derry' voucher valued at £20; as well as a members scarf and hat and access to the Members' Draw.
The Gold package (£95) includes all from the Silver package as well as a members polo shirt and a 10 per cent merchandise voucher against a one time purchase.
The Platinum package (£190) has all of the above benefits as well as free access to 'Watch LOI', a choice of 12 months of Derry City Monthly draw or 12 months of club Lotto and a Club Share.
"Quite a few people at the club have spent a lot of time putting this together and it's a flexible package which is really good value for money," explained Mr O'Doherty.
"That coverage last year (WatchLOI) was fabulous. When there was virtually no other live football on I was surprised there weren't more people who took up the opportunity. I think it will be interesting to see in the summer when there's going to be a lack of football.
"It's a pity we couldn't get some of the major TV companies to buy that coverage because it was really good. I know there's only one or two cameras and you can't compare it to Sky but I really enjoyed watching games you wouldn't normally have seen.
"It was one game at a time too so you certainly got value for money."
Details of the match streaming packages were only announced at the end of February leaving clubs with less than three weeks to finalise packages and market them to fans.
Mr O'Doherty understands it's 'not perfect' but hopes fans are happy to support the club.
"It was sprung upon us fairly late last year and I think we've learned a bit from that. The season ticket holders who felt they wanted their money back, all got a percentage back relative to the number of games they saw.
"If there was anybody that didn't like the coverage we took care of them. Some people were just happy to support the club anyway. We will make sure whatever package we have will be value for money, I think that's the key thing.
"It is a great way to support the club even in these difficult times. It's not perfect but we're still trying to put a team on the field that will challenge and to invest in this project for better training facilities and to have our own base for our academy teams and first team."