All Ireland heartbreak for Glen as Kilmacud claim Croke Park glory
All Ireland Senior Club Championship Final
22nd Jan 2023, 5:47pm
- 4 min read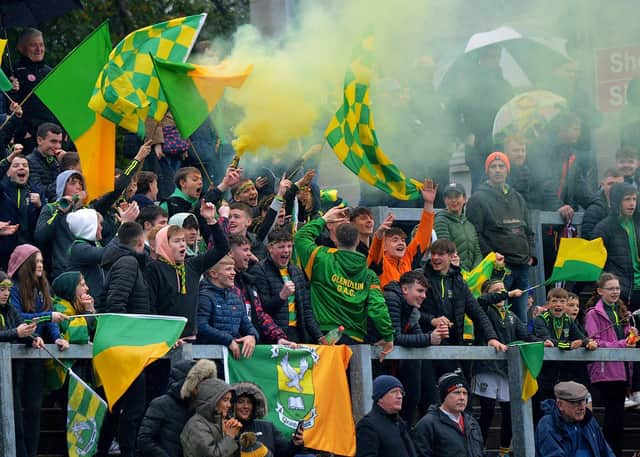 Kilmacud Crokes 1-11, Glen 1-09
Sometimes it's just not your day!
Glen's dream of becoming All Ireland Senior Club champions will have to wait after Kilmacud Crokes broke Maghera hearts in a final Glen will feel they should have won. A blistering opening salvo from Malachy O'Rourke's team gave way to Kilmacud first half dominance but second half Glen had the chances to win it. And they will know it.
Three times they looked to have opened up the Dublin aristocrats but three times the chance got away from them despite Glen having done little wrong.
Leading 1-09 to 1-08 with 12 minutes remaining, Jack Doherty seized on a loose ball to drive forward and release substitute Stevie O'Hara in on Crokes No. 1 Conor Ferris. O'Hara did everything right, jinking right, the back to his left to open up the space to shoot but with the goal gaping the ball stuck under O'Hara's foot as he tried to fire it goalwards.
Then, with five minutes left and the sides level, Ethan Doherty engineered himself a gilt edged opportunity but, under pressure from Ferris, he was unable to open up the crucial space to get his shot away and Kilmacud turned possession over.
Most critically of all though is the injury time chance Conor Glass will play over and over in his head until he lead this talented squad back to headquarters and leaves with the Andy Merrigan Cup. Points from substitute Cian O'Connor and Shane Walsh (free) had the Dubliners seconds away from glory and Glen knowing only a goal could rescue their dream. It was 'Hail Mary' time and when a high ball was missed by everyone, it broke perfectly along the ground who had crept in unnoticed. His side-footed finished was bottom corner bound but Ferris produced the save of his life to dive low to his right and push the ball away for a '45'.
Even from the ensuing '45' Conleth McGuckian's shot was inches away from late glory but inches are the margins at this level and Kilmacud were on the right side of the dividing line 12 months on from their own All Ireland heartbreak.
It won't come as any comfort to Glen to Shane Walsh's 1-03 was a major reason they were, the Galway star was held well in play by Michael Warnock but his first half penalty and contribution from placed balls was a telling factor which won't sit well with some football purists.
There was little between the teams who slugged it out like two heavyweights trading blows in a 15 round world title decider with nothing but respect left at the final whistle.
The opening exchanges were all Glen with Danny Tallon providing a dream start by holding off two defenders and firing a brilliant high finish to the net inside 40 seconds.
Alex Doherty's point stretched the lead to four inside two inside minutes but as the half wore on, Glen's passing became more erratic and cost them several decent openings.
At the other end, Kilmacud had settled, thanks largely to Walsh's 15th minute penalty after Ryan Dougan had hauled down Shane Cunningham. It left it 1-03 to 1-01 in the Derry men's favour but Kilmacud were on top and Glen wouldn't score for the final 16 minutes of the half.
Points from Tallon and an Emmet Bradley free had extended their lead but in those 16 minutes a two point lead would became a one point deficit as points from Dara Mullin, Cunningham and Dan O'Brien left it 1-04 to 1-03 at the break.
The second half swung one way and then the other. Both clubs had chances to pull clear but were unable to press home their advantage as chances came and went. Twice Glen led by two points but were unable to get further away. Kilmnacud led by two twice as well but crucially they second was as the clock hit 60 minutes and this time fortune smiled on them.
But Glen won't want excuses. They have enjoyed a fabulous year and went down with their boots on yet in that defeat last season, Kilmacud have shown the Watty's the path they must take. This team is good enough. The chips won't always fall as unfortunately as they did in this final and they can return to this stage.
For now though, they should celebrate a fantastic season, lick their wounds if they have to, and set their sights on 2024!
Kilmacid scorers: Shane Walsh (1-3, 1pen, 2f, 1 '45'), Craig Dias (0-1), Darragh Mullin (0-2), Shane Cunningham (0-2), Dan O'Brien (0-1), Paul Mannion (0-1, 1f), Cian O'Connor (0-1)
Glen scorers: Danny Tallon (1-3, 2f), Alex O'Doherty (0-2), Emmett Bradley (0-2, 1f), Jack Doherty (0-1), Conleth McGuckian (0-1),
Kilmacud Crokes: Conor Ferris, Michael Mullin, Theo Clancy, Dan O'Brien, Andrew McGowan, Rory O'Carroll, Aidan Jones, Ben Shovlin, Craig Dias, Cillian O'Shea, Shane Cunningham, Paul Mannion, Hugh Kenny, Dara Mullin, Shane Walsh. (Subs) Shane Horan for A Jones, 49mins; Luke Ward for S Cunningham, 56mins; Tom Fox for P Mannion, 63mins; Conor Casey for D Mullin, 63mins
Glen: Conlann Bradley, Cathal Mulholland, Ryan Dougan, Conor Carville, Tiernan Flanagan, Michael Warnock, Eunan Mulholland, Conor Glass, Emmett Bradley, Ethan Doherty, Jack Doherty, Conor Convery, Alex Doherty, Danny Tallon, Conleth McGuckian. (Subs) Stevie O'Hara for C Convery, 36mins; Paul Gunning for A Doherty, 58mins;