Antrim defeat Derry to be crowned Ulster Under 20 Hurling champions in Owenbeg
2023 Ulster U20 Hurling Championship Final
Published 11th Mar 2023, 17:12 BST

- 4 min read
Two Aidan Scullion goals saw Antrim overcome Derry to be crowned Ulster Under 20 hurling champions in difficult conditions at Owenbeg on Saturday.
With a strong breeze swirling around the pitch and driving rain descending on the Dungiven venue for the second half, Scullion's goal was the game's critical score in a contest in which there was little between two evenly matched teams.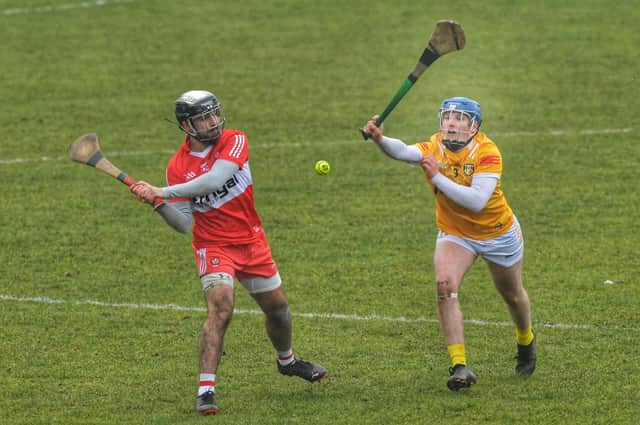 Playing against the wind, the Glenarm man found the net just as Derry seemed to have settled and looked set to put some much needed distance between themselves the the Saffrons with a second half against the elements to come. And, in the end, Antrim's greater efficiency in front of goal proved the difference.
The second half saw a second Scullion goal but despite outscoring their hosts by 1-09 to 0-3 after half-time, it was only really in the final minutes that Antrim gained any type of control.
Going into those final 10 minutes, and even with Scullion's second major which arrived on 46 minutes, the Saffron advantage was only four with Derry having plenty of possession but not able to convert opportunities into scores. Andy McBride, James Friel and Ruairi O Mianain were the pick of the Oak Leaf diaplay although second half substitute Segdae Melaugh gave an excellent late cameo.
Derry had the wind behind them first half but it was Antrim who looked the more composed in the opening stages of a tit-for-tat half. When the two counties met in the group stages back in February at Dunsilly there was only two point between them and the early exchanges suggested an encounter every bit as tight.
That victory for the Saffrons made them slight favourites, Paudie Shivers' side winning both their group games against Derry and Down before not fielding against Donegal in their third with a place in the final already secured. Derry had recovered from that opening day defeat to record victories over Donegal and Down, the latter coming in dramatic fashion with last week's 1-19 to 0-21 victory in a game that was tantamount to a championship semi-final.
That result sent Ryan O'Neill's men into the final in confident mood but conditions made it difficult for either side to settle. Derry deployed Slaugthneil's Jack Cassidy at full forward but registered eight first half wides as the home side turned around only one to the good at 0-08 to 1-04.
Six of those points came from Friel, already making a positive impression with Johnny McGarvey's senior side this season, but only two of Derry's points were from play over the opening 30 minutes, those coming from O'Mianain and Keelan Docherty.
By contrast, Antrim were much more efficient, grabbing their 1-04 from only seven shots even if their 26th minute goal had a touch of fortune about it.
Derry had weathered Antrim's early dominance to establish a 0-5 to 0-3 lead when the goal arrived. John McAllister's clearance was intercepted by Antrim's Joseph McLaughlin who immediately found Aidan Scullion – wearing 14 but playing deep. His low shot looked to be covered by Cathal McElhinney but a bad bounce deceived the unlucky Oak Leaf keeper and Antrim had their crucial goal.
Derry's response, even after Niall McGarel had tagged on another point, was superb, as they hit three successive scores from Friel, a free and a '65', and and lovely effort form Keelan Docherty. It meant Ryan O'Neill's men led by one at the break but it wasn't to be enough against the wind.
Antrim had wrestled back the lead inside the opening five minutes through points from Scullion and Aodhan McGarry and they never relinquished it. And just as he had first half, Scullion found the net just when his county needed it, this time pulling first on a loose ball after Daire Mullan's long free had been broken down just outside the square.
Derry never stopped battling but second half points from Docherty, Melaugh and O'Mianain was scant reward for their efforts though there remains plenty of potential within this group who have a bright future ahead of them.
As Ulster champions, Antrim will now go forward to compete in the Leinster U20 Championship while Derry's season is also far from over, the Oak Leafers going forward to compete in the All Ireland 'B' Championship.
Derry scorers: James Friel (0-6, 4f, 2 '65'), Ruairi O'Mianain (0-2), Keelan Doherty (0-2), Segdae Melaugh (0-1).
Antrim scorers: Aidan Scullion (2-1), Aodhan McGarry (0-4), Niall McGarel (0-2), Ryan Mort (0-2), Joseph McLaughlin (0-1), Jack McCluskey (0-1), Cormac McKeown (0-1), Christy McGarry (0-1).
Derry: Cathal McElhinney, Andy McBride, Aimen Duffin, Mark McEldowney, John McAllister, James Friel, Callum O'Kane, Ronan McNamee, Eunan Boylan Ruairi O Mianain, Niall McGonigle, Jack Cassidy, Conor Murtagh, Eamon Cassidy, Keelan Docherty. (Subs) Segdae Melaugh for C Murtagh, HT; Ruairi McLaughlin for R McNamme, 36mins; Conan Bradley for E Boylan, 52mins; Ryan Hendry for K Docherty, 59mins;
Yellow Card: J Friel, 40mins; M McEldowney, 50mins; C O'Kane, 58mins.
Antrim: Eoghan Richmond, Ben McGarry, Ruairi McCormick, Dubhaltach Wilson, Daire Mullan, Eoin Trainor, Conor Boyle, Eoin McFerran, Conor Dickson, Aodhan McGarry, Joseph McLaughlin, Christy McGarry, Ryan Mort, Aidan Scullion, Niall McGarel. (Subs) Darragh Patterson for C Boyle, HT; Jack McCloskey for J McLaughlin, 40mins; Cormac McKeown for E Trainor, 40mins;Seanie McIntosh for N McGarel, 51mins; Ronan McCollum for A Scullion, 58mins.
Yellow Cards: C Boyle, 21mins; A Scullion, 22mins; C McGarry, 32mins.
Referee: James Clarke (Cavan)