Breffni scenes 'deeply hurtful and insensitive' for Steelstown: says Derry Ladies County Board
DERRY Ladies Gaelic Football Association (LGFA) has spoken out in defence of Steelstown Brian Ogs Ladies who were forced to turn around the team bus heading to their Ulster Intermediate semi-final in Cavan on Wednesday night.
3rd Nov 2022, 8:27pm
- 2 min read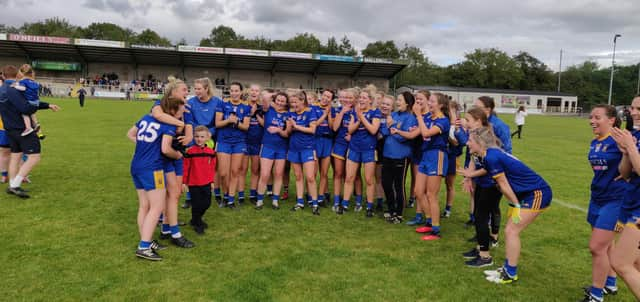 Risking forfeiting the match after working so hard to return to the latter stages of the provincial competition, the Derry champions had no option but to return home when the venue was switched from a grass pitch to Breffni Park's 3G surface while the team were in transit.
Rubbing salt into the wounds, match officials and Cavan champions Castlerahan/Denn then posed for photographs on the pitch despite Steelstown notifying the Ulster Council they couldn't fulfil the fixture.
Those images were shared widely on social media and didn't go down well with supporters of the Derry club.
The Derry LGFA has expressed its 'regret' at the situation and described the scenes at Breffni Park as 'deeply hurtful and insensitive'.
The County Board has called on the Ulster Ladies Council to 'reflect on the unrealistic expectations they placed on this senior ladies team in the last two weeks'.
The statement read: "The Derry LGFA executive wish to express our deep regret at the hurdles Steelstown Brian Ogs Senior Ladies Football team have had to scale in their Ulster Intermediate club series run the past fortnight and more so in the events of the past 24 hours.
"Narrowly beaten in the final of last year's Ulster Intermediate Final they dusted themselves down, regrouped and worked harder than ever to put themselves back in contention for the 2022 Ulster club Intermediate title.
"To see pictures of Ulster officials standing on a 3G pitch last night knowing that the Steelstown team would not be fielding shared widely on social media was deeply hurtful and insensitive.
"As were other unnecessary pictures and posts on social media. Players are only human, club coaches are for the most part volunteers.
"The passion for ladies football burns brightly in all our active clubs and schools across North and South Derry. "At county level we are trying very hard. Every year the playing numbers increase across all groups, more clubs start the code and wile success might be slower than other counties in Ulster every small gain deserves the same respect.
"We are all aware of the magnitude of the climb in this county but have been heartened by the Steelstown Brian Og journey the last few years. They have been an inspirational driving force to all our young girls footballers in the county.
"We hope that Ulster Ladies Council reflect on the unrealistic expectations they placed on this senior ladies team in the last two weeks.
"The central ethos of any GAA code should always be to do everything possible to enhance, support and protect the players. Never make it any harder to achieve success than it already is."