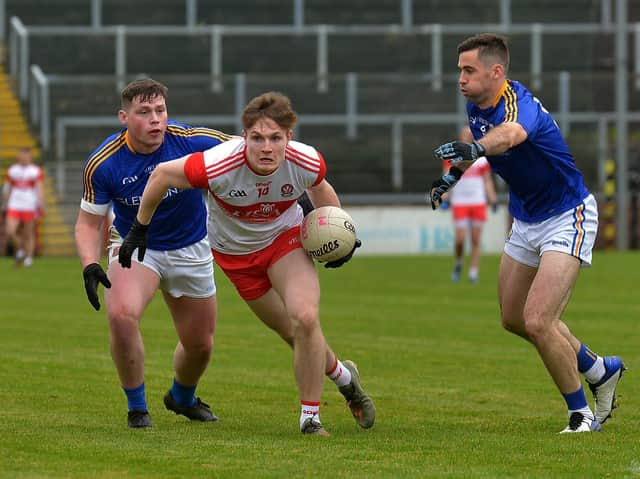 Derry's Ethan Doherty on the attack against Longford.
Derry 2-14, Longford 0-12
Conor Glass made a triumphant return to the Derry shirt as Rory Gallagher's Oak Leasfers roared back into action with an impressive eight point victory over Longford at Celtic Park on Saturday evening.
Glass, who spent five years with Hawthorn in the AFL, only rejoined the Derry squad on Wednesday night but emerged off the bench in 20 minutes to help Derry across the line for two points that moves Gallagher's up to third in the Division Three table.
Not that league points were the Derry manager's point of focus. With promotion all but gone, all eyes are on Armagh on November 1st and this was a more than encouraging way to prepare for that Ulster Championship clash.
Goals from Patrick Kearney and Paul Cassidy capped an excellent display that, while not perfect, showed a much more controlled Derry able to dictate the game in critical stages.
In what was a first game for more than 200 days for Derry, it was curious to see most pre-match interest centred not on jerseys 1 to 15, but on the Oak Leaf '24', worn by the recently returned Glass. There was a start for impressive Glen youngster Ethan Doherty in Rory Gallagher's first selection since March, a selection that also paired the senior and Intermediate club championship leading scorers, Slaiughtneil's Shane McGuigan and Greenlough's Niall Loughlin, in an attack that would have had most Oak Leaf fans eagerly anticipating throw-in.
And they weren't disappointed in a Derry domainted opening period, summed up by Kearneys brilliant goal just before half-time.
Kearney was operating slightly behind the two inside men in a front line that was constantly rotated and constantly backed up by the lung bursting runs of Doherty, and Enda Lynn.
Longford set up defensively, aiming to frustrate the Oak Leafers into squandering possession but Gallagher's revamped Derry side were disciplined and patient in possession, working a number of excellent openings in a highly encouraging first 70 minutes.
Kearney's goal encapsulated the first half display. With Longford leaving only one forward inside the Derry half, the Oak Leafers were facing a packed '45' but maintained possession for close to two full minutes, patiently probing for a break. It eventually arrived courtesy of Padraig Cassidy who burst passed his marker wide out along the left touch line. Accelerating into space, Cassidy drew the cover before finding Lynn inside him. In a flash, Lynn had spotted the perfectly timed run of Kearney. Through but still 20 yards from goal, there was nothing else on Kearney's mind as he fired a lovely low finish into the Longford net to leave it 1-07 to 0-03.
Liam Connerton tagged a point back for Longford but Derry fully deserved their commanding interval lead.
With Ciaran McFaul playmaking, Derry looked secure in a defence in which Slaughtneil duo Paul McNeil and Brendan Rogers were excellent with Carlus McWilliams sweeping in front. Everywhere there was pace and intensity as points from McFaul, Cassidy and Shane McGuigan (2, 1f) put the home side 0-4 to no score ahead after 13 minutes.
Longford were making little impact in an attacking sense, a full 12 minutes elapsing before their first shot of note but they eventually got on the scoreboard on 17 minutes through a Darren Gallagher free.
Derry responded through a Lynn point but Longford looked to have regrouped after the water break as points from Rian Brady and Dessie Reynolds left it only 0-5 to 0-3 with 23 minutes on the clock.
There was no panic though. Derry simply regathered themselves and produced the most impressive period of the game, hitting 1-02 without replay, points from Conor Doherty and McFaul preceding Kearney's goal to leave it a long way back for Padriac Davis' Longford team.
That gap was bridged considerably in the opening minutes of the second half and Longford re-emerged with the bit between their teeth, points from Colm P Smyth and a free from Rian Brady closing the deficit to 1-07 to 0-6.
Once again, when questions were asked, Derry settled themselves with a period of possession to calm the game down, a period which ended with Loughlin's fisted point.
Again Longford responded with a brace of scores only for Chrissy McKaigue to play a captain's role by pointing before Danny Tallon hit a beautiful score for 1-10 to 0-09.
The second half water break arrived with Glass appearing afterwards but it was another substitute, Bellaghy's Paul Cassidy, who finally put the game to bed with an opportunistic goal, reacting superbly when Loughlin's pointed effort struck the upright to turn, and fire a low finish into the Longford net for 2-10 to 0-09.
Derry were in game management mode from there and were never troubled. They had been in control from the first whistle. Rory Gallagher said pre-match this was a new start for Derry and it's off to an impressive start.
Derry scorers: Patrick Kearney (1-0), Paul Cassidy (1-1), Shane McGuigan (0-2, 1f), Enda Lynn (0-1), Ciaran McFaul (0-2), Niall Loughlin (0-2, 1f), Padraig Cassidy (0-1), Conor Doherty (0-1), Danny Tallon (0-1), Oisin McWilliams (0-1), Chrissy McKaigue (0-1), Brendan Rogers (0-1)
Longford scorers: Darren Gallagher (0-2, 2f), Rian Brady (0-4, 2f), Dessie Reynolds (0-1), Liam Connerton (0-1), Colm P Smyth (0-2), Darragh Doherty (0-1), Joseph Hagan (0-1).
Derry: Odhran Lynch, Paul McNeill, Brendan Rogers, Conor Doherty, Carlus McWilliams, Christopher McKaigue, Michael McEvoy, Ciaran McFaul, Padriag Cassidy, Ethan Doherty, Enda Lynn, Danny Tallon, Patrick Kearney, Shane McGuigan, Niall Loughlin. (Subs) Paul Cassidy for P Kearney, 52mins; Conor Glass for C McWilliams, 55mins; Oisin McWilliams for M McEvoy, 60mins; Gavin O'Neill for D Tallon, 68mins;
Yellow cards: C McFaul, 37mins; C McKaigue, 58mins; Niall Toner for N Loughlin, 70mins
Longford: Paddy Collum, Patrick Fox, Andrew Farrell, Barry O'Farrell, Colm P Smyth, Gary Rogers, Liam Hughes, Darren Gallagher, Kevin Diffley, Donal McElligott, Daniel Mimnagh, Dessie Reynolds, Rian Brady, Liam Connerton, Oran Kenny. (Subs) Joseph Hagan for M Minmagh, 44mins; Daragh Doherty for L Hughes, 48mins; Robbie Smyth for O Kenny, 65mins; Larry Moran for R Brady, 68mins;
Yellow card: D Mimnagh 22mins; L Connerton, 50mins; K Diffley, 67mins;
Referee: Sean Laverty (Antrim)