DERRY GAA: Masters face tricky trip to face Antrim in Dunsilly
​Derry Masters face their first game on the road tomorrow (Saturday) when they travel to meet an unbeaten Antrim in their second league game of the season.
Published 24th May 2023, 12:55 BST

- 4 min read
Updated 24th May 2023, 17:30 BST
The Oakleafers will make their way to Antrim's GAA Centre of Excellence in Dunsilly hoping to continue their impressive early winning run. Opponents Antrim, like Derry, enjoyed a comfortable win in their first game of the season when they defeated Down by four points and will provide a stern test for the new Masters panel.
The Oakleaf veterans, however, will hope to build on the solid foundations they themselves so impressively laid during their opening day victory. It was just about the perfect start to life in Masters Football for Derry, with the home side filleting neighbours Donegal by eight points a fortnight ago.
Played in glorious but energy sapping conditions at the 'Costa del Dungiven', a vocal home crowd were well entertained as the Masters new boys hit the ground running. Former Derry sharpshooter Paddy Bradley, maturing like a fine Chateau Neuf du Pape, accounted for 1-09 of Derry's final total. But the Glenullin man was well supported with Bellaghy's Eugene Scullion and Loup's Shane McFlynn also finding the back of the net.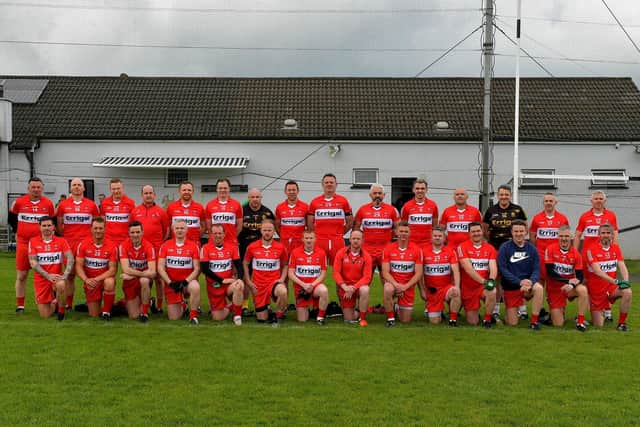 Derry manager Ronan Rocks was delighted with his side's first day out, and victory, of the season.
"We were completely entering the unknown," he explained. "We hadn't even played together as a team, no challenge games or anything. All we really had to go on was in-house games among ourselves at Owenbeg.
"Boys knew each other and the sessions were competitive without being ultra-competitive. But that can't prepare you for a proper game.
"As I said to the boys before the throw-in, this isn't going to be a kick about in the park. This was going to be physical. And as Kevin McGuckin said at half-time in the Donegal game, we knew exactly what we were getting after 10 minutes!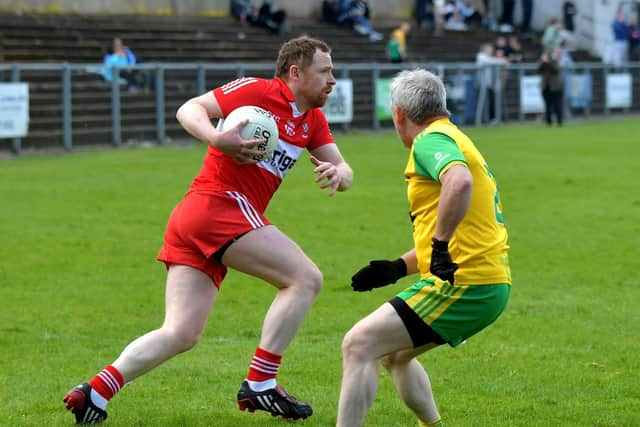 "Donegal were a really good side – strong and physical. Not dirty, but very
physical and very seasoned. And it was great to see our boys meet that physical challenge."
Rocks was as equally impressed with his defensive performers as the attackers.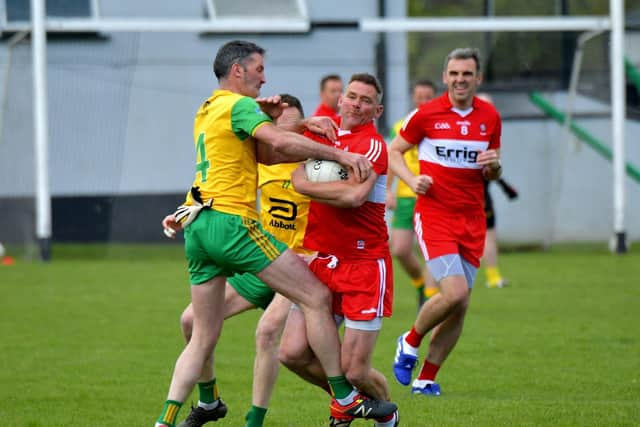 "I mean, to score 3-14 in your first ever game at this grade, and not concede any goals. Irrespective of what football you are playing – if you're hitting three goals and conceding none then you're more than happy with that."
The former Derry senior is anticipating another battle this Saturday.
"Again, Antrim have been in this competition for years and they know what they're at. They've a few decent players from that very good St. Gall's team that won the All Ireland Club Final as far as we know. But it's just a case of the old cliché for us at the minute – we'll take each game as it comes and learn as we go. Antrim will be no different to Donegal – we'll give them all the respect they deserve."
Rocks admits that he has been blown away by the attitude and commitment from his sizable squad of players.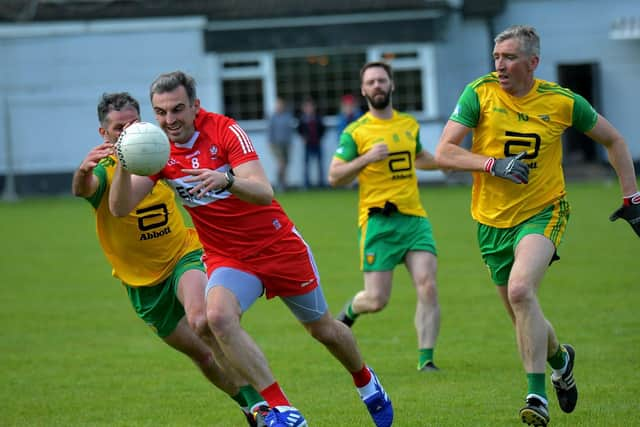 "Training's been great, I have to say," he enthused. "We train at Owenbeg on Saturdays and there's never been any less than 27 or 28 men at every session. We have 50 men registered and the great fear is that all 50 will show up some day and then what do we do?
"We've a good management set up and we've settled quickly into it," he continued, "James (McGrath – joint manager) took the session there on
Saturday and it was another real good session. We train for an hour and that's it.
"The beauty of it is, is that boys at this age don't really want or need coaching. They want a bit of game time on a Saturday. We've players that have been there, done that and played at the highest level and even coached at the highest level. It's actually a pleasure working with them."
Derry Masters took to the field against Donegal in a Derry Seniors kit, and
while they certainly looked the part, a number of the more 'muscular' players were less than enamoured with the modern day 'slim fitting' top.
Derry sponsors Errigal Group were more than happy to step in and solve the issue, sponsoring the Masters with a new, more forgiving, rig.
"I'm completely delighted about the new kit," said Rocks. "Cormac McCloskey, an absolute Derry man through and through. And his family are Derry to the core. He's a brilliant sponsor for Derry.
"He's sponsored back to back Ulster wins for Derry footballers, never mind the hurlers who are going to Croke Park. I'd need to give the hurlers a mention because James' son, Meehaul McGrath, plays for the hurlers.
"Cormac is an absolute gentleman and he was asked would he sponsor the Derry Masters kit and he refused nothing. And he said to me, 'It's an absolute pleasure to sponsor the Derry Masters'. I can't say enough about Cormac and the Errigal Group – great people. Great Derry people and great hurling and football people'."
Antrim Masters versus Derry Masters, Saturday 2pm (Antrim Centre of Excellence, Dunsilly)