Derry Under 20 hurlers cruise past Sligo in All Ireland B Championship
​​All Ireland Under 20B Hurling ChampionshipDerry 5-21 Sligo 2-9.The development of hurling in Derry is a bit further down the road than it is in Sligo and that showed in this preliminary quarter game at Owenbeg on Saturday.
Published 26th Mar 2023, 18:54 BST

- 3 min read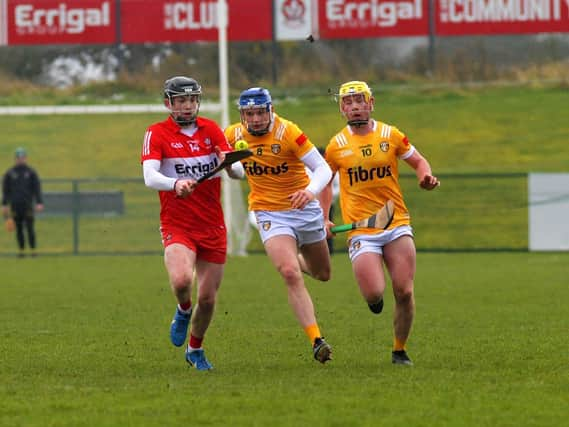 With just 14 minutes gone Derry were 12 points to the good and Sligo, who battled bravely throughout, had not raised a flag. By half time with Derry, still in second gear, they led by 4-12 to 0-6.
Ciaran Keenan, with some classy points from placed balls, carried the fight to the vastly superior Derry side well set up by manager Ryan O'Neill and his coaches Kevin Kelly and Martin Birt.
Played under the growing trend of unlimited substitutes (a reporter's nightmare), some of the Derry players who came off the bench like Conor Murtagh and Charlie Curley put their hands up for a starting place against Donegal in a last eight game at Owenbeg on Saturday.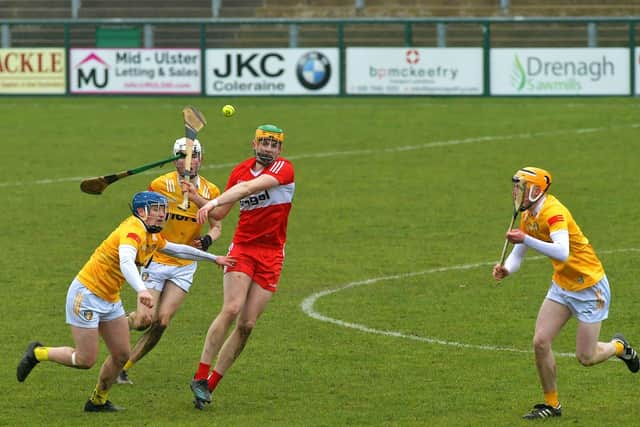 But in truth it was a training spin for O'Neill's men. Their first touch and striking was superior to that of the Yeats county lads. Derry were actually missing some key players as the U20 football manager Marty Boyle and Ryan O'Neill handle the dual players with care.
In this game some Derry players rose above the ordinary like Keelan Doherty, Eamon Cassidy, Sedgae Melaugh, Mark McEldowney, Callum O'Kane and Aimon Duffin. Derry had the best possible start when a Jack Cassidy free in the first minute came off a post and Ryan Henry finished the sliotar to the net from close range.
By the ninth minute the central attacking pair of Melaugh and Cassidy had hit the net and in between a brace of Jack Cassidy frees added up to 3-2 with Keenan and Darragh Flynn pointing for Sligo.
Jack Cassidy (free), Conor Bradley, Keelan Doherty, Duffin and Ryan Henry added to Derry's growing total, leaving them 3-7 o 0-2 in front by the 17th minute as Keenan, from a '65, registered Sligo's third score. The onslaught continued as Keelan Doherty, after a slick move, blasted the ball past Sligo keeper Seamus Foody. Senior panellist Callum O'Kane then pointed from a considerable distance for a 4-8 to 0-3 lead.
Sligo had a good spell with points from Keenan and Jamie Walsh leaving the score 4-8 to 0-5 with five minutes of the half remaining. Derry used that spell well with points from Eamon Cassidy, Sedgae Melaugh, Keelan Doherty and Jack Cassidy bringing their total to 4-12. A well struck free by the impressive Keenan was the sixth and final Sligo score of the half.
The bench emptying process began when Derry introduced five new players for the second half as Padraig Kelly, Charlie Curley, Danny Doherty, Jack Dunne and Conor Murtagh came in for Cathan McElhinney, Jack Cassidy, Andy McBride, Martin McKenna and Eunan Boylan.
The changes meant that Derry were not as fluent now but the game was already won. The Oak Leafers, however, did get an early awakening when Sligo's star man, Keenan blasted a 20m free through a crowded Derry defence and into the net.
Derry hit back immediately with a Conor Murtagh point but Sligo, who were looking a bit more confident in possession, had a long range point from Ryan Gillespie. Substitute Murtagh who was causing the Sligo defence all kinds of bother slotted over a neat free and followed by one from play.
At the three quarter stage Derry were sliced open when Gerard O'Kelly Lynch, a key man of the Sligo senior team, went solo to hit a superb goal. Still no danger though as Derry led by 4-17 to 2- 8 and the visitors got just one more score before the final whistle.
Ballinascreen player Conor Murtagh capped a fine display with the last goal of the game five minutes from time. The last four points of the game belonging to Derry.
Derry scorers: Keelan Doherty (1-4), Conor Murtagh (1-3, 2f), Ryan Henry(1-2), Sedgae Melaugh (1-1), Eamon Cassidy (1-1), Jack Cassidy (0-4f), Conor Bradley (0-2), Charlie Curley (0-2), Callum O'Kane (0-1) and Aimon Duffin (0-1) .
Sligo scorers: Ciaran Keenan (1-5, 1-5f), Robert O'Kelly Lynch (1-0), Darragh Flynn (0-1), Ryan Gillespie (0-1), Adam Roslton (0-1), Ciaran Flynn (0-1).
Derry: Cathal McElhinney, Martin McKenna, Mark McEldowney, James Brunton, Callum O'Kane, Aimon Duffin, Andy McBride, Eunan Boylan, Ronan McNamee, Jack Cassidy, Sedgae Melaugh, Conor Bradley, Ryan Henry, Eamon Cassidy, Keelan Doherty. (Subs used)
Padraig Kelly, Ciaran Murtagh, Jack Dunne, Charlie Curley, Danny Doherty, Se Gallagher, Ruairi McLaughlin, Odhran McElhinney, Ronan Hickey, Dara McGuigan, Adam Rankin.
Sligo: Seamus Foody, Neil Halligan, Jamie Walsh, Lee Gilmartin, Marc Gray, Conan White, Oisin Hennessy, Gerard O'Kelly Lynch, Ciaran Flynn, Ciaran Keenan, Ryan Gillespie, Paul O'Brien, Thomas Davis, Donnchada O'Brien, Darragh Flynn. (Subs used) Stefan O'Conbuie,Sean Feeney, Matt Percy, Adam Rolston, Paul Redden, Sean O'Brien, Martin Fee.
Referee: Aidan McAteer(Donegal)