Rory Gallagher admits sense of Derry injustice despite pleasing Division Two campaign
Derry manager Rory Gallagher admits the Oak Leafers have been left with a sense of injustice from an overall pleasing Division Two campaign.
Published 28th Mar 2022, 12:21 GMT

- 4 min read
Despite Sunday's 1-16 to 2-11 victory over Meath in Páirc Tailteann, Derry missed out on back to back promotions due to Roscommon's five point victory over a shadow Galway side in Dr. Hyde Park, a result which confirmed second place for the Rossies behind the already promoted Tribesmen.
In missing out Derry became the first county of the modern era to do so on 11 points and Gallagher pointed to the draw against Roscommon on game week five, a match in which top scorer Shane McGuigan was controversially sent off and then suspended for the Galway defeat, as being the defining moment in their promotion bid.
"If you go back to the last minute in Roscommon where I feel we were very badly wronged," explained the Derry manager, "Shane McGuigan should have been on the field and he shouldn't have been suspended. He should have been on the field to kick what would have been the winning score. I've no doubt eight out of 10 times he would have kicked that.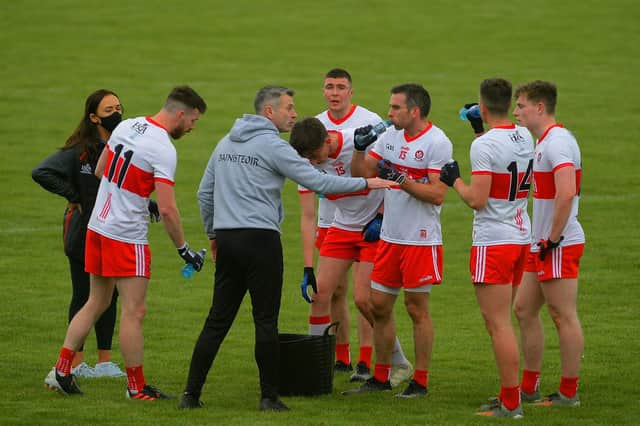 "Last week we made a lot of mistakes. We made some again today but obviously when you give away three goals like we did in the first half last week, it takes a bit out of you but I thought we showed a lot of mental strength today.
"We came out and started the game really well but then we slipped, another goal from what I would say was our mistake but that's how it goes. It also went against us in the second half when I thought we were the better team in the sense that we controlled an awful lot of the game and maybe missed a few chances but, look, we have 11 points having come out of Division Three and having been in Division Four not that long ago, so it's not the worst result."
Derry finished with a record of, played seven, won five, drawn one and lost one and Gallagher said, while frustrated, it was a good campaign that had taught Derry plenty of lessons.
"I would view it as a serious success but with a lot of learning. I would have loved to get to Division One for the players. We haven't but we have good company next year in Dublin and Kildare," he smiled.
"It is what it is. I would've loved to have got there but I also have to be realistic. We have to learn. We got no learning out of the vast majority of those 11 or 12 games we were unbeaten.
"Playing against Meath who have spent time in Division One, who ran Dublin relatively close last year; playing against Galway and Roscommon, I think Galway are without a shadow of a doubt one of the five or six best teams. If the league hadn't been the structure it was last year they would never have gone down but we want to play against these teams and we want to start beating them regularly.
"I felt coming down here to Meath was going to be a massive test for us because clearly we were very wounded from what happened last week, particularly in the first half. We were still wounded from what happened in Roscommon when we felt a serious injustice was done to ourselves and to Shane McGuigan.
"We came out and showed a lot of character, I thought we were brilliant for the first 20 minutes. Then, after losing a bit of momentum, to gain control again was a test of character and we want these tests. You cannot be front runners every day. You have to learn how to roll with the punches and take a bit of adversity within a game."
Derry now have five weeks to prepare for their Ulster Championship date against either Tyrone or Fermanagh and Gallagher was looking forward to having time to work with his players.
"We knew coming into the last three games, had you asked me at the start of the year then Meath, Galway and Roscommon were going to be the other three top teams. You would probably have expected Cork to be a bit better but we knew it was always going to be a tough finish.
"There are lessons to be learned, even today but particularly down in Roscommon. We feel, especially when we wrestled control of that game with 12 or 13 minutes to go we probably should have seen it out and the Shane sending off shouldn't really have counted but we are where we are today and 11 points normally gets you up. It doesn't now so we have five weeks to prepare for the championship.
"Had you asked me if 11 points would be good at the start of the year then I'd have said 'yes'.
"It was frustrating what happened in Roscommon, frustrating what happened within that game and then frustrating last week but we have to look at ourselves too.
"We didn't cover ourselves in glory last week. Had we got a point out of that game, winning today would have changed things but, look, it was a test and any good team has to come through tests. The Dublin six in a row team just didn't arrive; Tyrone just didn't arrive, they had tough days. I was involved with Donegal and we just about stayed up on the last day of the year in 2012 and went on to win it. You have to make the most of the wee breaks you get.
"We have only suffered one defeat in 14 league games, albeit we want to play against better quality teams but we are where we are and we have a very committed group of players who enjoy spending time with each other and we can't wait for the championship now."